Shop update 2019 I have updated this page several times so it's not really organized. It's just when I got around to adding some stuff to it. It's a mishmash of stuff! Several pages with pictures below!
I have been blessed over the years with many hours of extra work. When the weather over the past 40 years is bad and most folk are looking out the window they may just see me out side fixing lines for at&t. This job has blessed me with thousands of hours of over time pay. So picking up tools every month or so has been made possible. Now mind you those 40 years of some years of 500 plus hours of overtime...were often forced. YUP no choice had to be out in that stuff heat advisory hot or bone chilling wet cold lots of ice and snow storms. Yet my solstice in that was I had mad money for Rangers and Woodworking. I am blessed. In my work going into any place one can imagine the rich, the poor the clean and the filthy. The healthy and the sick. The hard worker and the lazy. I have seen more than most folk will ever witness. I have been in places that few get to see. The highest to the lowest. Been in tens of thousands of homes and a thousand business. Seeing folk where they live and work. A perspective view I have.
Hercules 12" crosscut saw on a a Harbor Freight Stand (they have a new hercules stand out a bit heavier) How I use it and store it. The older stand is not heavy duty enough. It is now breaking at the welds.
So I love Royal Ranger Ministry and woodworking and backpacking. The re-sawing bandsaw will allow us to take a group of boys to the woods and cut down trees with chainsaws into logs we can move about four feet long or less and then resaw that into useable lumber for Ranger projects and even some Fronteirsman Camping Fellowship furniture and neat stuff. I was blessed by Central AOG for some 15 years to have a shop there at their Ranger Annex and do these very things I have talked about. Last year or so moving my tools home gave me the opportunity to make things mobile and to have time to refine ways and means. Always learning and trying to do right. I want to thank Rob Batchman not pictured here and my son Marshall for coming over and helping setup and man handle this beast of a band saw. God has blessed me with great friends. Work hard. Play hard. Love God. HE WILL BLESS YOU! Heaven is better than this place. Until then. REACH, TEACH, KEEP Folk for Christ. Click on a picture for a larger view.
06-20-2019 I made a new sled. It is side guided and covers the whole 28" of table width. The guides along each side and the resaw sled is made out of Red Oak 3/4" plywood. The undercarriage is supported by 3/4" eye socket bearings placed on about 12" apart. The new resaw sled works great. The Winch pulls it slowly through the blade and the counter weight pulls the sled back when the winch is in reverse. The sides guide this new sled and the sides have hold down limits so the weight doesn't lift the sled off the table. Click on a picture for a larger view.
You Tube Video on the New 28" Sled setup and table and winch.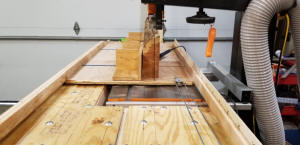 Looking down the 10' long table towards the resaw sled This has a log that is now in lumber form being resawing into 1" thick boards.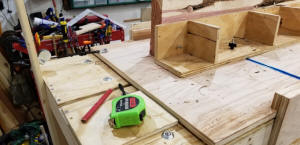 Infeed side shows full width resaw sled on 28" wide table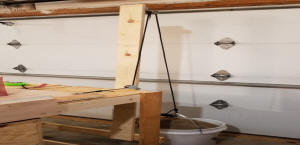 Infeed pulley and weight to bring the sled back to start when the winch is reversed.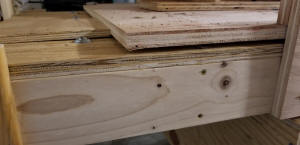 Showing the layers of 1/4 plywood then half inch plywood that holds the bearings in place and the sled sits on top of the bearings.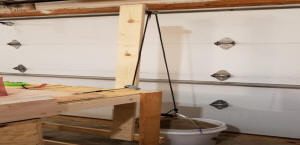 Weight keeps the slack out of the winch line and allows forward and reverse action as needed with a push of a button.
Resaw Table video 3 minutes. Resawing 8 Cedar Logs. Setting up the Resaw Sled and cutting 5 boards using the winch in fast motion.
These sleds gave me ideas to use. Thanks to these folk that paved a way for ideas to flow.

I drew some ideas from this sled of using 1x4 lumber

I liked the bearing track on this and it gave me ideas of using bearings.

This is what I was shooting for but needed it less beefy.

Notice the metal track. I thought of buying something like this. Cost factored it out.

This would work for lighter logs but the 200 lbs I was resawing was needing real support.
These videos are from the first sled that only covered part of the table. the new sled covers the whole width of the table. Bearings also now cover the whole table.
Resawing 4 big walnut logs 4' long by 12" round. It's 42 minutes long. So you may need to use the slider to get past some of the parts. I removed about a hours worth of cleanup and fiddling!
Resawing on my 12" Delta Bandsaw modified with a resaw table and a larger grizzly motor. This is hard to do and very time consuming. Hence the work started below.
Walnut was resawed and then stickered then ends sealed in parifin wax then restickered then moved down into the shed. Resaw Table was cut in half and glued and then stored up in the attic for future use.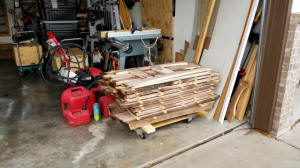 On Roller all dipped and stickered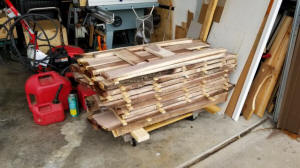 Nice bunch of walnut 4' long by 28" wide by 20" tall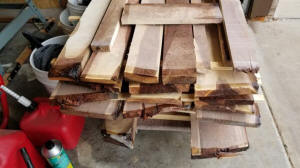 A few of the boards I tried to salvage from the slab sides.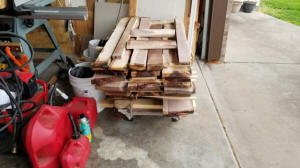 All moved and restickered down in the shed.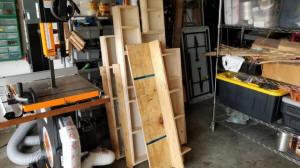 Reaw tables after being cut in half and a new middle support installed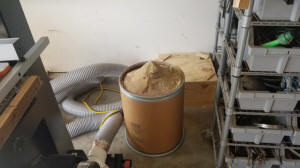 Opps I didn't check it in time. I new it was full when the blower fliter had dust in it.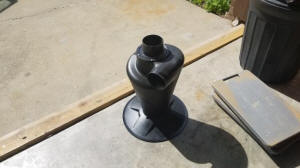 dust Deputy allows full suction to the device by keeping the filter clean.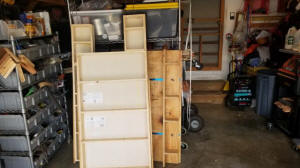 Everything is on wheels I can roll it anywhere. Need more room!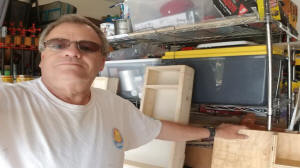 Scaled with person in picture.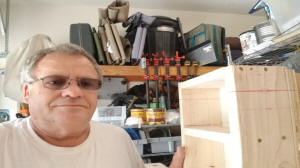 5' 4" long and now up in the attic
Taking two pump up carts and building a 12" high plywood box to allow me to lift my totes up into the truck and to work as a Resaw Table Support and to lift the 4' x 12" dia walnut logs for resawing.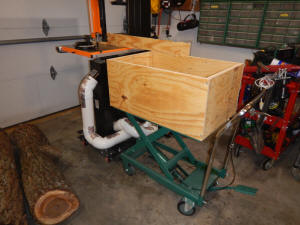 Plywood riser on pump table bring it higher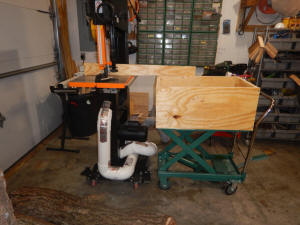 Two of these for resaw table support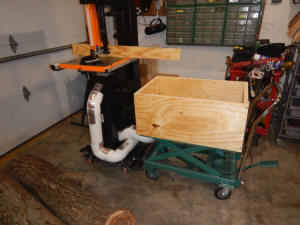 table can be pumped up and released down holds 500 lbs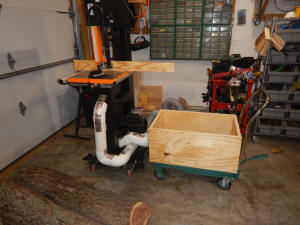 Low enough to get a heavy walnut log onto
1/2" plywood box construction lamination stagger joints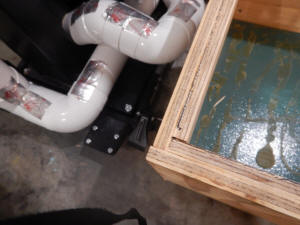 Butt Joints make stronger corners all laminated with glue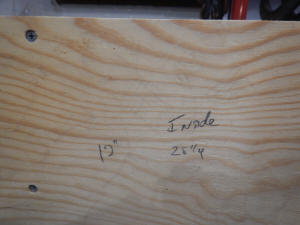 Inside sides sit on top flush with the outside of the platform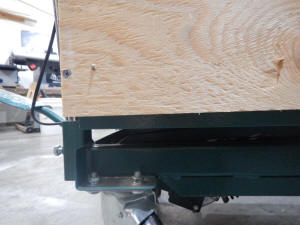 Outside side goes down 1" farther to fit around the platform.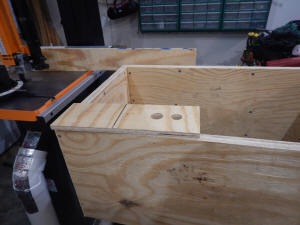 A resaw table with these roller bearings will fit up on top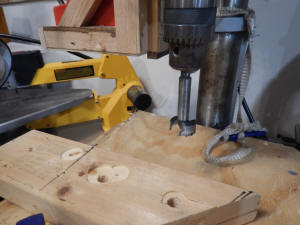 Forstner bit makes quick work don't use a hand drill.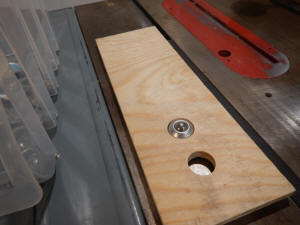 5/8 roller bearings from harbor freight .99 each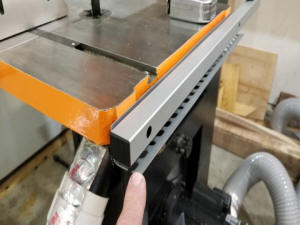 90 degree Angle Iron on both ends of saw used factory mounting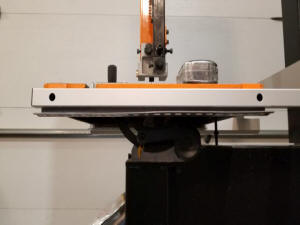 This doesn't affect the saw or fence use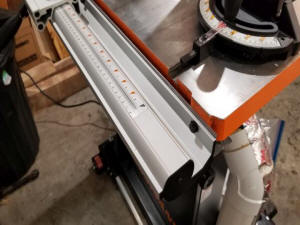 Sliding fence still works Angle iron next to cast iron table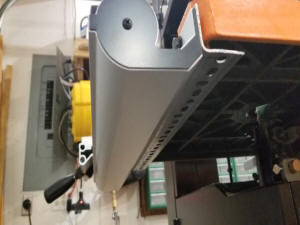 Turned this one in towards table to clear fence.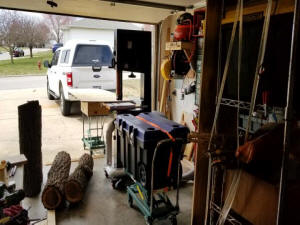 Using tote boxes for spacer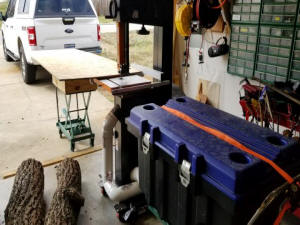 This bandsaw makes straight cuts
4x8 sheet is easy to cut as long as it's less than 17" wide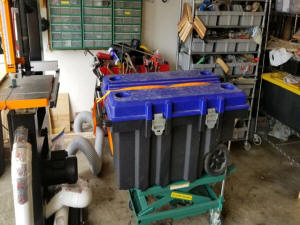 These totes are handy but heavy getting in and out of truck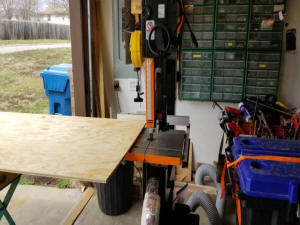 Cutting a the tops of the plywood boxes.
Top will lift out the 1.5" slats keep the lid on the box.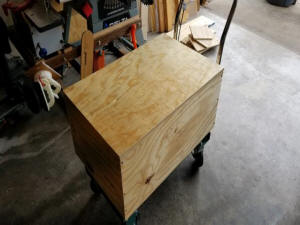 Box with lid this will support a resaw table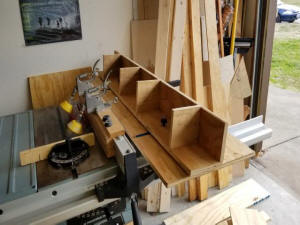 Resaw fence with Tbar slots for easy adjustments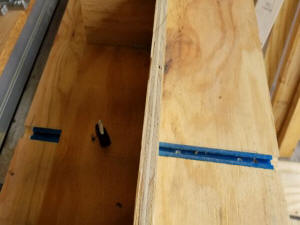 Knobs with t slots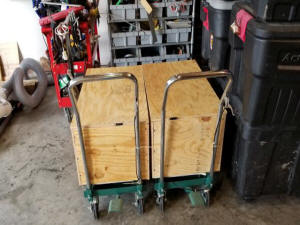 Carts next to each other at low height I can pull the plywood box off easy if I need it to go lower.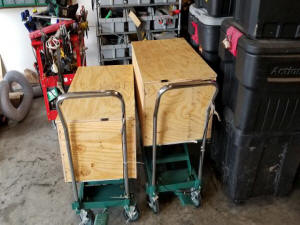 Any hight adjustment! Got these on sale rubber tires rot.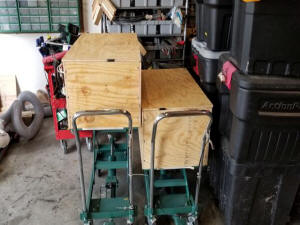 Goes pretty high above the bandsaw table by 3"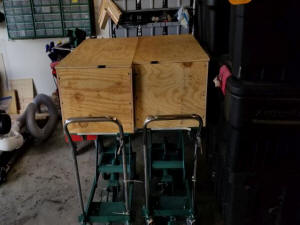 Both up high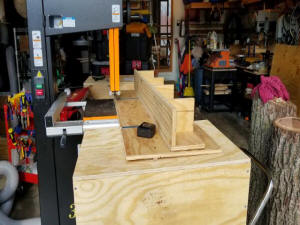 This resaw fence will ride on a Resaw 28" wide by 10' long table with bearings under this fence.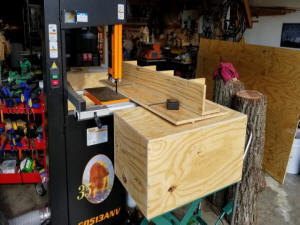 Miter slot keeps it at 0 clearance so it runs parrelll with blade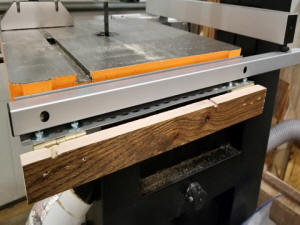 Added 2 hinges to the Angle iron allows any angle for slope floors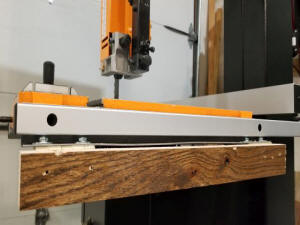 Used 3 nuts 2 fender washers and 2 loc washers to keep it locked in low clearance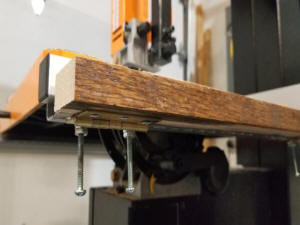 I will cut these small bolts off wth a dremil if they bug me.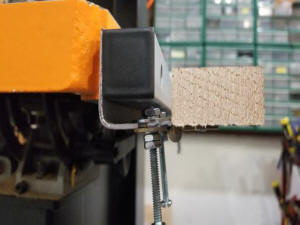 2.5" hinges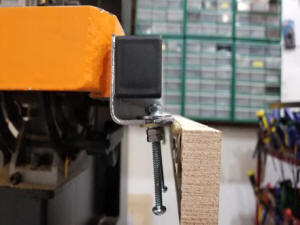 Will bolt up the 10' table to these one on each side.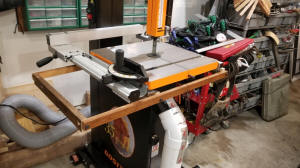 Aux red oak resaw mount dowel bolted to red oak hinge mount on table of bandsaw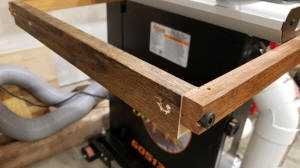 These dowel bolts are not quite 1/4" x 2.5"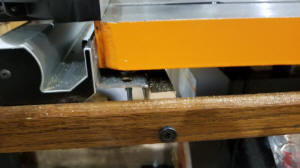 All of these modifications fit to the factory bolts on the table not much tollerence up or down on these.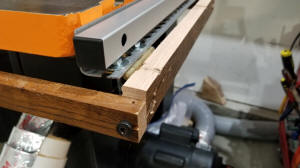 Very strong will align the resaw table 28" by 10' to the bandsaw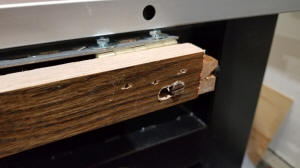 The bandsaw door opens all the way just clears theseresaw mounting face. First time using a dowel bolt in 30 years. This was a learning curve-strong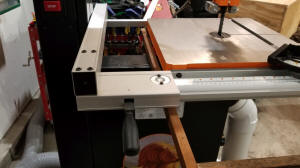 Support also rests on back spine of bandsaw. May need to lengthen at this spot this board is in the way fence locking it down. No tolerence
The resaw fence is underway. I took three 2'x4'x10' pine and resawed them to 3/4x3.5" x 10' long. Had a few scraps left over. Will put 1/4" hardwood hardy floor plywood down and glue and screw that down to the 1x4s. Then over that will be 3 pieces of 1/2" plywood that will have a miter gauge slot in it (sloppy) and a guide board the sled will run up against on both sides of the bandsaw table. The center part will have these eyeball 5/8" bearings about every 6" staggered on each side of the aux bandsaw table. The log sled will ride on these bearings.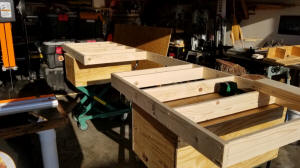 1x4 28" by 10' long slides along side of the red oak hinged supports and rests on 2 pump tables.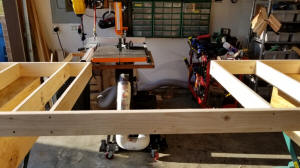 This slips in around the Bandsaw table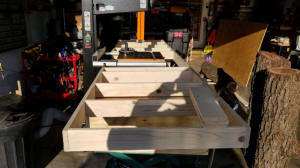 28" wide by 10' long 2x4' x10 foot was resawed for 1x4s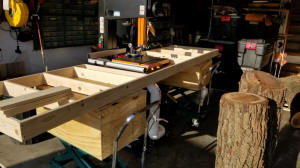 Testing door clearance on bandsaw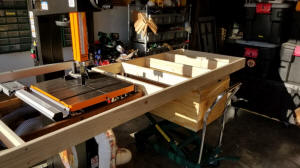 slide into place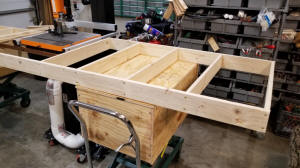 Will be supported by a end support and hydraulic tables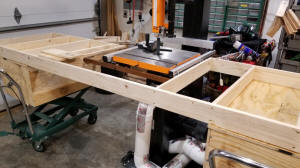 This allows full operation of the saw. With exiting fence too.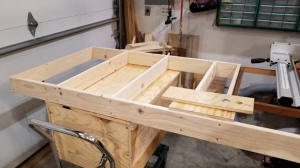 Will be adding 1/4" harwood plywood base then 1/2" plywood wth holes in it for bearings.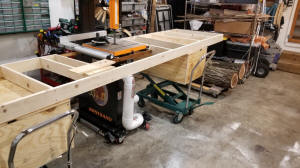 This table will be removed and stored when no logs are around.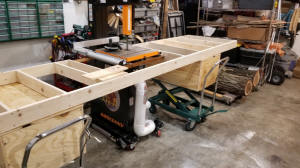 Table will stand up on end will go to ceiling. When stored.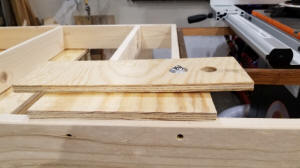 decided on 1/4" hardwood floor underlanyment for a base then add the bearing into drilled plyood 1/2"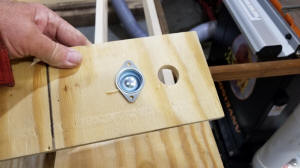 I won't screw then in. they will be held in place by plywood forstner hole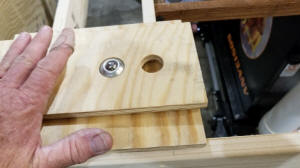 Will only need these where the sled rolls down the miter guage slot.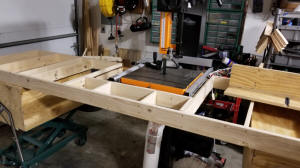 Added front blocks will put in some adjustable bolt spacing perhaps. To Adjust the miter slot location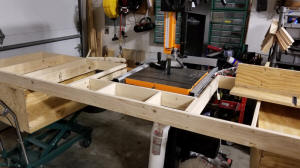 Want this as light as possible and yet hardy enough to handle a 200 pound log. 14" x 48" long Biggest I could h andle.
Layout 2 pieces of 1/4" Ready Backer 1/4" hardwood plywood on to of the 1/4" Glued and Screwed every 6".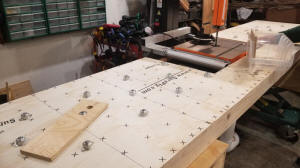 Top of the Resaw Table base is 1/4" ready backer hardwood plywood.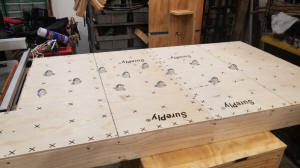 Laying out roller bearings. Will put a 1/2" sheet of plywood over these to hold in place.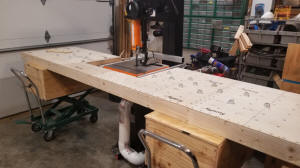 Once I get it made will bolt it up and then cut the table in half where the miter slot is. Maybe. Only 4 bolts hold this on.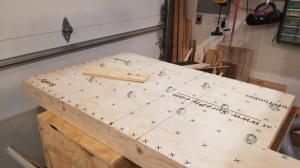 5/8 bearings I have 24 but will buy another 12
Very solid will hold 200 pound 4' long Walnut Logs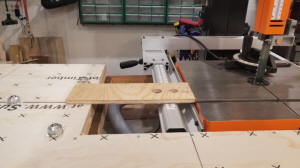 Shows the 1/2" plywood will sit on top deck but it will stop at the edge of the wood aux table.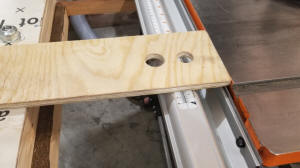 Table allows for Rip Fence to work with aux table on.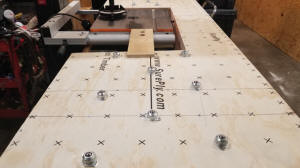 Sighting in the 2 pieces of Plywood around miter gauage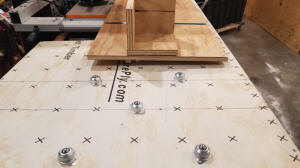 Sled with miter slot. Plywood will go between sled and this top.
Working on a base box to go under the Dust Deputy 4" system. Had a bunch of 1/2" plywood left over from a project.
Link to the video on this setup.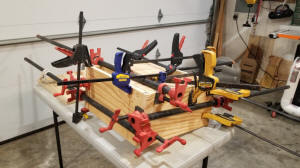 Clamping up plywood box for base of Dust Deputy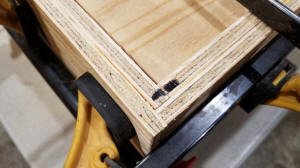 Just staggered the joints when laminating them makes them strong.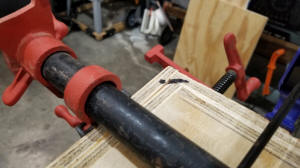 All these boards were cut on the 17" bandsaw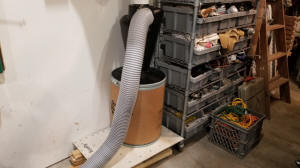 Dust Deputy rough plumb in
Bag is about a foot over my head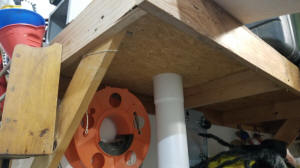 Worked out great
No need to glue or screw these in place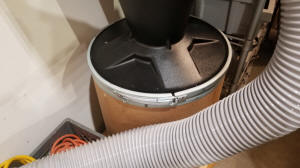 Fiber barrell can be found at Army Surplus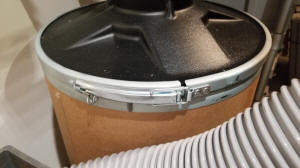 Snap Ring around 4" dust Deputy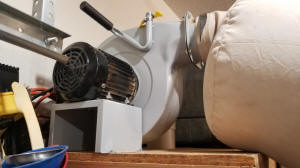 1 hp delta single machine 4" dust collector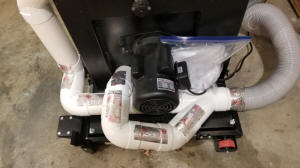 Grizzly 17" 4" dust collection plumb job.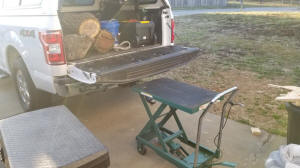 Walnut Logs 4' long are heavy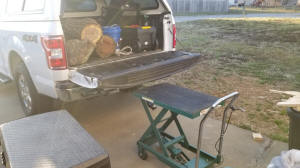 Going to use the hydrulic table for a resaw sled setup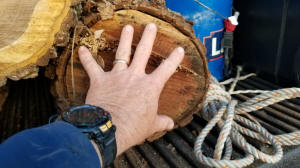 Lots of walnut boards in these 4' long logs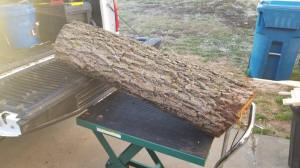 going to add a 12" tall table to 2 of these carts. Will allow me to slide off of the bed of the truck and reach the bandsaw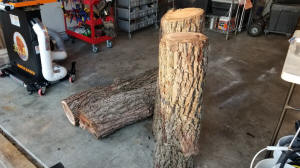 I did one log it was toooo heavy with out a sled.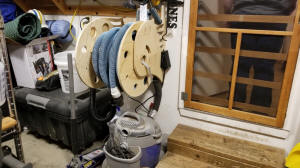 Fast Cap Super Reel makes shop vac reach my whole shop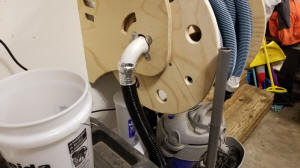 Added Super Dust Deputy last night.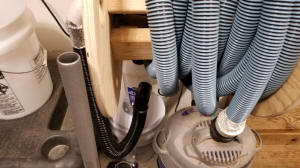 tucked back in there. Need to move it up front.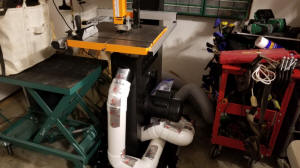 17" Grizzly Dust Collection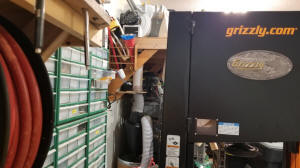 4" dust Deputy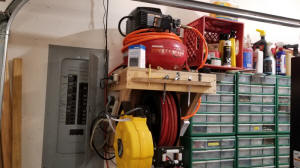 Trying to maximize floor space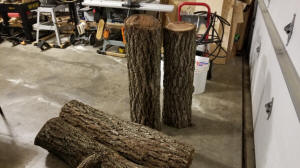 4 logs to go to stickering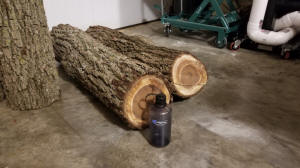 Some size information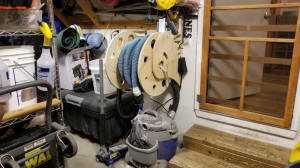 A little at a time. A Resaw table is in the works for Sunday
Bandsaw dust collection setup.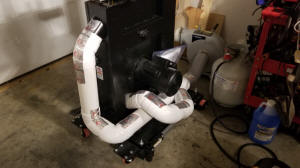 Used most of a 10' piece of 4" PVC DWV pipe 3 90 degree short bends and 3 22.5 short bends.
Need to add in a cyclone but hooked up the small dust collector to give it a go.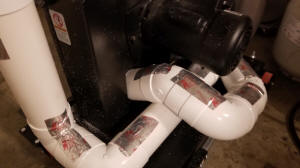 3M Alumn tape for ductwork works very good for dust collection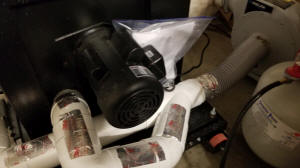 3 short bend 90 degree and 3 short bend 22.5 degree and one Y and about 8' of 4" pipe.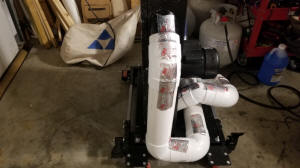 This design hugs close to the side and base of the machine.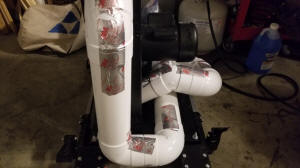 It's a tight fit. Tape holds it together for now.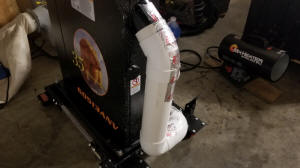 Feed side view Grizzly 17" bandsaw dust setup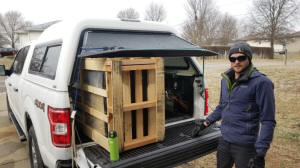 Grizzly got my money. Marshall helped get it Home!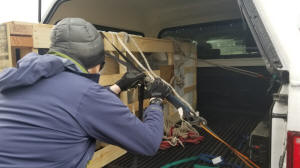 Bandsaw crated was 375 lbs.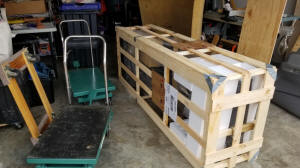 Off loaded going for breakfast.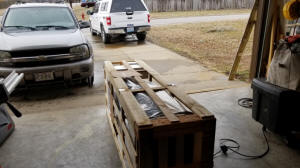 Lay it on it's spline or the back of the saw!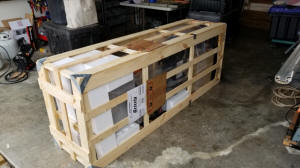 Garge is getting full need bigger garage.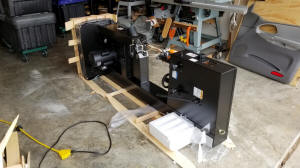 Skill saw set to 3/8 deep made quick work of the crate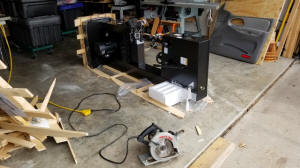 Tinder for Rangers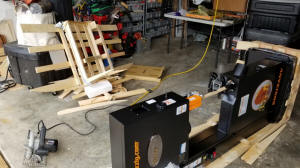 Rob showed up and we got the base mounted and saw assembled with Marshalls help.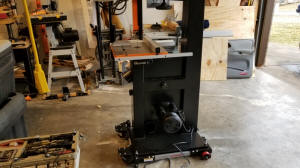 Nice. Heavy. RESAW! 12" bandsaw in background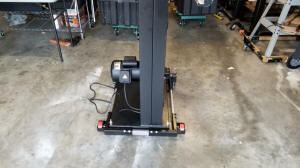 Need power!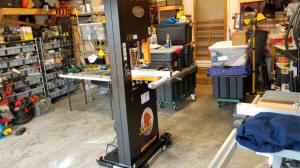 Trip to Lowes for 60 bucks of plugs and recepticles.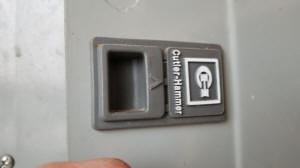 220 volt needs new breaker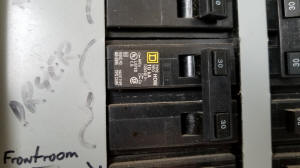 Snapped picture of breaker they have 7 kinds!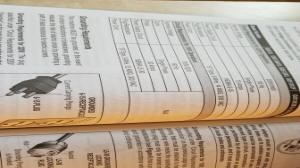 Right plug info...lowes I go!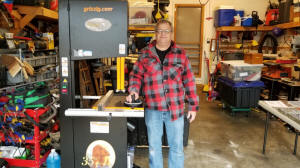 Shirt is buttoned up wrong. New Saw Standing!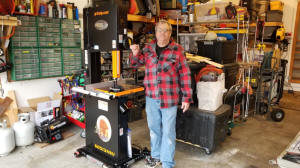 Everything is mobile all on wheels...everything!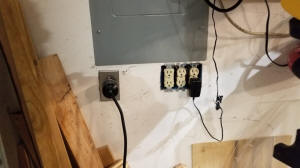 Added 220 outlet and 3 110 outlets. Need faceplate!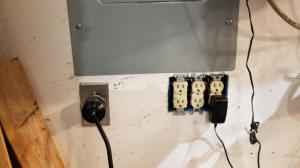 Your looking at 60.00 smakers!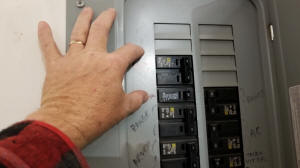 Knocked out 3 breaker positions.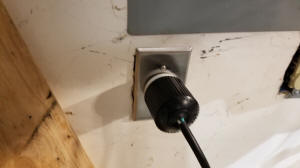 All tight and secure in sector 7 Marshll learned house wiring.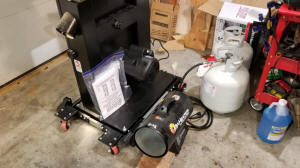 Refilled 20 lb propane tank for turbo power heat!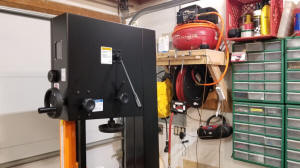 Will need a extension Cord at sometime in the future. For now it stands here!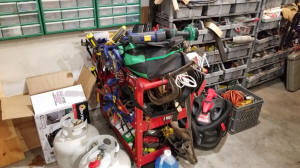 Added HF tool cart with peg board rings all around shelves.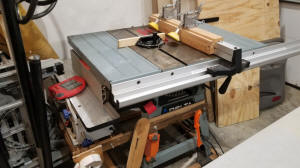 Table saw with Jointer added on this past year.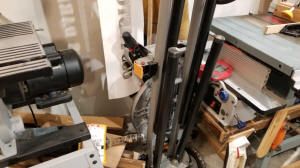 Hercules 12" saw and stand added a few months back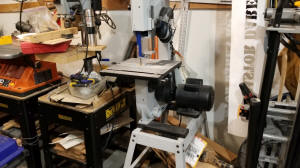 Everything is mobile. Dewalt planer Stands work great!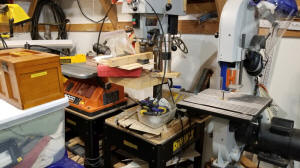 The 12" bandsaw works great for small projects. New blade works great.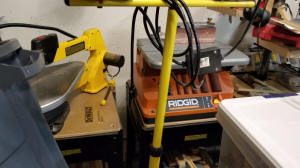 Sanders scroll saws and spindle sanders a must.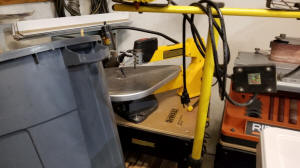 Dewalt Scroll Saw is the best detail tool!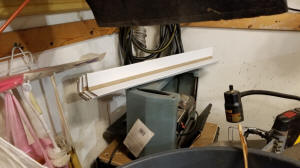 Delta 12" planer in corner all rolls out for use in less than a minute.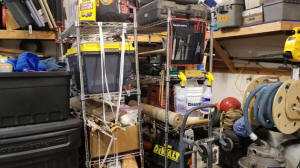 Need to move my Ranger Outings stuff to a new place.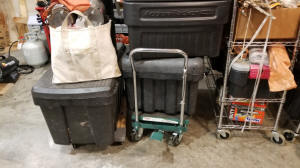 Firecraft and Backpacking all the time...need room.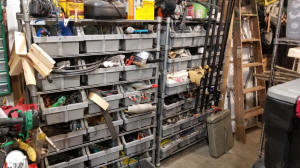 Ever needed something..it's in there! All on wheels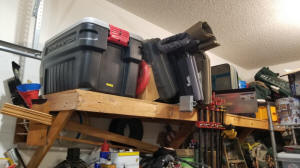 totes are getting to heavy just above head hight!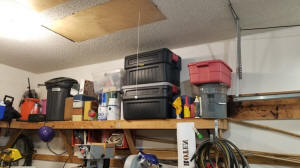 Need to reorganize and shift stuff to a new location.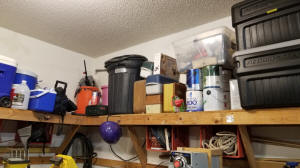 Lots of space up there...need ot move it.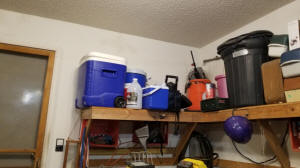 Attic is full up!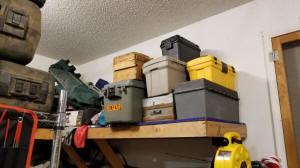 Ranger kit boxes. Gotta be READY quick!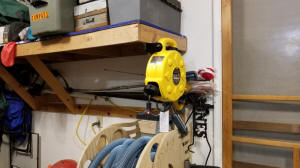 Power cord Storage reels keep me from tripping..fast and easy pull out and put away.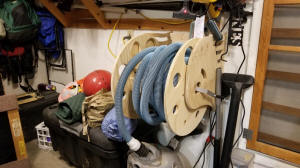 76 bucks and you can have a hose reel too. Very easy cleanup with this wheel. Pool hose works great.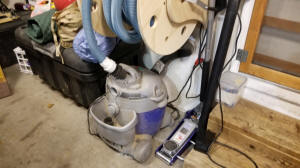 Shop vac works fine. Have other dust collection in shed.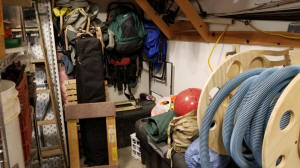 Backpacks need to be moved to a differnt place.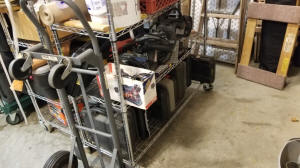 Rolling tool racks.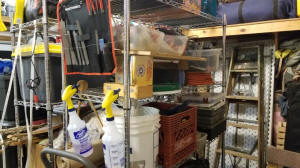 You name it it's there.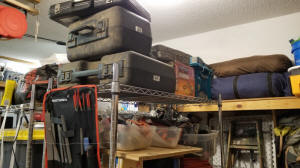 More stuff that needs relocated.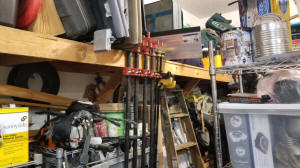 I used to have 50 bar clamps. This is just a start.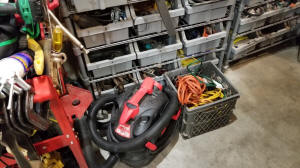 Small shop vac for leaf blowing, dust blowing and quick cleanup.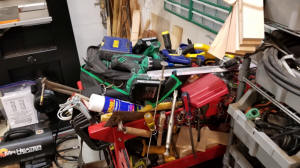 Need more bolts and screws storage.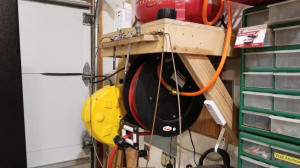 Pancake compressor near door with reel and cutoff valve for both vehicle and shop needs.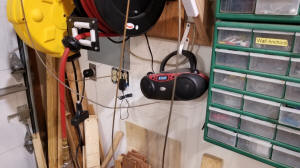 More power reels and musico.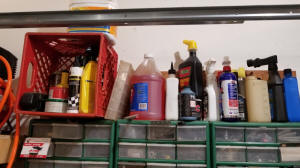 Automotive section.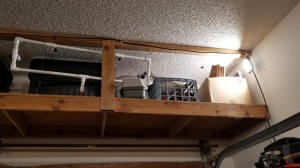 Regatta Storage above Garage door.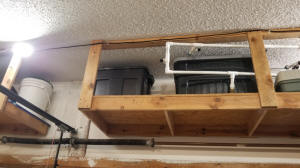 Important stuff gotta protect it.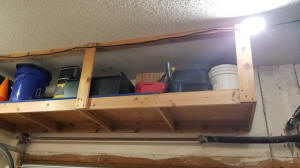 Batcave stuff and chainsaw goods.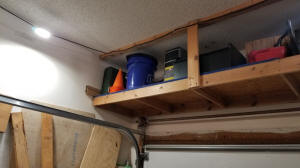 Up and out of the way. Just use caution getting up there.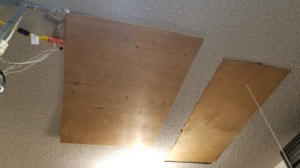 Attic Lift and Attic Ladder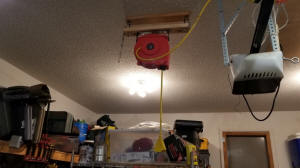 heavy duty power cord on reel these are expensive.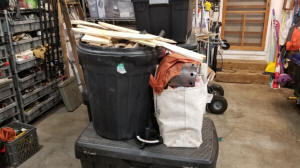 YUP FIRECRAFT PREP in action.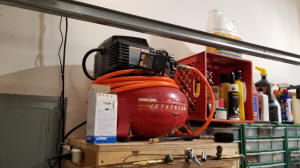 Need to clear up more floor space.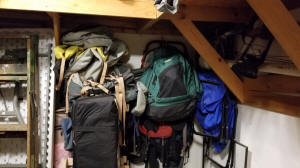 5 Backpacks and 3 smaller packs.. Rappeling..ropes!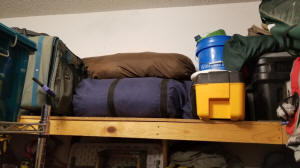 Cablela's Best Outfitter Tent. 90 mph winds. Good to go.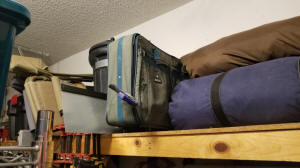 Hand Squeeze clamps 60 of them dogs.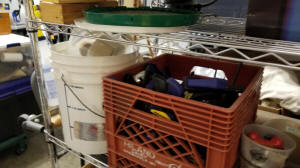 Smaller Hand Sqeeze Clamps. Ranger Projects need them.
Electrical stuff.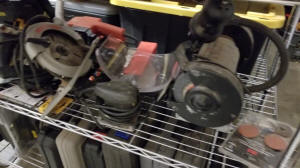 Grinders sanders routers all kinds.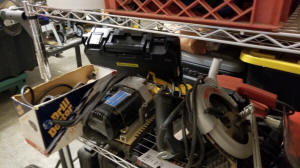 Some of this is 43 years old and still working.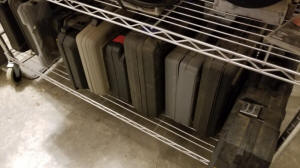 Air tools and more. Special projects need special tools.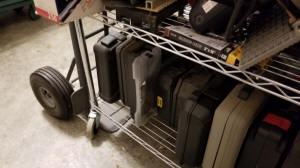 All on wheels and ready!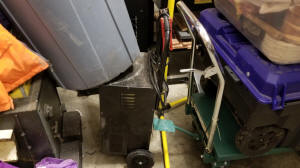 200 amp jump start gave way to the new portable batter jump starters with litium batteries. Wow they work great!
God's way is always the BEST way!