Batcave Campout is coming up and in the past I used the candles from the Christmas candle lighting services for the council fire service in the back of the cave. I didn't come across any so. I am making my own.

I have never made them before. PICTURES at Bottom of page!

Spray all stuff that the melted wax and cleanup will come in contact with with Pam Cooking Spray. It makes clean up so much easier.

1. Bought a walmart ice cube maker tubelular kind has 27 4" ice molds in it. It will make 27 4" candles about 1" in diameter. Buy Pam Cooking Spray.

2. Drilled a 1/8 hole in the removeable caps (all 27 are in one piece) and then cut some hangers to make 2 stringers for candle string...(Kite Cotton) and used Clothes pins for clamping and spacing end row of candle wicks.

3. Drilled 2 holes for the coat hanger stringers that center over the candle molds center in a piece of yuka then split that in half. Slipped that over the coat hangers and threaded them through the strings that are passed through the candle molds and this keeps the cotton string (wicks) centered in the candle. Plug each hole with a pinch of molding clay..

4. Melted wax in A Big coffee can with water and then in that placed a smaller coffee can with wax (double boiler)

5. SPRAY FORM inside and out with Pam Cooking Spray wrap with aluminum foil around bottom and poured in the wax.

6. Let sit over night.

7. Morning put the candle form in sink fill it to the top of the candle form ( hottest tap) water in the sink and popped the candles out. I placed the form over the sink hole and used a dowel to push the candles out...it must stay in the hot sink water while working on it. Worked great.

I am ready to pour my second 27 candle batch. They will be perfect for the batcave and will burn for several hours. Make great FCF candles. Candles made for the back of the cave started from the Council Fire.
Used all cotton string. It worked. I needed about 80 candles for the devotion in the back of the Council fire and I had some wax and ended up buying a few more big candles to melt down and make smaller ones. I could buy them but this was fun and a bit cheaper.
Also made the bigger candle with cedar bark for a wick. I used a toliet paper roll for a form and then just peeled it off. To make it easier spray it with Pam.
Notes: Once you pour wait about 10 minutes and poke a hole in the top of each candle mold and top off the wax (If you want a full length candle.)
I used a hot pad mitten and a hot pad to pour the wax with.
Mark Jones
Click on a picture to get a larger view.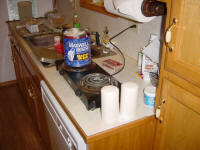 It is messy. Wife anxiously looking this way...err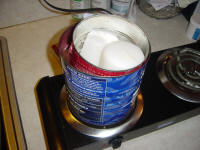 Doube Boiler with water in it to keep wax from catching fire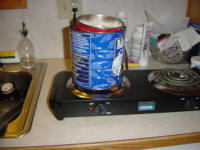 A hot plate can be purchased for 20.00 if you get moved outside...GRIN!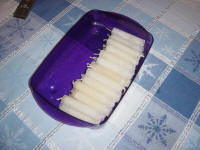 First Batch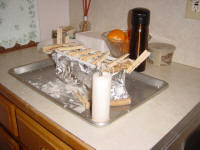 Big Candle has Cedar Bark wick used tolet paper roll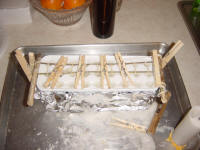 Yuka spindle drilled with 2 holes to space the coat hangers to keep the wicks in center of mold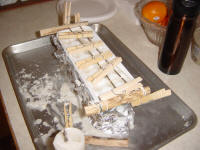 End shot of yuka holders
Clothes pins space out the end row of candle wicks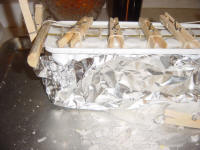 Aluminum foil around form to keep leaks from making a mess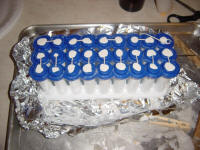 a pinch of modling clay will keep the wax from leaking around the candle wicks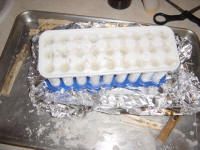 Use sissors and cut strings and remove clothes pins and hangers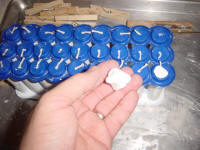 This molding clay worked great and can be reused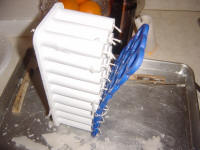 Using Pam or Non Stick Cooking Spray makes things work alot easier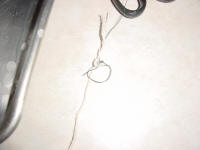 A piece of Walmart Floral wire makes putting wicks through the holes easy. Just wrap it around the string about 8 times and it works great.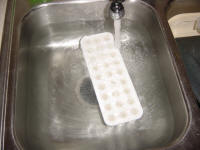 Run water till it's hot. Spray sink with Pam spray. Fill sink to top of candle form. Use a dowel a hair smaller than the inside of the form to push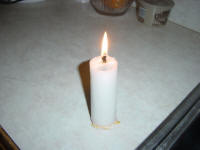 My cedar bark wicked candle...Bat Cave look out We are READY!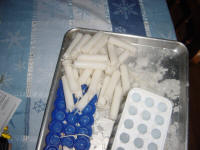 Finished. To clean up forms spray the inside of the pot with Pam then boil a large pot of water place the form in it and the wax will float top.