05-19-2023 So. MO District Daniel Boone Chapter held a wonderful 3 day Frontier Adventure and Spring Outing Event!
Weather was perfect lows of 45 and high of 77. Just a little rain on Friday afternoon. We had 54 in attendance. 17 young bucks and 35 ole timers.
We did a pre event black powder shooting and gun cleaning to finish up from last years rain deluge. Thanks so much to our Ranger Safety Officers that came together to make it all work out and get these young bucks and ole timers up to speed on keeping their powder dry and their aim tight and their guns clean. The young bucks were pumped!
Our Chapter President, Tall Oak Ralph Davis kept everything moving and put on a wonderful Spring Outing and Frontier Adventure Event with 7 young buck applicants following Choctaw, Ted King through the wilderness as their Company Bourgeois (pernounced -BougeWah). Please welcome Weston Bell, Kinson Jones, Cooper Page, Sawyer Strange, Brock Neel, Bryceston Wangler
and Ben Lewis to our Chapter.
Parson, James McHaffee did a fantastic job on our council fire services and morning devotions. Hoot, Doug Laut held Sunday morning service and once again we were blessed with fantastic outside services.
TwoForks, Bob Triphahn ran our District Scout Testing on Saturday 8:30 am to noon. We had 7 scouts testing from 3 Divisions. Please welcome our new scouts for the 2023 - 2025 year term. ( soon to be announced pending District Approval)
We enjoyed the Round Robin Trading on Friday night as well as the Black Smithing and all the cool stuff that was out for trading and for sale. Lot's of bargains to be gained! Food did I mention food? O wow we ate and ate and ate! Funnel Cakes, Homemade Ice-cream, Deer Roast, French Toast, Bacon and Sausage and so much more!
Click on a picture for a larger view. Zip file of all these pictures. Special thanks to Dan Rockafellow, Mark Jones and Kyle Major for sharing these pictures with us.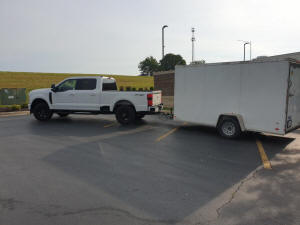 Takes lots of gear to pull these events off! Thanks Ole Timers for being the team that pulls the wagon.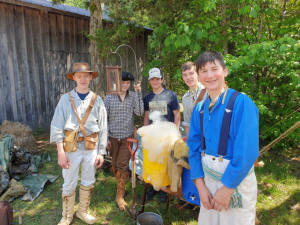 Home receip of Sassafras Rootbeer.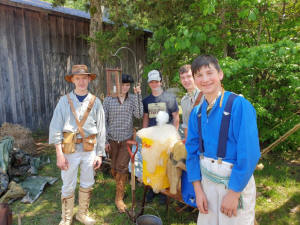 Puffs of steam coming out of the mix!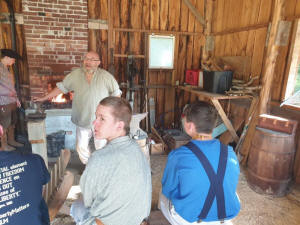 Black Smith Shop in full action!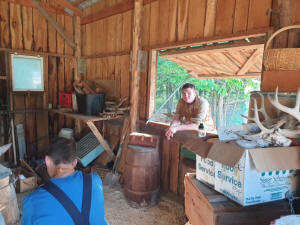 National Scout looking in!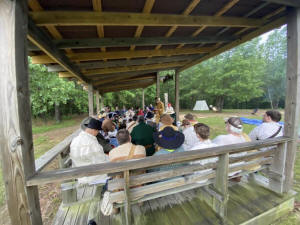 First year to realize a roof over this was Wondrful in the rain!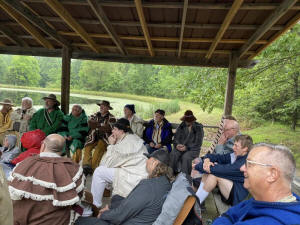 Trail Traveler- Josh Pennekamp lead Worship.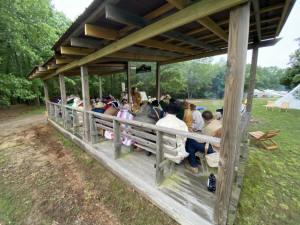 Harmonics was so much better with everyone under the roof.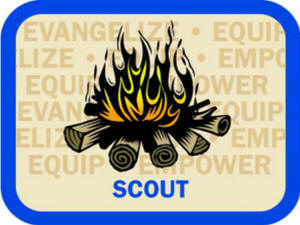 Scout elections every 2 years.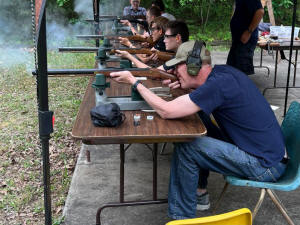 Finishing up Black Powder Shooting rainy day makeup!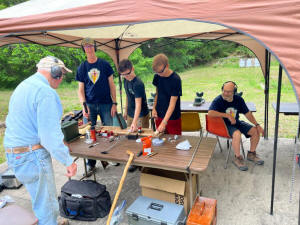 Thanks to Ray, Pat and Randy and Bob for getting this done!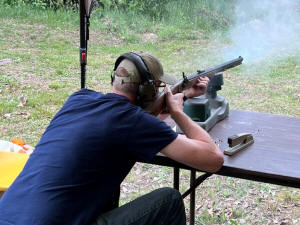 Tall Timber getting his new to him gun fired!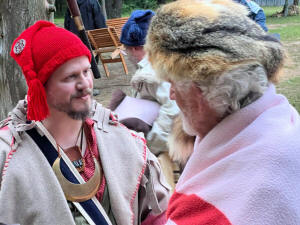 Christain Fellowship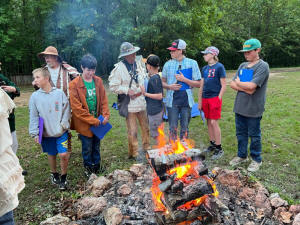 Spiritual Services around the council fire!!!!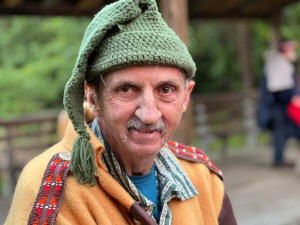 Need some bead work or a jacket made holler!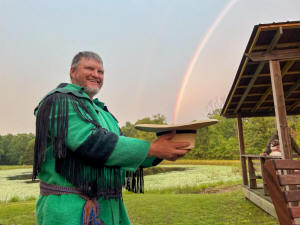 There is more than a pot of gold in this hat!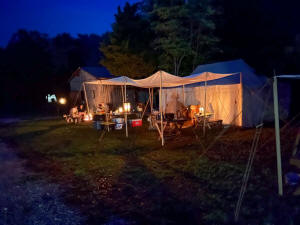 Canvas Tent Camping! Just like home!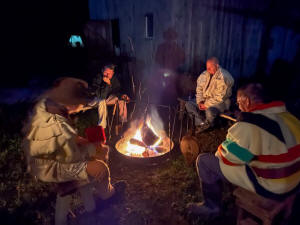 Lots of great memories and story telling.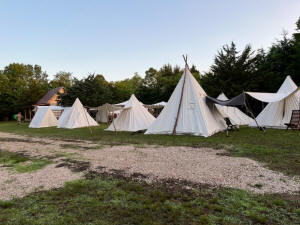 Gravel the gift that keeps giving!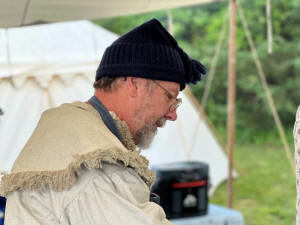 Camp cooks are are most loved Friends!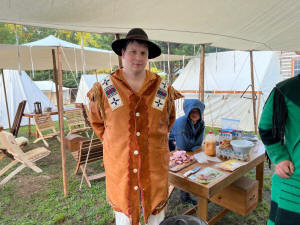 Going Buckskin!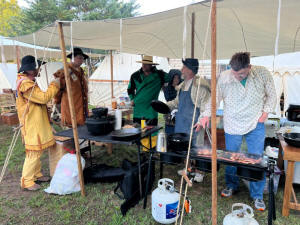 Chow Time bring those young bucks!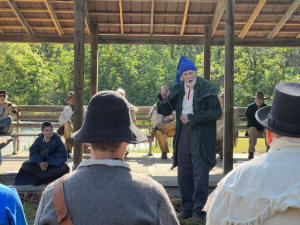 Life long Servant Leader!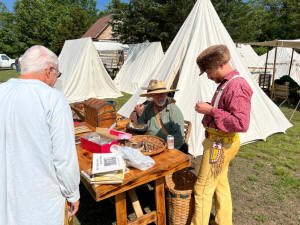 Traders and Wares! Always giving more!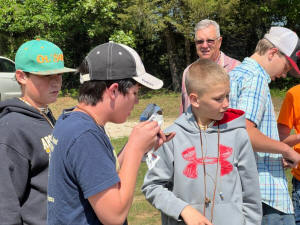 Green horns making fire!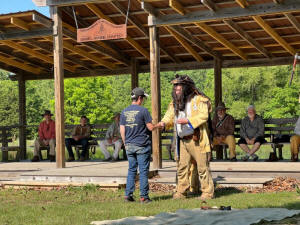 Leadership at it's best!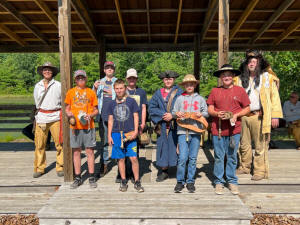 New FCF Members!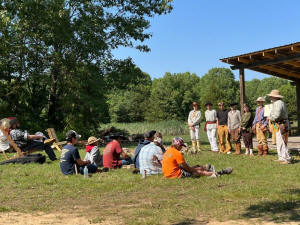 Welcome to our Membership!
Report submitted by Grin, Mark Jones Company Clerk.