Camporama 2022 Phew it was hot! But it was worth it! Special thanks to Rick Barhouse, Mark Jones, Dan Rockafellow and Doug Laut for sharing these pictures with us.
100 degree temps will make any hard core camper step back and say that's hot! Yet there is something about that Name that compels us to deny self and go the distance for our Lord and King Jesus.
My little role in this big National Camp that is held every 4 years this was moved to 6 years due to Covid. Our last Camporama had almost 7000 souls there. This Camporama had 2400 souls so it was not as crowded as my previous 6 Camporamas'. We missed seeing a lot of you there. My personal opinion was stated some 10 plus years ago that if we don't teach these boys and leaders to camp they won't come to Camporama. It could be part of that plus the covid and HIGH prices that kept so many away. YET God has a plan and it often doesn't follow my or your or any mans wisdom. My job as So. MO District Network Camp Coordinator was to help get camp setup, entry way, shade, organization and water, gas and generator duties for Gulf Region as well as the 1000 other things we all help out with. Oh yea the PINS a big thanks to our District and Region for the 9 stake pins the boys and men were given to get them out trading hat pins with folk from all around the Nation and World.
With God's help we took 1st place in Entry way, Attendance with 83 there (thank you national staff for bumping our numbers up) and Best Flag that had the colors of Ukraine in it which is also the LMA pin colors unless I heard this wrong.
A picture is worth a 1000 words as we all well know. So have a look at these. We will be adding to these pictures in the next 2 weeks as they come in. Zip File of all these pictures. Click on a picture for a larger view. If you have a report you would like to add here please let me know. markjonesranger@hotmail.com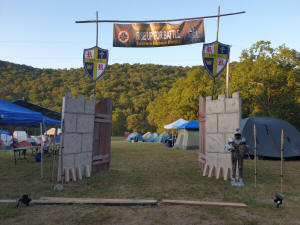 So. MO District Network Entryway 2022