2022 Southern Missouri District CAC and Adventure Kamp.
July 24th -26th, 2022. Canoeing Action Camp (CAC) and Adventure Kamp took place as scheduled with a no rain forecast but 93 forecasts for Thursday and Friday and 104 degrees for Saturday with a Heat Advisory. We had some changes with last minute cancellations. All the work that goes into scheduling of boats and vehicles and badges and certificates, extra gear and planning has to be refigured on the fly so please folk let your Yes be Yes and your No be No. Click on a picture for a larger view. ZIP file of all these pictures. YouTube Video by Rob Batchman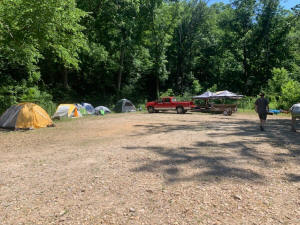 Hebron Public Use Area Base Camp
Thursday we left Ozark AOG with 16 slated to meet at the River. 6 men and 11 young men. 2 driving up from Arkansas with 2 more vehicles meeting us at the Base Camp Location at Hebron with the steel bridge. Thursday we covered 95% of the Canoeing Merit with 18 merit steps with hands on and in canoe training with Tell Show and Do making this FUN! The boys love swamping canoes and learning how to rescue a swamped boat....many times over as they just love sharing the river water with others canoes!
Our Council Fire around the camp fire at dusk with a Ice Cold watermelon was a treat! The boys and leaders were encouraged with Why were we created? Fellowship with God. He desires our fellowship. Lights out at 11:00 pm. Boys talking and talking and talking so we heard about it the next morning. Friday we found out the fee to take out a boat at the Twin Bridges Access was up 150% from just a few years ago. So instead of paying 130.00 for 9 boats that we would pick up and handle we floating right on past that fee and floated another 5 miles to Hammond Access were it cost us 2.00 for 2 vehicles. This was really a blessing in the long float on one day. We only had to do one shuttle.
Friday at 8:00 am 3 of us shuttled 2 trucks and trailer to the take out point and returned to the group and hit the water at 9:15 am. Our float was fun. We experienced the "need to move" with the extra 5 miles so fishing along the way was curtailed but we did lots of swimming, visited caves, rope swings and enjoyed lunch on the sand bars. We made record time at got to Hammond Access at 4:00 p.m. 6:00 pm we cooked our Bring your own, Cook your own or go hungry meals we each brought. (Folks if you have not done this your missing out on the best experience...everyone eats what they want to eat those that don't like what they brought have only themselves to grumble against.) Friday night we all put on party shirts and had a Hawaii type party with beach ball volley ball and limbo contests and had sliced fresh Pineapple, cantaloupe, water melon and mango as well as some Punch mixture and ice cubes to make this party a great fun time. Boys hit the sack at 10:30 pm.
3:30 am one of the local Youth Groups showed up with a 4 wheeler and 5 vehicles load down these boys and girls I would say were ages from 15 to 22 most of them snockered and cutting donuts in the gravel not far from our Camp. I sleep with the thought I might need to be Ready for Anything and sat up and put on my crocks and stepped out of my cargo trailer head lamp on arms crossed starring at them 50 feet way. A couple of the youth said hello with no response from me. They watched me as I watched them for about 5 minutes. Then I moved it up a notch got in my truck and pulled up in front of my trailer and headlights on Bright as all of them were in my head lights. I figured they were not trying to sleep so I would join in on their enlightenment. In a minute 2 of them came over to me apologized saying they didn't see us camping there.... I said uhuh. It's hard to miss 15 tents right there. I told them we had just put 10 hours on the river and were beat and asked them to move their party some place else.
Another 3 or four came up and apologized between a few gulps of beer between apologizes. After the 10th time I told them they had already apologized 10 times and if they stayed much longer I was going to take a trip up the hill for cell signal and make a call. I also related to them that if I was younger I would have been right in there with them but I also told them I never pulled in at 3:30 am into a middle of a camp and did what they were doing as that is just being Really Stupid. With the rest of the men awake and listening the youth group moved up to the steel bridge and started jumping off of it. So another commander and I took a trip up the road for cell signal looked up the number for the local sheriff but didn't call and was told on our return by some in our group the rocks were still flying as the youth group as they got out of their so fast. 4:15 I was back on my cot enjoying the peace and quiet of Ranger camping. Saturday morning 7 am rolled around and most were up. With the heat forecast for Saturday 104 heat index it was a Real Blessing to All of us that we did the float on Friday when it was a tad cooler. Everyone was tired and those that didn't head the wear long pants and long shirt and cover up warnings were declaring hot sun burnt knees and legs and wondering why that sun screen didn't work very well....... hum.
We enjoyed breakfast and resting up a bit around the fire and talking and our morning devotion as we talked about the Youth Groups visit. Our Closing Ceremony at 9:30 am handed out Certificates and finished packing up our gear and then took a jumping trip off of the steel bridge for some short fun. Then loaded up the rest of our gear and headed back to Ozark and by 12:30 all was picked up and heading towards home.
Fun. Challenging. Character Building and self reliance all the while pointing them to Jesus Christ and His Church. Royal Ranger Ministry is one of the BEST! Special thanks to Rob Batchman for sharing these pictures with us.