There were 105 cars at the SW Division Ranger Derby Race held at the Nixa Assembly of God on March 23 from 11 different outposts. The following churches were represented: Abundant Life-Neosho, Blessing Heights, Cassville, Branson—First; Central-Springfield, Clever, Marshfield, Nixa, Oak Grove-Springfield, Ozark, Seymour Life, and Strafford-First.
Wow that was a fast race. March 23rd, 2019 Nixa AOG Ray Reece headed up the South West Division Ranger Derby Race with a furious pace of many things. 1st off he was given the old Central track they bought a brand new metal track with all the trimmings. Ray with his daughters husband Bruce help they worked that track over it looked brand new. That track has been running races before I started in Rangers some 28 years ago. The track has had 2 timing system upgrades (SupertimerII) and worked wonderful! We did replace three cord ends as the clips were broken. Yet folks that track and timer was quite the gift. 25 years ago the Oak Grove crew built a 6 lane red oak track using measurements from this track.
Bible says give honor where honor is due. Oak Grove has at the very least brought and ran their 6 lane track to 2 races a year for the past 25 years. It has taken a make over as well and Gary Rowe and team are faithful. Tell them thanks! It's a lot of work setting up for these races. This past Friday night we setup both of these tracks. Here is a time lapse of that.
Racing ran from 10:00 am to 12:30. We had a great time. Dan and Gary our Springfield Sections Commanders introduced a Classic division where you can run a car from the past. It's fun to re run some of your old cars. ( I had a first. I had the slowest car out of all of the cars in my race....um...did I tune it up? No...just grabbed it and entered it..you would think I would know better...I get as much joy out of participating as I do winning...no greater joy for me is to see someone else win...it's funny I get joy from that.) I still want to win! Ranger Derby is fun!
Pictures from the event. Special thanks to Dan Rockafellow and Mark Jones for sharing the pictures with us. Zip file of all these pictures.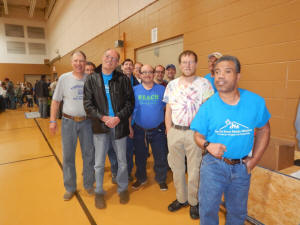 Special Forces Race in Open Class and WIN Big time!