Special thanks to Mark Jones, Dave Yonke and Rob Batchman for sharing the pictures with us. Click on a picture for a larger view.
Rob, Blake,Taylor ,Logan ,Keanan, Jimmy, Joshua, Dave, Garrett, Joseph, Jackson, Terry, Drake, David. 5 youth and 10 adults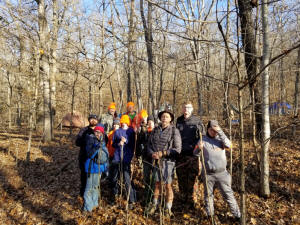 These guys reminded me of when I was 10!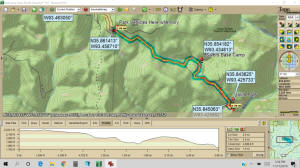 Trip one way and profile of it. 500 feet of elevation change!

Wow this is a endurance trip! High of 55 low of 35 on the drive down we saw some 30 degrees. Zip file of all these pictures.
11-15-2019 Bowers Hallow Falls just south of Hawksbill Craig about 3 miles. Our group of 15 mostly met up at Ozark AOG and we made good time leaving at 5:49 driving down to Harrison we met up with Joshua Pennekamp and Drake and David. From the Arkansas Rest Area we made good time down the back roads through Boxley up the steep dirt roads past Hawks Bill Craig then on to the Kapark Trailhead. That is when the excitement begin.

It's dark in these woods following a dirt road with mud puddles and ruts for several miles and then I see a new sign and drive past the turn off into into Kapark. Even with GPS and vehicle navigation I missed it. Found our selves facing a 24" deep mud hole. I drove through it in my new Ford 4 wheel drive 150. The rest stopped. I then determined I had missed my turn off 500 feet back and found a spot on the trail road where I turned the truck around backing over saplings at the edge of the road. On the way back we went once again through that 24" deep mud puddle. By this time the Ozark Boys in my truck had beads of sweat on their foreheads as they picked up on the rough muddy road. (ME TOO)! This was a Wow moment for me!

So we all turned around and made the trail head turn off. Once again the road went to 4 wheel drive only and we parked the cars and put everyone into Rob's and my 4 wheel drives and soon we were at the trail head. Yup nearly 8:45 p.m. My miss turn cost us 30 minutes. It was fun but it was a challenge!

After some car camping deliberation we decided we were backpackers and the trail before us. Soon we all had our backpacks on in just over a quarter mile found our base camp in the woods.

The boys from Ozark are at entry level backpacking. So they take extra care at getting setup and making sure they don't freeze at the 34 degree temps. I had to spend a great deal of time on these boys on this trip as they had to be watched closely. Cliffs, fire, sticks, rocks, ice, shenanigans, cold were considered each step of the way. They must have fun but this group needed extra stern guidance as at this age they can tear up a crow bar.

Rob brought forth our Council fire service at 9:35 shortly after we had our fire going and most had not cooked supper yet. Joshua Pennekamp and the Evangel Univ. Team were hammock camping and triple nested in the same tree with David laying out on the ground with only the stars and Joshua and Drake hammocks above him.

The rest of the group were in tents with Jackson hanging in his Hammock. He froze. It takes a good under quilt in the right position to stay warm in a hammock on a 34 degree night.

We left base camp at 8:45 a.m. hiking down to Smith Falls 3 miles one way. This trail leading to these 3 waterfalls was hit and miss. With out the GPS View Ranger App confirming where we were going it would have been hard to know sometimes if we were on the trail or not. Bushwhacking from Bowers Hallow Falls had us checking the GPS several times. It would be very easy to get lost in these woods.

The Falls are beautiful. By the time you get to these places your pretty tired. The trail being 3 miles in is a technical one as almost every step is calculated going up and over something and the 80 trees you climb over or walk around add to it. Bowers Hallow Falls takes some climbing. One must go past the waterfall on the north side and walk about 1/4 mile to a place where the cliff gets to about 14 feet and there is some hand holds and a tree to hang and climb on to get down there. It takes a while for a group of 10 to get through it. Then the quarter mile walk back to the base of the falls it all adds up. In this area is one of the most all natural peaceful places you will find on earth.

We enjoyed our lunch at the top of the falls and then Rob took a group of boys to the bottom of the falls. The other 5 of us rested and 4 got in naps. I just get to fret about time and yelling at folks to not fall of cliffs and watch their steps. (I am so glad as a Spirit filled Christian that I know God is there with us and helping us along the way) Over 600 outings outside the walls of the church and 300 of them have been backpacking, floats, hikes, rappelling and more with almost no incidents of those none we could avoid - oh we could have stayed home and avoided them but a million more people die of heart disease than out hiking in the woods! Sure first aids those are a given. Briars bring blood almost every trip. Slips trips and falls are common as often the trail is covered by fallen leaves that cover up all kinds of neat things that roll.

Hiking out and up from Bowers Hallow Falls is a work out. We stopped about 8 times to regroup and to give the slowest moving person a chance to catch up. They guys at the end get the shortest breaks but if they were in the front they would get the longest breaks! It takes about a hour to walk down to Bowers from the trail head where the 4 wheel vehicles park. The other parking is about 1/4 mile backup the muddy lane.

We made base camp and took down or tents and then backup to the vehicles for a packed ride back to the other 2 vehicles. Then on back to Compton at JB Trading Post for ice cream and soda and a sandwich. It's a wonder what the promise of ice-cream or a soda can do for a boy that is dragging both his feet and his attitude on the way back. I wouldn't want to be the one that caused the whole group to miss out on ice-cream and a soda would you?

After about 30 minutes at JB Trading Post we were Back to Ozark AOG at 6:30 p.m. All picked up by 6:40 p.m. Thanks parents for bringing your son on time and picking him up on time. To not do this simple thing is one of the hardest things to swallow when others are volunteering their time and resources to grow character and other good things in your son!

This event was a endurance test. It had all kinds of obstacles to over come. YET WE did it and had a great time. I was reminded of myself 50 years back as the boys in my truck were exceedingly obnoxious with sounds and voices that 10 to 13 year olds do....Praise God for Randy Travis and his songs! Did I mention there were hunters in the woods. One picture here is from a friend up north who got a nice deer! There were no deer with in miles of us. The boys made sure of that.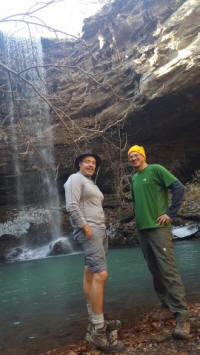 Bottom of Bowers Falls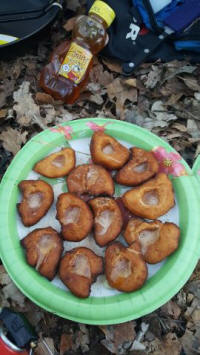 Honey Filled Donuts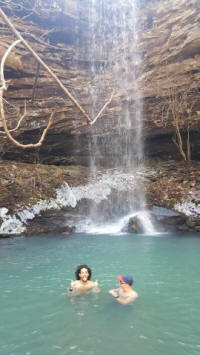 University Boys take a ice bath!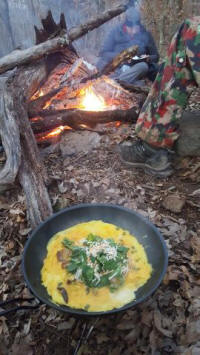 Popeye Omlet!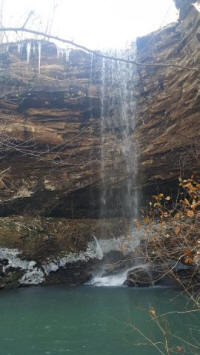 Very tranquil place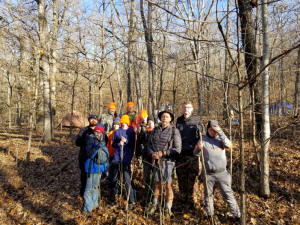 Younger group of boys did very well!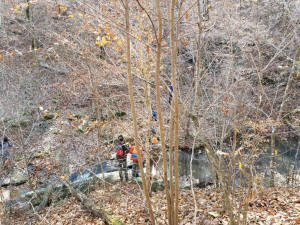 Always dilligent on what these boys are doing!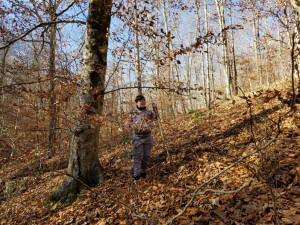 Jimmy is a trail master! He walks a mile to church!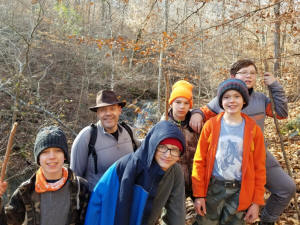 You have to watch the guy with the brown hat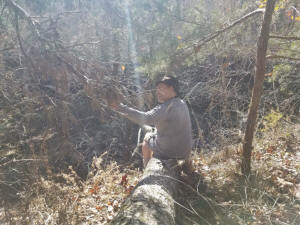 Always MORE!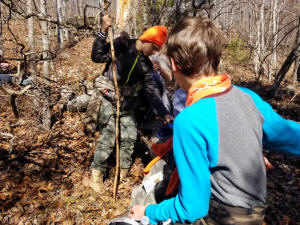 Lunch time just to the right of the falls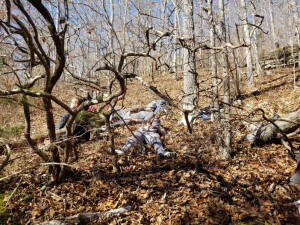 Nap time for some!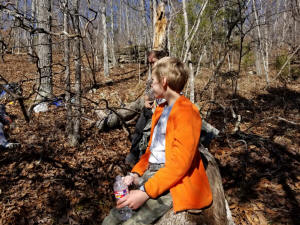 Boys of all ages THRIVE on these trips!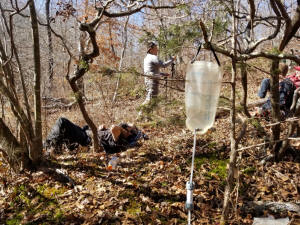 Filtering water while napping!
The hike. This trail is sparse. Need a gps!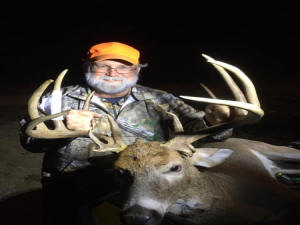 Bob was in his woods near his house when he harvested this deer.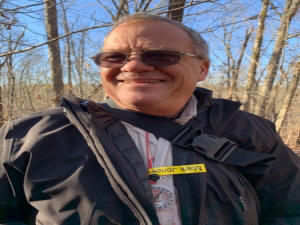 I know it's me because my name is on my compass!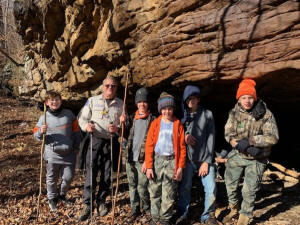 Smith falls with over hang!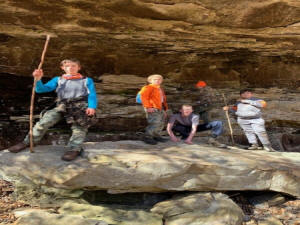 Adventure!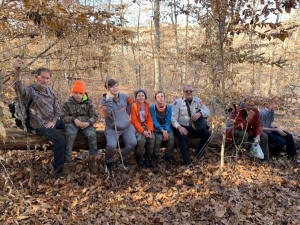 Birds in the Wilderness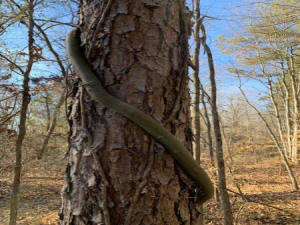 Wow that was a thick vine!