Alum Cove and Cave Creek 11-30-2019 Near Deer Arkansas just off of 7 highway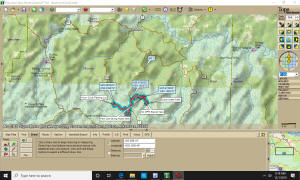 Alum Cove and Cave Creek and trip between them.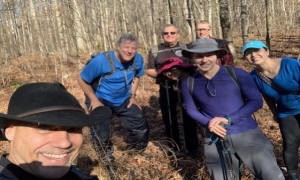 The group of 7
Rob called for a impromptu day hike. Said hey we have a group from Springfield that is going on a day hike to some new places we have not been before. So... YES let's go! We met up with Ben and Chuck and Tran at the Evans Road Commuter parking at 8:00 am. promptly headed south to Jasper, Ark. We drove on a new road that we had not been on just on the north side of Jasper that followed the little Buffalo River. Took that some 15 miles to Alum Cove day use area. We enjoyed a hour hike and found the area very cool for a nice city park type of wild park. 272 foot of elevation change but lots of neat caves and formations and the the natural bridge was neat. After breaking a sweat on the loop back to the vehicles we headed off for Cave Creek. I was riding this trip. I was following this trip. Only thing I had to do was aggravate my best buddies Rob and Joshua! We had a great time. After the pictures is the report on Cave Creek. Click on a picture for a larger view. Trail was about 1 mile loop.
Thanks to Mark and Rob for sharing the pictures. Zip File of all these pictures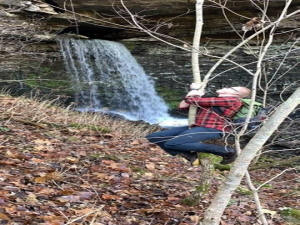 Joshua Climbing a tree at the base of the falls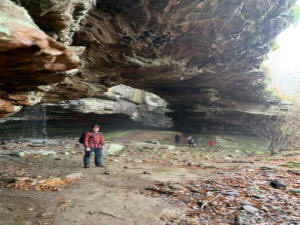 Alum cove Natural bridge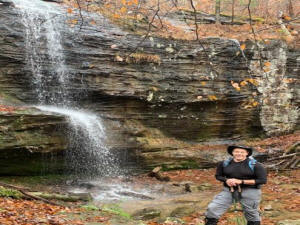 Rob Alum Cove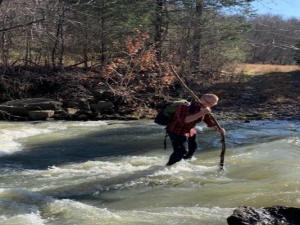 Creek Crossing Cave Creek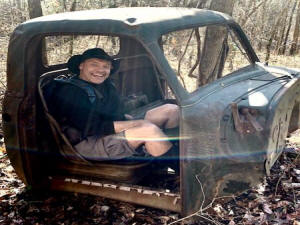 Old homestead truck cab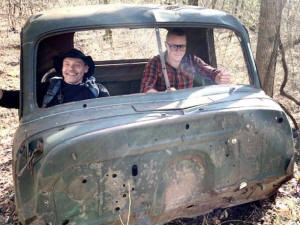 Joshua and Rob taking it out for a spin
hum gas tank in the cab????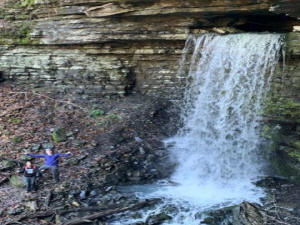 Chuck and Tran lead the way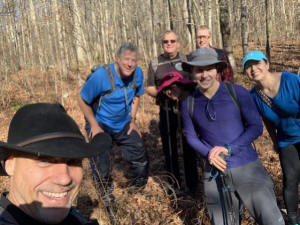 Rob Ben Mark Joshua Chuck Jane
Water was flowing all over the place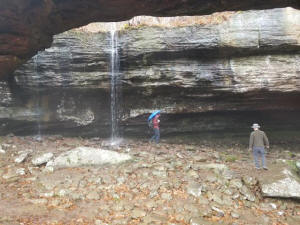 Natural Bridge at Alum Cove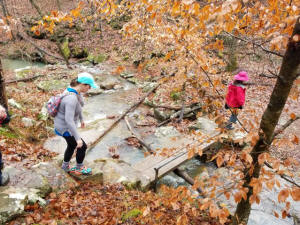 Alum Cove is a day use area that is well established
Creek Crossings are a wild thing for the first time doing them.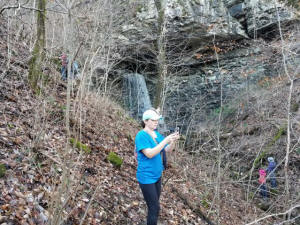 Base of Cave Creek Falls
Cave Creek. It's a wild place. The drive down the dirt road off of 7 highway was steep and a bit muddy but the 2 cars and Robs 4wd truck did fine. We parked at the gate at the unmarked trail head about 2.7 miles from 7 hwy. Put on our Day packs and headed off through 2 fields then followed cave creek on a logging road most of the way. Lot's of neat things 4 river crossings each way and water falls and neat cascaides. It had rained a couple of inches the privious 2 days and had just ended with rain as we arrived so it was wet and everything was flowing. The creek was a challenge to cross. For the first time river crossings for those that have never done it...they are daunting. Yet after we face our fears they become fun and a challenge! The trip in and out was 3.1 miles We arrived back to Springfield at 5:20 and had a great time. Thanks to the Springfield Group for taking us along and showing us a new trail. Will take the Royal Rangers here on a future date!