Here is the information on the SW Division Cardboard Boat Regatta held on August 10-11, 2018:
Thanks to all who attended and to those who worked to make this event successful.
Ray L. Reece
SW Division Director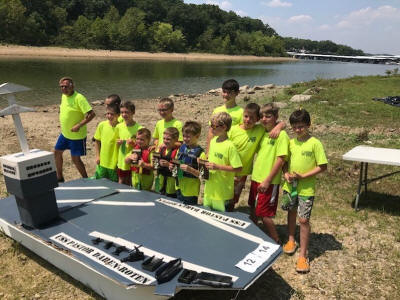 Top Trophy Team
Video on Youtube of the race. A Zip File of all these pictures
We had Perfect Weather (THANK YOU JESUS) with 26 boats Racing. 11 Churches Represented. 124 for Friday nights 111 for Dinner. 175 on Saturday for the racing with 111 lunches. Dan Rockafellow kept us shouting Glory with Ray and Linda Reece's preparations for Food treats. Thanks Andy's Frozen Custard for once again blessing us with Ice Cold Frozen Custard at the Regatta Location. Rob Batchman blessed us with 2 great services and as always closer than a brother helping me all along the way to make boats and get them there and setup and take down and unload. Wow! Richard Michael and Rob as usual had everyone laughing hard at their antics as they tried to explain what the boys were doing out there in the middle of all that racing. Many of you I could just keep on telling of the good you have done and I would forget someone but know. God knows and it's all for His Glory and Eternity. Thanks for letting me Serve.
Some Race Stats:
Boat Name: Church Name: Trophy for: RK- DR and AR - ER
​
Yellow Submarine Life360 Church 3rd n Speed​
D712-25 Life360 Church 2nd n Titanic​
SS Minnow Abundant Life Assembly of God 2nd n Speed​
Jolly Ranger Abundant Life Assembly of God 1st in Team Work​
USS Pastor Daren Roten Ozark Assembly 1st n Design 1st Team 1st Speed​
Gummy Bear Ozark Assembly 3rd n Speed​
USS Pastor Daren Roten Ozark Assembly 2nd n Design​
Shark Attack Branson 1st A G 1st n Design​
Bana Evangel Temple 1st n Titanic​
​
Had to give out several deductions on points for duck tape hulls, Foam in boats and jumping out of the boats to early before reaching the landing area.
Click on a Picture for a larger view. Special thanks to: Dan Rockafellow, Rob Helfer, Rob Batchman, John Hicks for sharing the pictures with us. Thanks each outpost for your help with running the races and cleanup. Our Team did a outstanding job this year. Thank each of you. Did i mention 2 boys raised their hands for Salvation at Friday nights council fire service.
Mark Jones, Regatta Coordinator
Pictures by Dan Rockafellow
Pictures by John Hicks. Click on a picture for a larger view.