Click on a picture for a larger view. Special thanks to Kevin Fringer, Rob Batchman, Garrett Bevis, Mark Jones for the pictures and videos.
December 15th, 2018 Hideout Hallow Trail near Compton Arkansas. Temps were a low of 34 and high of 51 mostly cloudy and cold up to about 1:00 p.m. then it warmed up. Branson 1st had 7 folk Richard, Jennifer, Justin, Nathan, Evan, Michael, Matthew. Central had 5 Kevin, Garrett, Jackson, Elijah, Drew. Mark, Rob in Ozark and Kevin Fringer came up from Arkansas.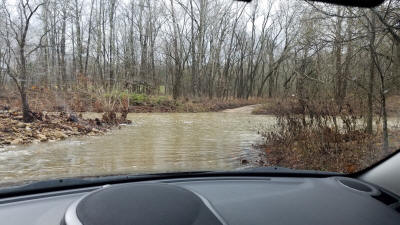 Um.... Turn around don't drown!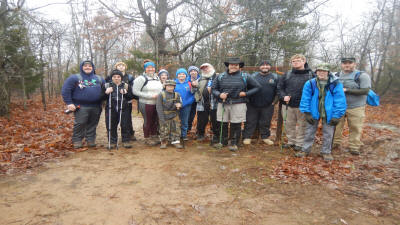 Group of 15 at Trail Head
Weather is a key factor and we must always be vigilant on that. Just a small weather change can make all the gear you brought inefficient for the need. Our first vision for this trip was a over night backpack to Thunder Canyon Falls. Friday night to Saturday 5 mile backpacking trip with base camp within a mile of the trail head. WEATHER REPORT waited until the last minute to announce 100% chance of rain with the temps in the low 30 degrees. When your going into the back woods and near creeks and rivers only a idiot ignores the weather. (Sorry to say we all have to learn our lessons to learn this first hand).​
​
Now having said that. Most would have just thrown in the towel and sat at home and collected fat around their heart for a early grave. This group reorganized and had a backup plan. ​
​
Kevin came in about 20 minutes ahead of us going the same route that only had one river crossing. On to backup plan with our 4 vehicles and 15 folk. Hideout Hallow Falls. No river or creek crossings... so we thought. ​
​
We met at JB Trading Post in Compton and left Kevin's Car there. Then drove the 5 miles down gravel roads often going over 2" of pooled water and observing the wash outs and thankful for the county road maintenance of new chat. Soon we were at the trail head of Hide out Hallow. No sign there just a pull off.​
​
Soon we were down the trail and laughing and having a great time. There is something really neat about a group of Christians going down a trail. Just clean living and fun and lots of laughter. Uhhho. A dry branch full of water with a log across . Ok...so the only lady in the group walks across the log and the rest of us He' men we walked the stones. I made a pride statement and said I would walk it on the way out. (note to self: boy don't ever say something like that they will hold you to it.) GRIN!​
​
We crossed 2 other dry branches with water in them and up and down and around and passing some dead fall trees and soon we came to the point of Hideout Hallow. It's fun to look around from a high point and look over the valley below. With a view of several miles of valley we anticipated the falls. ​
​
Hideout Hallow Falls has about 15 falls when it's wet like it was this time. Water comes out from all kinds of places and flows. The main falls were fed by 3 other cool falls before the Big Falls of 40 feet or so. WE ooooooed and awed over this place. ​
​
Justin and Kevin Fringer headed down below the falls to get pictures. So most of us followed and had lunch down there. Did some exploring and then eventual climbed back up top. This is a tricky place and I didn't want to go down there but did anyway. It's a challenge that takes time and patience and you have to bridal your fears here. YUP no handrails. Have to take off your day pack and scouch on your backside, slide, scouch, slide...dangle a foot for a foot hold and I didn't mention the squat hike for 50 feet under the over hang with water dripping on you....and the thing with the water crossing. YUP I wouldn't do this stuff is Rob Batchman didn't make me do it. ​
​
Boys did some exploring around and Justin was gathering time lapse pictures and I just cooked up some Steak n Shake Chili and hot chocolate. Jennifer and Richard Michael enjoyed some brew off of her new Sterno Hurricane stove. It's fun taking out gear and making life a bit more at home in these Wild Places. ​The rest ate trail mix, jerky, summer sausage and easy food.
​
This whole time around this place always reminding folk watch those slick rocks. Be careful. It's a long painful walk out of here if you get hurt. Praying under my breath Lord keep us Safe and Knowing these trips are prayed over and with good choices always remain safe.
​
We went up creek from the Big Waterfall and enjoyed some fire craft at the over hang smaller falls with a slab that looked like a bed there. Tons of graffiti AT THIS FALL. Rest of it was pristine. ​
​
2 days of 100% rain trying to find something to catch fire is hard. Only cutting down a dead branch and splitting it to find dry wood is the only way to get a fire going that will last. We did fire up some dorrito corn chips to use as a fire starter but as soon as they burnt out it was over. ONLY BATTONING a branch of 3" around or bigger about a foot long would deliver dry wood for a fire that we could then catch the wet wood on fire with. ​
​
We had a short prayer time for Justin's Aunt and for our Yonke Backpacking Family. Richard testified his mom was given the same report and was healed and lived for another decade or so. We Know God is able and as Christians we WIN in the End every time. ​
​
Heading back to the trail head we passed by Mistletoe high up in the trees (First time for me to see it in the Wild and know what it was). Also my sweat started building as we came to the Log across the creek.....Michael Napier reminded me it was my time to walk the log. OK>>>>> now everyone had to do it well most of us anyway. I made it across but only by the hair of my chinny chin chin...clinging to a small tree as I swirled around it getting a rouse of of the group as they thought I was headed for 14" of creek water.....I landed safely on the dry ground. Then we made Rob do it as I -WE hoped for the same...GRIN!. I just love friends we can peer pressure in to doing things. HA! ​ No one get's hurt. Just a chance of a splash makes it a challenge and fun!
​
Back at the vehicles. A short trip back to JB Trade Store and some money spent and a new Kelly Kettle and thermos to replace my other thermos that took a plop out of my jacket into the creek and went over Hide out Hollow Falls to take a 40 foot fall and still worked and sealed up tight just had a dent in the side.​ Drew rescued it for me and I enjoyed the hot coffee that was in the over the falls dented up thermos. It held hot chocolate all the way home. Walgreens' had buy one get one free so it cost about 10.00 for this BEST CAMP GEAR in my opinion. Always a hot drink hours after it was made.
​
We had a great time. Learned to go with the flow. Faced some of our fears. Picked up some trail time and enjoyed the fellowship of like minded backpacking and hiking friends.
Click on a picture for a larger view.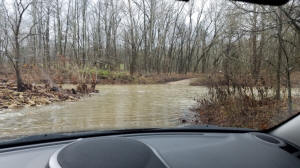 2 days of hard rain was expected.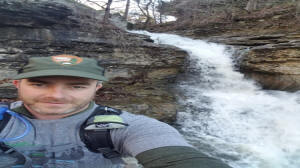 Kevin visited one more water fall after we left him.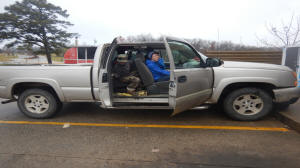 Boys fill private vehicles. We are blessed to have cheerful givers!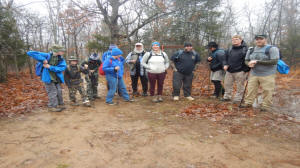 Groupies at the Trail Head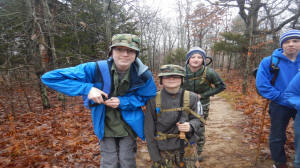 Forencic and reconstructive shots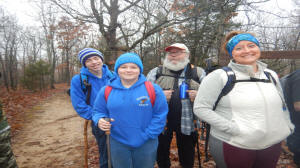 Dads and Daughters and Gransons enjoy the Trip!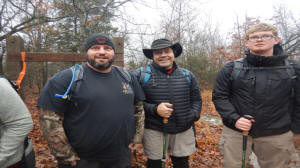 These three are above explainiation!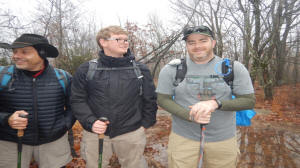 Rob Kevin and Garrett Ready for the Challenge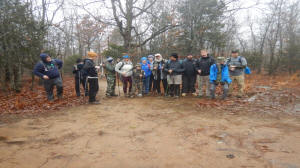 Trail was pretty muddy and flowing with water in many places.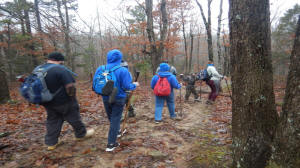 34 degrees cold and windy it just quit raining minutes before.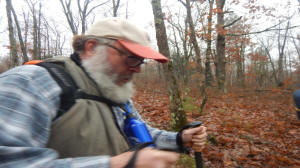 We move as fast as the slowest person and Richard kept us laughing and pointing out cool natural stuff that I had no clue about. Thanks Richard!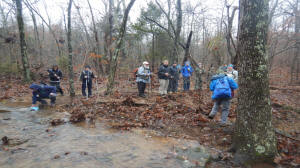 Dry Branch Crossings!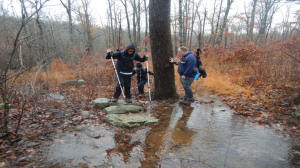 These crossings are fun. Keep that boot dry!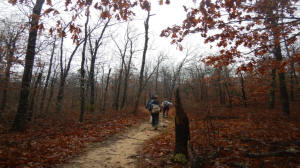 This trail is well established. No need for Compass here!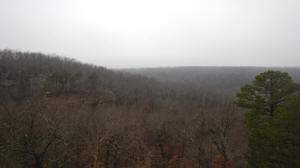 A view from a over look of this valley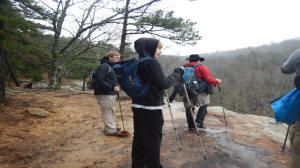 Hughes Bolders - Dirt - Trees and Water Spell FUN!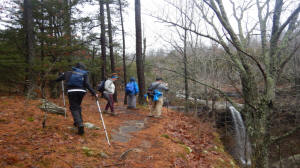 Our first glimps of Hideout Hallow Falls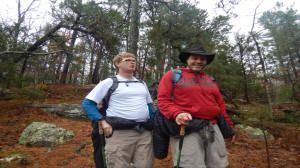 We found these two hiding out here.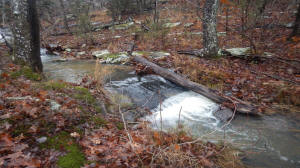 Pretty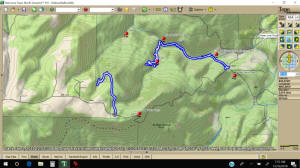 Trail topo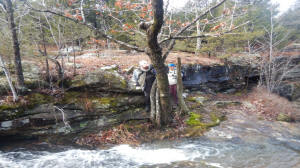 Tricky climb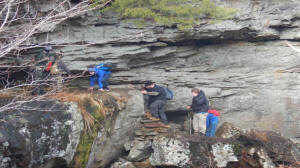 Climbing back out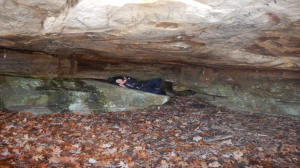 Scoutch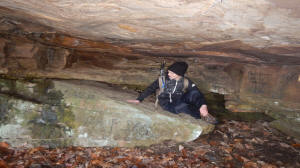 Over hand full of coolness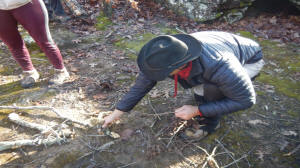 Firecraft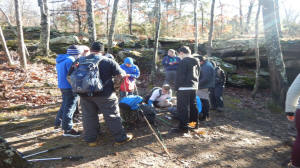 Dorrito fire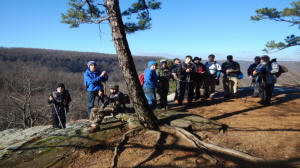 Over Look