O
ctober 27th - 28th, 2018. Temps a high of 68 and a low of 40. Perfect weather sunny. No breeze to speak of.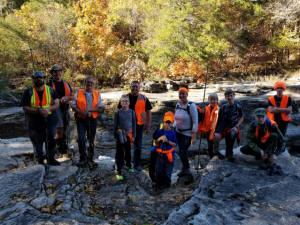 Group at Long Creek Falls

Click on a picture for a larger view. Special Thanks to Rob Batchman and Mark Jones for sharing the pictures. Zip File of all these pictures.
​​
Our Group of 14 came in 3 waves. My part started earlier with 2 folks to be picked up in Springfield. Then a trip back to Ozark AOG at 10:00 am. Our group of 11 left Ozark AOG by 10:15 am and headed south on 65 passing through Forsyth then on past Kissie Mills on to Coy Bald Trail Head in the Hercules Glades. Jennifer Napier and her son met us at the trail head at 11:00 am After putting on Orange as it was Youth Hunting Season so we would be very visible we headed down the trail head after a few trail instructions. Trail head Sign in. Maps given out. Shown where we are on that map and show where we are going. And the only real rule we work hard to live up to; When a trail splits we all stop there until we are all there and then we all go down the right trail together. (if you don't do this it will bite you at some time or another).​​
​​
Soon we had descended the 238 foot over 1/2 mile and we were at base camp. Tents went up and base camp was established. Lunch (bring your own, cook your own, or go hungry). Then firewood detail. We drug up firewood for about 45 minutes. Most of it was pretty damp from the rain the day before.​​
​​
Soon with our day packs on we headed out towards the Pilot Knob stopping at trail crossings and regrouping. 4 of the group got out ahead of the group and the leader with them was asked not to do that again but keep me or Jim Evans in ear shot or by vision. Folks get anxious when the groups get spread out. This is a natural thing as each have their stride. It's very frustrating hiking behind folks that walk slow. So get out around them walk your gate and then regroup often seems to work the best.​​
​​
At the trail split that goes north to Pilot Knob we stopped and Rob was planting gummy bears in what I thought was a Prickly Pear Cactus patch. It was clear to me it was a cactus some 30 feet away and I got animated and Rob said show me a cactus..it's right there as I walked over to discover it was lichen moss that looked from my other vantage point like a perfect cactus.... Never mind! We all had a good laugh. Jim said the same thing happened to him just down the trail so it made me feel better. Ha! ​​
​​
At the next trail split our maps were checked at each trail crossings. Some folks are great map readers and some folks are great leaders. Not everyone is a great leader and not everyone can read maps. Choose wisely when your hiking or following another down some journey. Ok. So there we were. I walked down the wrong path a few feet and put my trekking pole in the ground and then asked if this was the right way to go Some said yes some said no we need to go that way. You are right lets go. "where is my hiking pole i asked" right there to your right. I looked around and it was not there. No..over there so I was embarrassed once again. (not done yet). Soon we were at the falls at long creek.​​
​​
We all enjoy this spot. It's the main point to visit when in this area and almost always meet others down at this spot. After a snack and purifying water with the gravity works all the water bottles were full and we headed down long creek following the creek and the trails that skirted the creek. Passing by some pretty falls and over hangs and all kinds of cool stuff. ​Yup as always there are boys that are told to stay out of the water were walking in water over the tops of their boots... warm weather this is normal. Cold freezing weather it's a cause to return back to the truck. These boys would have to live with wet boots the rest of the trip. ​
​​
Back at base camp at by 4:30. I noticed my jacket didn't make the trip down from the trail head my 3rd snafffoo. Rob called Justin and he picked it up on the way down to our base camp. Justin Fisher came in with Oakley his Rottweiler dog and we enjoyed a night around the campfire cooking food and laughing. ​The boys enjoyed using the hatchet to chop the logs in half. We erected boot drying racks 2 feet from the base of the fire about 3" tall and and it took some of the water out of them. Jim gave us some plastic bags to put around the last pair of dry socks to get them back to the truck on Sunday Morning. ​
​​
Rob brought forth the evenings council fire and we shared around that campfire. ​​
​​
I laid awake most of the night listening. Several new to backpacking folk in our group. I sleep so light that it's not really sleeping. Sunday morning the sound of campfire was filled with some whispers. The early birds were up and so was I. ​​
​​
We enjoyed a fun breakfast and Sunday service and a communion service around the fire. ​​
​​
A quick trip back up the hill and my orange vests were returned and we were heading back to Ozark AOG by noon. Our McDonald window was too short so we forgo that stop and headed back to Church. I dropped off the two from Springfield and was back home drying my gear on lines in the garage by 1:30. ​​
​​
Another perfect trip. If God was not in this I wouldn't be doing it. So many great lessons were taught and learned this weekend. Time spent with these folk is valuable. One event like this is worth 15 wed night meetings in my opinion. Take those Friends of Rangers and Rangers and head out and enjoy this beautiful area that we live in.​​
​​
Mark Jones