09-15-2017 So. MO. Events host a Magnolia Falls Backpacking Trip for New 1st timers.
Zip file of all the pictures
.
GPX Track of this Backpack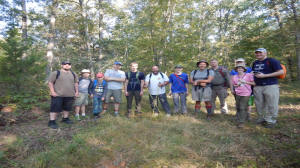 Group of 13 Can't see me.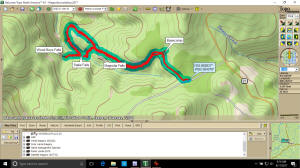 Topo of the Trip

Weather was perfect with a high of 89 and a low of 70. Partly cloudy to mostly sunny no rain in sight. Perfect 3.1 mile Entry Level Backpacking Trip.
We left Ozark promptly at 5:45 and in 2.25 hours we made the trail head. I drove right past it. It's hard to see so use GPS Track to find it.
This is my second trip to this wild place. It's a good place to go for a beginners backpacking trip.
1. From the vehicles to base camp is less than 1/4 mile. (New folks don't have the gear or the training for this so keep it short) 2. The trail is pretty much flat and easy to follow. 3. We came into camp right at dark. 4. Day hike is challenging and the things we visited are really neat. 5. Don't over due a first trip.
Our group of 13 with 5 of them never been backpacking. Great numbers to help out and keep everyone going in the right direction.
Our first group of 10 made camp and enjoyed a campfire and Del Wales filled in on the spot for the devotion. Kayden and Broc have made many trips with us yet this is their first backpack besides the Big Bat cave and a float or two and some day hikes and survival camps. Del and his wife have 5 boys and one girl and what a lovely family. They know the value of going outside. It's really good for all of us.
Garrett and Andrew from our Grand Canyon Trip are seasoned campers. One brought no head lamp and the other no tent... So in my box of camping gear tricks out came more gear. They had a great time and are always fun to do things with. Some one brought some firecrackers and they keep Marci awake thinking of the goodness and thoughtfulness of these peaceful quiet camping trips. Fun times. Boys love noise makers and getting a reaction out of each other.
Rob and Justin and a friend from Rob's Church in Branson came in at about 11:15. Just a few minutes after we all had settled in yelling "Pizza" get your pizza here" They had brought in a box of pizza from church. A few of the boys made Pizza Fall and chowed. They must have been quiet cause I didn't hear much past the bugs and the gusts of winds all night long.
Saturday morning... 5:30 am. I see head lamps flashing over my way. It has to be Jackson. He went to bed at 9:00 p.m.. Yup pretty soon I heard some talking. Jackson had convince Garrett he needed to get up and tinder the fire. Both in Hammocks. Backside can get cold with no padding.
Soon camp was up and we were enjoying breakfast and stories around the fire.
After morning devotion we all broke camp and packed up most of our gear and packed in a day hike and water and food and headed towards Magnolia Falls, Stale and Wood boys Falls.
Trail went down about 200 feet over the next mile. Gradual. Then we enjoyed 2 hours of exploring the gullies and waterfalls. Very little water here. Just a trickle if that. Some pools above and below the falls. I knew it would be BRUSHY and Dry as we had have no rain for 23 days.
Lot's of spider webs and spiders and bugs of all kinds everywhere. I must have knocked off 14 granddaddy long legs off of me. Walking sticks were all over the place and spider webs were across the trails every 20 feet it seemed.
September is a variety month. Can be hot, cool or perfect. A little warm for Backpacking. We do most of these in the Winter months. Foliage is gone so you can see a long ways, Bugs are almost non existent. Some water can be found usually and you can use that gear you need to be comfortable. Summer camping all you need is bug repellant and bug netting and a rain fly and you will be fine. Winter backpacking you have to be ready!
We stopped along the way a few times to have some fire craft one match a frame fires and ate lunch as we went and at some of our stops in cool neato looking places. We started our return hike back to base camp at around 12:15. Always faster on the return trip. We made good time. The one hill of about 100 feet was a work out and we heard some bellering about that.
Base camp we packed up our last items and made vehicles and the stop at McDonalds at around 1:40 for ice-cream and eats.
I had a cup of coffee and fought drowsiness all the way back home. Opening windows, Cranking down the air conditioning turning up the radio. We made it back to my house in good time and Andrew and Garret were on their way home quickly. I came in took a bath and went in for a nap.
Sunday morning reminded me of muscles I hadn't used for a while. A fun trip and a good time of Reaching, Teaching and Keeping Folks for Christ.