Eagle Rock High Ropes Course Event! Monday May 1st, 2017 temps were over cast and teeth chattering if you were sitting down.
Lance Ussery owner of Upper Edge Adventures refreshed and taught us on the Royal Rangers National Campground HIGH ROPES Tower.
It was my privilege to enjoy 2 days of TOP NOTCH training on Rappelling and Top Roping and knots with webbing and dynamic and static ropes.
I personally was blessed to learn many things even after over 20 years of rappelling experience with over 250 men and boys going down cliff faces. I learned some new knots and new anchor methods that were improvements on what I was using. Many things saved me work and wear and tear on the ropes as well as they MADE GOOD SENSE.
JR Whinery, John Hicks, David our new National Training Coordinator, Anthony Hubbard, David North and Mark Jones all enjoyed the challenges that Lance put us through. I was the oldest on the tower at the age of 58 it's my duty as always to make the younger guys feel more confident they can do it because the older guy did it. They tell me that when were out backpacking all the time...GRIN! The "Chimney" is where you put your back up against the wall and your feet against the other wall and pray for the LORD to help you up 3 flights of pure enjoyable difficult agonizing glee of accomplishment. YES I made it up that " " and you can too!
After many setups and rappels Safety was always TOP thought. Double Checking. Good instruction. Then they put me on the zip line. Where I screamed like a Ranger!
I am so impressed by our National Staff. These guys are the real deal. They are doing "Living the Adventure" and even when it's tough. Learning and gleaning the best parts of raising up a fellowship of Christ like men. I watched and encouraged and made them laugh as they were facing a challenge that a lot of folk never face. "Living the Adventure" is way cool. At noon on Tuesday I headed home and left the others for another day of training on the high ropes course.
Click on a picture for a larger view. Real folks doing real things! What a blessing! Zip file of all these pictures.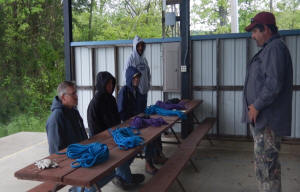 Chattering Teeth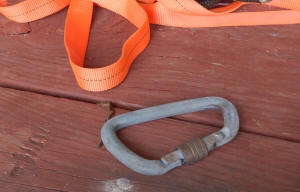 Steel the good stuff.
30 years of experience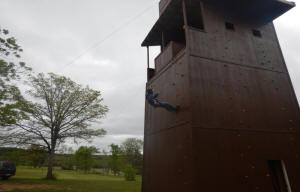 Lots of Rappeling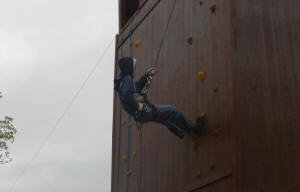 Going down is the fun part!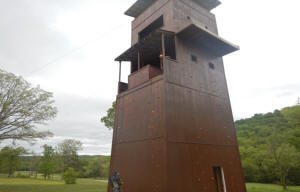 70 feet of pure challenge!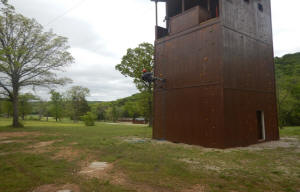 15 trips up those stairs is good for you.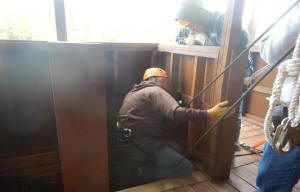 Anthony was first in the " " I call it a den of horror!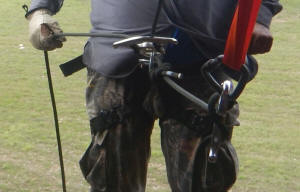 Geared up. Double Checked. Commands being used.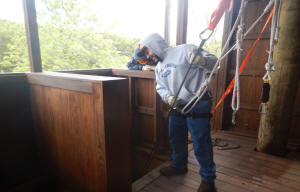 We all did it this time.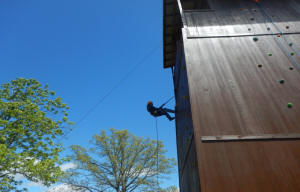 Start out using 57 foot ropes.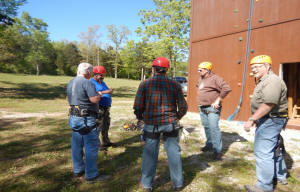 Review and reflection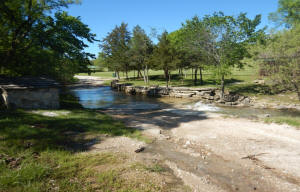 Flood from 3 days before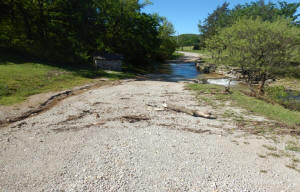 The video of the water is a WOW!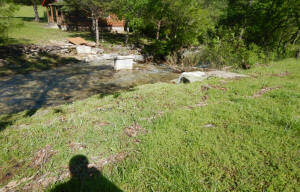 The Walking bridge is gone.
Winds snapped many trees off just like this.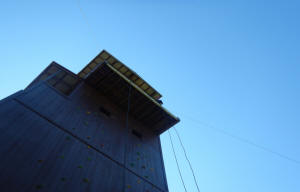 64 feet ropes being used. It's fun doing a free fall rappel.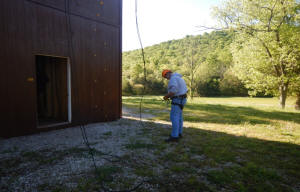 Lot's of figure eights and water knots and bowline on a bight.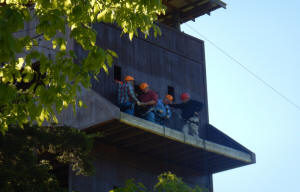 When your up there...just don't think about it. DOWN!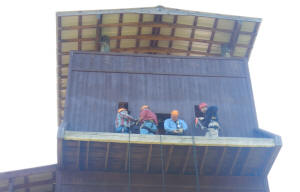 head down to the level of the your feet...is awesome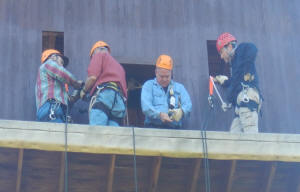 Always strapped in when on deck.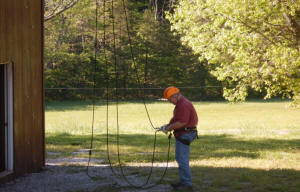 tieing bowlines 30 times will make you good at it.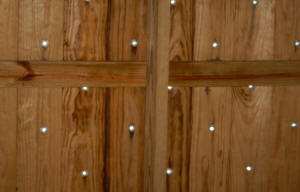 When the lights are out Eagle Rock as it's own Planetarian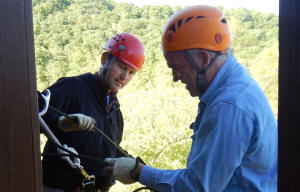 David and John taking turns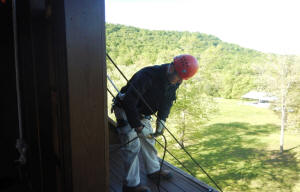 Belaying is watching and saving!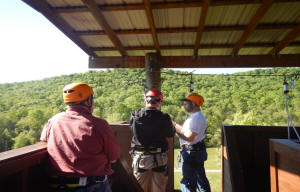 Ok..you want me to do that?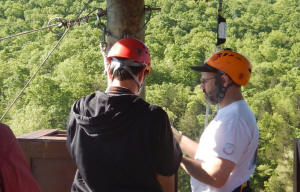 Double rigging and safety.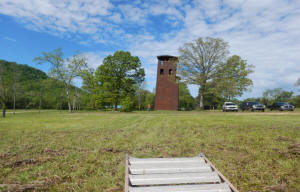 It's a long zip!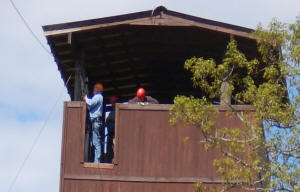 Oh...just jump huh.....uhuh.... yes... o.. fine. JUMPING!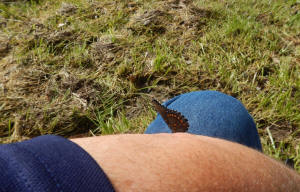 Butterfly landing zone.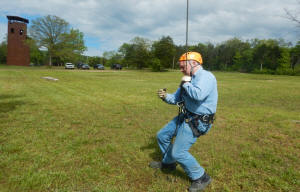 Coming down off of a zipline rappel.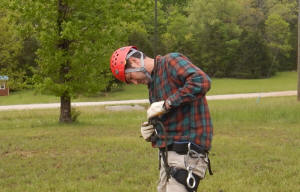 Good stuff. Rangers! Good stuff.