August 25th, 2017 Temps in the high 80 and low 66. Perfect Camping Weather.
13 folk turned out for a wonderful one night backpack from Kyle's Landing to the Jumping Cliffs and back.
Special Thanks to Keith Gray, Mark Jones and Rob Batchman for sharing the Pictures. Click on a picture for a larger view.
Our group from 3 churches enjoyed the 1.5 hour backpack with 4 river crossings. David and Amy came in about 9pm so 2 of those river crossings were in the dark. Woo Whoo Adventure for those two. Our group met Abundant Life group at the Kyle's Landing Campground and quickly set off on 2.3 mile 4 river crossing to base camp with out changing shoes. We just walked through. Some river crossings were at the tops of our legs. Lowest ones were just over the calf.
The high water had changed a few places from just a easy walk down them to a scramble down them. Paths often can change 100 feet up river or down river as these had.
Our group left the campground at about 5:44 pm and made base camp at around 7:45. We move only as fast as the slowest person. So it's good to stop and help the slow folks get up to speed by rearranging packs and gear and helping them as it benefits the whole group.
At about 9 pm it was dark and in came David and Amy into our base camp. This was Amy's first over night backpack and with 2 of the 4 river crossings in the dark at almost waste deep was adventure with out measure. I enjoyed talking with her and David about the trip and the trail differences we found and how they over came those as we did...Darkness is a whole different animal.
We enjoyed cooking around the fire. Keith and his two sons from Abundant Life joined in cooking pork steaks and we enjoyed a perfect evening of laughter and hanging out around the fire.
10:30 pm most of us went to our hammocks and tents or bevies or just laying out under the stars. It was a nice evening.
Saturday morning we were up at 7:30 am and enjoyed breakfast around the fire. NO BACON.... it was the first. Not the same with out bacon. WE had a morning devotion at the top of the jumping cliffs and then decided to have a late lunch at the Ozark Cafe so our tube float had to get underway and we enjoyed the floating in air mattresses and tubes for almost a mile and a quick hike back to base camp where we enjoyed a warm fire that Jimmy kept company with while we floated. Then a quick backpack out in record time. 1 hour and 10 minutes. No stopping for river changes or breaks. Weather was perfect. Keith and his son's visited the tallest Water fall between the Rocky and Application Mountains. They hit the cell signal and the road about 5pm.
We enjoyed a meal at the Ozark Cafe in Jasper and then headed back to Springfield. I got home at around 6:00 pm. One more wonderful trip with Rangers and Friends of Rangers backpacking and floating and swimming and jumping off the Jumping Cliffs....
and yes Joshua and Caleb I jumped to
. It has been a few years since I jumped but it was once again a fun thing to do.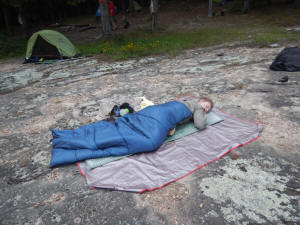 Sometimes you just have to rough it!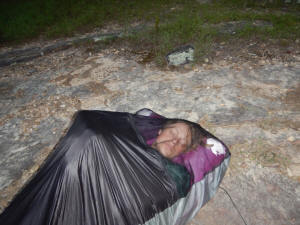 Biviy in Action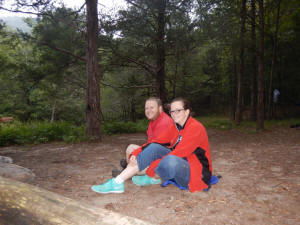 First morning report after a wild backpack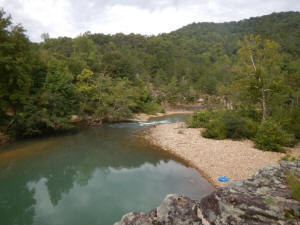 Morning devotion overlook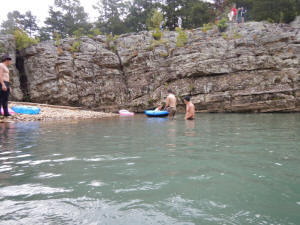 This place is awesome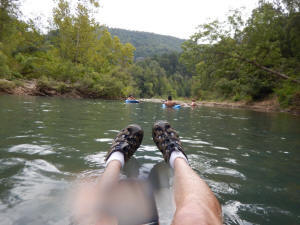 Floating on Tubes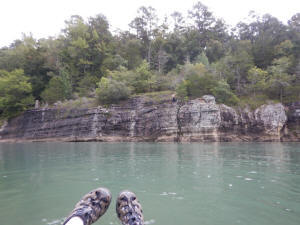 Old homestead right on the edge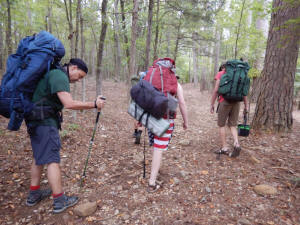 Packing out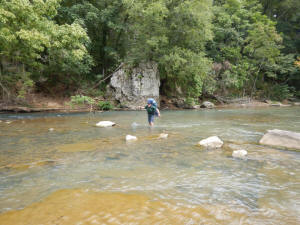 I love river crossings.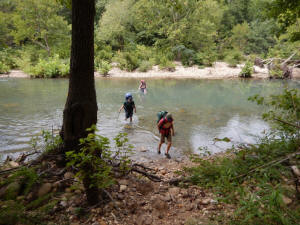 This is the stuff Rangers grow in!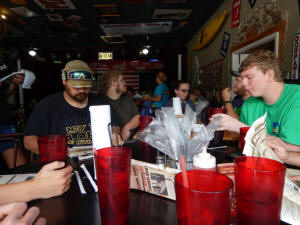 Late lunch at Ozark Cafe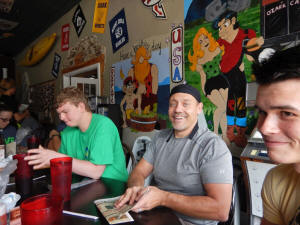 Great friends and family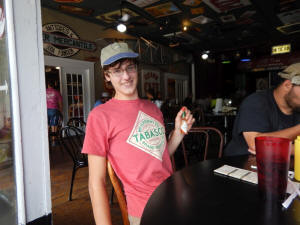 tabasco shirt and bottle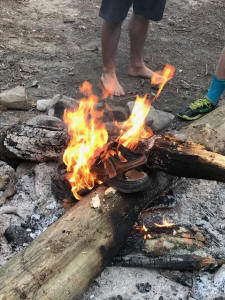 Ole shoe burning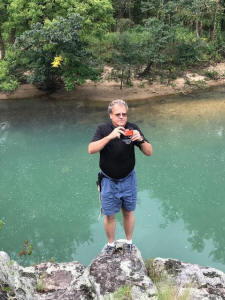 Just before I jumped!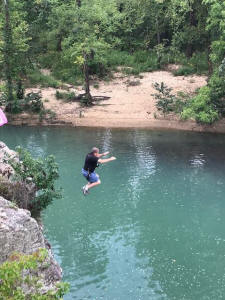 Mark Jumping
Gavin flipping