June 30th, 2017. 13 Friends of Rangers and Royal Rangers mostly from Central AOG in Springfield went on a journey of epic adventure. Yes weather report said possible strong storms. We prepared for the worse and went for the best. Had a great time no rain or lightning on this trip. Just a drop or two after we went to bed but that was it. We had the whole Hebron Access Point to ourselves. I love those forecasts...folk sit at home with their fingers getting fatter by the day checking weather reports while were out having a great SAFE TIME! ZIP file of all these pictures.
Steve Pulis, Rob Batchman, Dave Yonke and Mark Jones drove personal vehicles on this trip Our floatilla consisted of 9 Kayaks and 2 Canoes. After a hour and 45 minute journey from my house we pulled into Hebron Access just 6 miles up river of Twin Bridges River Resort. Soon tents went up and steaks being cooked and hot dogs and you name it we ate it. Chips and Salsa. Smores. Steve brought a new group out that he is wanting to get involved in some of our Floats and Backpacks from the Central Youth. My take on all of this is the more folks we take out into God's Creation the more they will see God and his Handy Work. Bring them.
In the many years of Rangers most of the time what is remembered is when we spend time with them outside the walls of the church and most of that in the out of doors. Not to take away from the importance of teaching and readying them for going outside the walls of the church as that is very important. Yet the memories that stick in the boys and the bonding of friends in my mind is from my experience is when we go and do. If your outpost is lack luster and barely making it go...Leaders take those ETERNAL SOULS BOYS and FOLK and LOVE them to Heaven by spending time with them by going and doing all the while pointing them to Christ and HIS Church.
Click on a picture for a larger view. We had a great time. Many Kayak and canoe flips and it's all fun. Boys and men faced challenges and character development. along the way. Good stuff ! Oliver won the HE man fishing Contest and beat me and Rob both with the most and biggest fish and he was borrowing our kayaks and fishing rods and lures and even had me take his fish off one time. Now that is living high on the RIVER! Good times and good friends that I hope last for Eternity.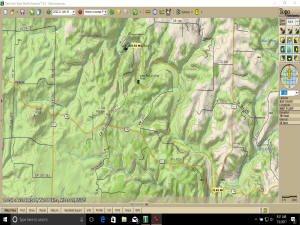 Topo of our foat trip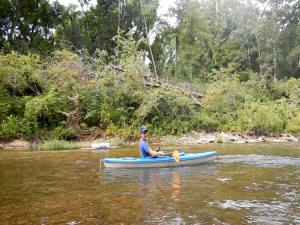 Oliver floating backwards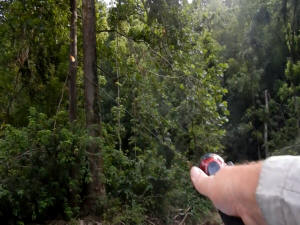 Wait for it...a cast into the River..whats it going to bring?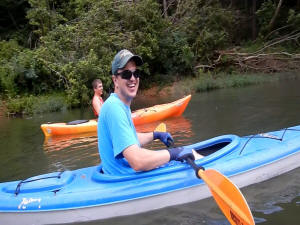 Dave and Matthew "quote of the day" Do I have to do everything?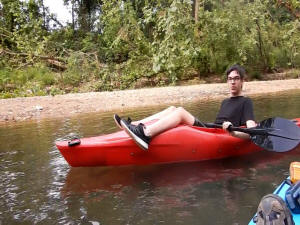 Issac first campout in a tent.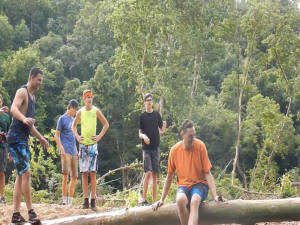 12 River hogs on a Log.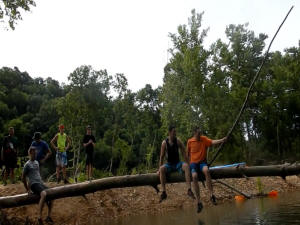 Disney World can't touch this ride...over water bounces..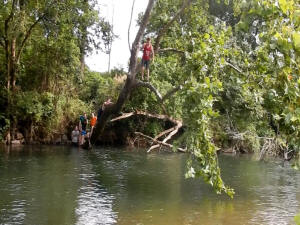 What a tree to climb and jump off into water? YES!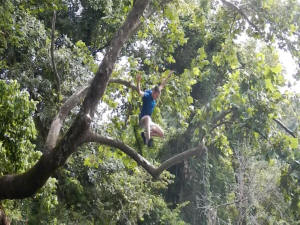 Catching Air!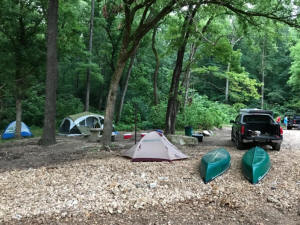 Base Campground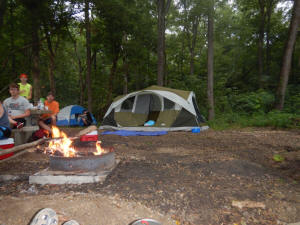 Hebron Access Point campground was under 30' of water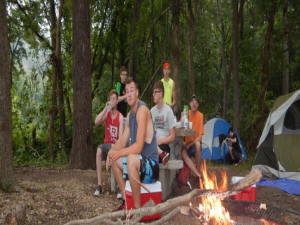 Full of steak, hot dogs, smores and more.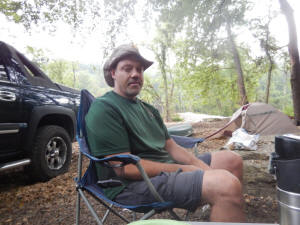 FireWork!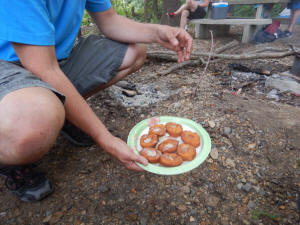 oooohhh.. Dave and his honey biscuits...ooooolllllWow!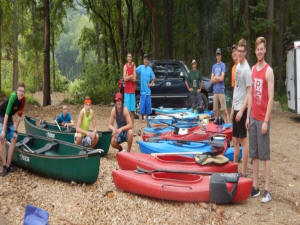 The gang
Take out parking at Twin Bridges 3.00 per boat.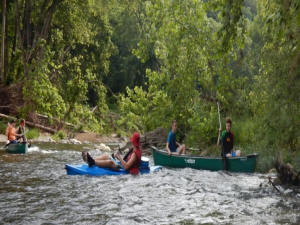 I love a obstacle course..its's so much fun and we laugh!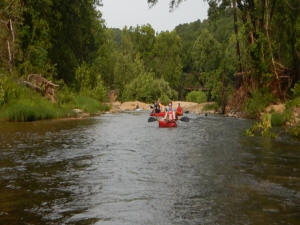 The fish were taunting me..follow the lure right up to the boat and look up at me...they did.
Some sore men and boys..after climbing up this jumping tree.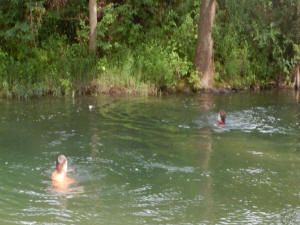 Water was clear you can see your feet touch the bottom.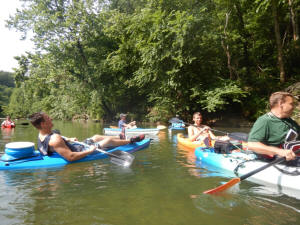 Panty check. Everyone stand up and double check you don't have panties on... what stand up in the canoe?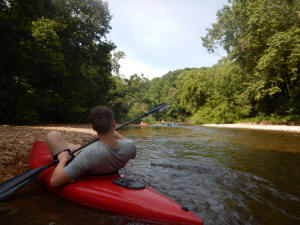 One of the best investments I have ever made..buying kayaks.
Ok...it's big and its long and it's dark what is it?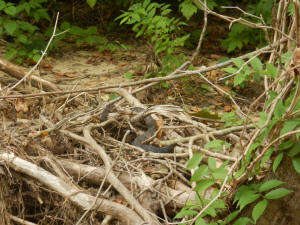 Can't tell if the eyes are slit or round.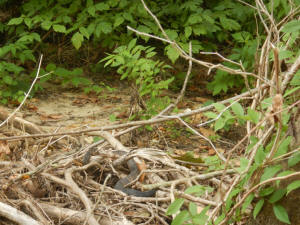 Can't see if the head is round or triangled...need a volunteer!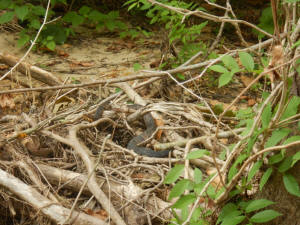 Not sure what this snake was.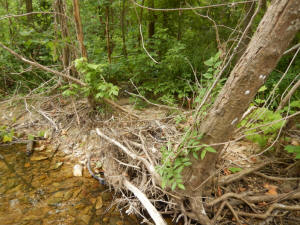 Cotton Mouth Snake confirmed!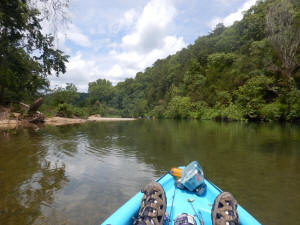 The open river in my new Kayak! American made too.
Birds on a branch..ooooh..did I hear a crack? NOPE it was some other noise boys and men make.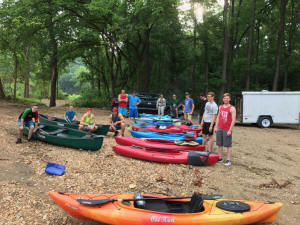 Matthews NEW Old Town Kayak. Dad's going to have to get him one of these... I can see it in his eyes.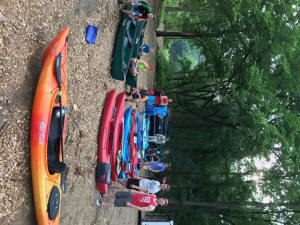 This one is for you folks that like to look at pictures sideways.