We hade a great time on Flat Creek. June 17th, 2017. Temps 82 degrees. Mark, Rob, Devon, Cole, Matthew and Josh. We fished and floated. We left my house at 9:00 am hit the river at about 10:30 after dropping off a vehicle at EE. Partly cloudy and the water level was at 4.5" at Jenkins. A quick float we made EE Lower Flat Creek Conservation Area by 3pm.
The Cooper head snake was carrying the cat fish in his mouth about a foot out of the water. He then went up on shore and Rob captures a few shots of him. I forgot my camera but did have some video of Rob and Devon jumping off of a rope swing. It was a pretty high one. I think Rob out fished Devon and I with a couple of bigger fish. However we all caught a ton of fish. I gave up counting after about 30 to 40. Rob pulled in a 14" bass. He was pretty happy with himself. He used a bigger version of the Rebel Crawdad I used. Cole, Matthew and Josh mainly floated and hung out. We enjoyed a lunch on the beach and a couple of places we took a break. The sun finally came out at around 2pm. It was a perfect days float. CLICK ON A PICTURE FOR A LARGER VIEW!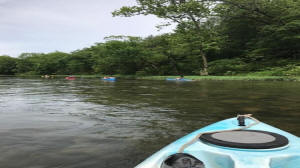 Fun river to float water moved fast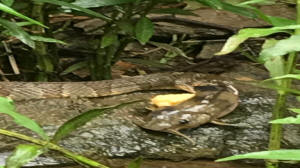 Cooperhead snake swallowing a catfish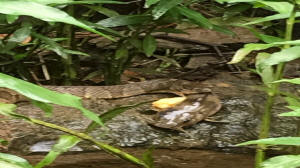 Cooperhead snake swallowing a catfish with eggs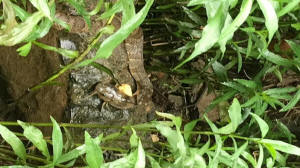 This snake carried the catfish above the water while swallowing it.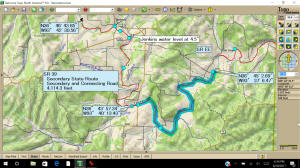 Topo and put in place on Flat Creek