Woo whoo! Adventure awaits! Click on a picture for a larger view. Special thanks to Mark Jones and Rob Batchman for the pictures.
Eleven Rangers and Friends of Rangers head out for a over night backpack and day hike adventure in Arkansas at the Kyle's Landing trail head. Destination Eye of the Needle. November 3rd is a wild day. Rob Batchman turned 50 on that day. Temps were perfect with a low of 60 and a high of 77. No wind but an occasional breeze rolled through.
Our group of 3 vehicles left my house in Ozark at 5:30 p.m.. FOG started getting it's foot hold about 15 miles from the trail head. Folks in all my life I have only seen fog that thick a few times. When your driving 5 miles a hour watching the white line on the right hand side of the road and it disappears... um.... prayed up prayers covering. In a flash we found the other side of the road construction and now we had white lines again. That drive about wore me out.
Soon we were heading down a gravel rock road 1.5 lanes wide down down down 3 miles from 2200 feet 900 feet with most of that in a mile. It's fun! Fog was really thick but you could see the gravel much better than the pavement... soon we dropped below the fog and all was PERFECT once again.
Our one mile backpack brought 2 new huge trees across the trail and what looked like a wild place was once again home. I have camped in this spot 8 times or more. Yet when you look at it from the trail it looks WILD! Soon we were up with 8 tents and 2 hammocks.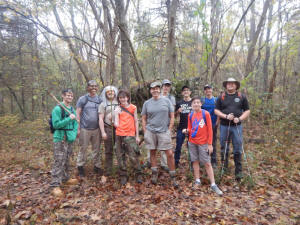 These guys are worth it!
David Julian introduced two of his fellow workers to Arkansas Backpacking! Sam and Dakota enjoyed the over night backpacking and campfires and day hike. Sam shared the council fire services by talking about their ministry teaching sustainable resources. Very interesting they go out and teach people how to hand drill wells, harvest methane for cooking and hydroponics to just barely touch a few of the topics they talked about. They often go in and help other missionaries in showing ways to increase food, gas, and water. Basics of life and think about it. If you share God's Word and give them something that helps them in daily processes of food on the table , cleaner cooking methods and water that is good for you. That's a Winner!
Zip file of all these pictures.
Here is a video of ARTS in action on the way out from a SCOUTING type event. The fun and humor in it is a hoot. Laughter is good for the soul.
https://youtu.be/bSJNfNYQEJ0
We met a group of 24 as they passed by our base camp heading up to the eye of the needle. A older group with some folks my age up there. I was impressed. Lot's of woman in that group as well. Maybe 6 men with them. Ladies were the leaders.
Our group of 11 caught this group of 24 as they moved and we waited and took breaks as they went out of sight. Then again and again. At the base of the caved in Room they stopped for lunch. We pressed on past and made the climb up, up, up to the tunnel. There was 3 sections of rope now. In the past there was only one 10 foot rope at the bottom. Now rope all the way up. I still walked up it (carefully) and we made the tunnel.
The girls from Evangel University introduced themselves to us and the 3 of them were explorers. They enjoyed the challenge and would put 80% of the boys in our Rangers to doing a double take. interesting enough at the bottom of the eye of the needle I noticed 3 of our 17 to 19 year old Rangers spent most of their lunch talking with these 3 young ladies. One of the ladies delivered a full size Bible with devotion and we all enjoyed and thanked her for doing so. Even had 2 others not in our groups there that said thanks
The eye surprised even me. Jarred, Ernie and Garrett found a new entrance into the eye it's self. Now I know there is 3 exits to that cave all with in 50 feet. Cool stuff. We enjoyed a hour or so there. Dakota and Sam went up on top for the valley view and Rob went on a little later. The group of 24 came in and spent about 15 minutes there and then had to return back as they were just one small group of a backpacking rendezvous just a few miles away from Kyle's called Horseshoe canyon.
We enjoyed the climb back down. The boys thought it was cool using the rope up and down. I told them it was easier to walk next to the big tree on the ground but...hey it was different.
We made the trail back towards camp returning the way we came. At one pool 9 of us were up on the creek bank and the 2 youngest of the group were down by a pool of water and they were going to walk the edge next to the pool of water. WE all advised them they would slip in and get wet. Rob even said he tried the same thing last time and slid in. Well after they were committed and we couldn't talk them out of it....they both slid into the 2' deep pool and had to walk through it about 50 feet to the gravel as the sides were toooooo slimy to get out any other way.
We passed the group of 24 and found them wrapping up a persons knee. She had pulled it the day before and it was swelling on her. The professional nurse as I observed to be so and asked if she was because of her professional skills being exhibited had here wrapped up and walking again in minutes.
Back at base camp we took down tents and packed gear and while others were finishing up we made that advertisement for One800callErnie.
Lots of fun and exercise. My feet are a bit sore today. So many toe holds as you walk this trail. Every step of this 2 mile in trip is consideration. What looks like on a map as 2 miles in and out I would rate it to be 8 miles round trip.
We talk about Adventure in our classrooms. We must leave the walls of the classroom to experience it.
Truck battery was DEAD when we got back to the trail head. After a quick jump we were heading to Harrison for a MCDonalds snackOramza. Home at 6:20 p.m..
Great trip.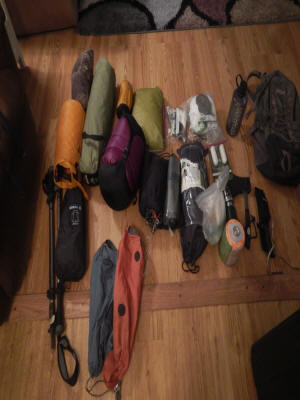 This is part of the 57.2 pounds I haul. Just in case stuff!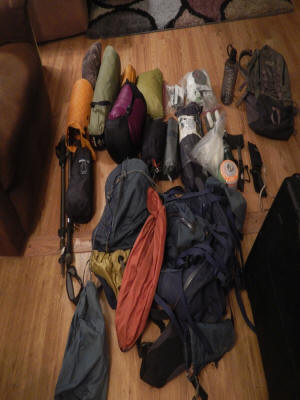 Even at it's light weigth it all adds up.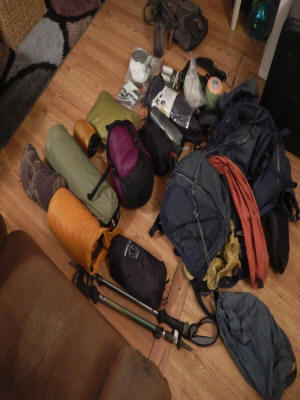 Cot Chair are 4 pounds of it. Yet worth it on 1.5 mile Basecamps.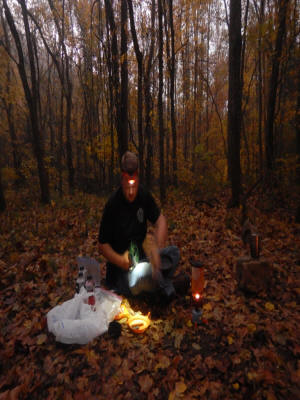 7:15 am it's quiet and dark out!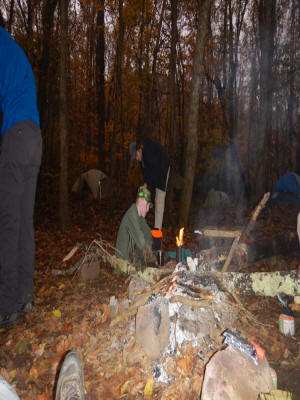 Jackson doesn't talk much when he first wakes up!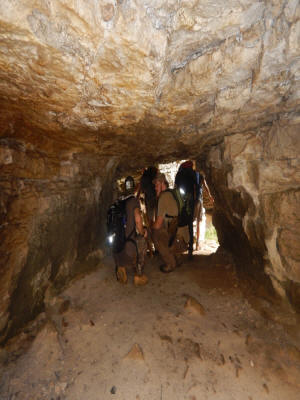 Tunnel vision!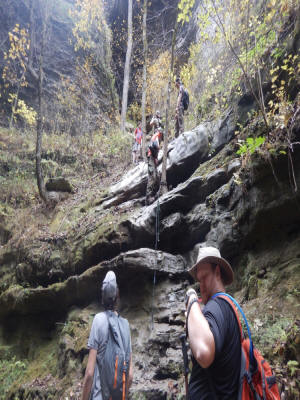 Were doing what? Up there? You kiddin me?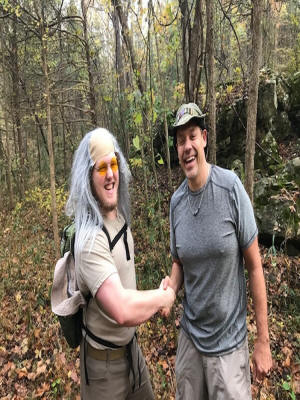 Pop Corn Jack and Rob finally meet face to face!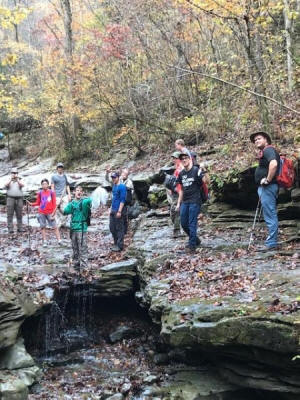 wet leaves and wet polished limestone means watch your step.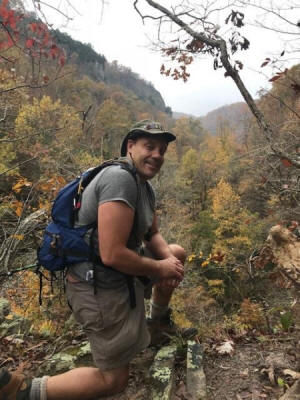 50 years and one day old!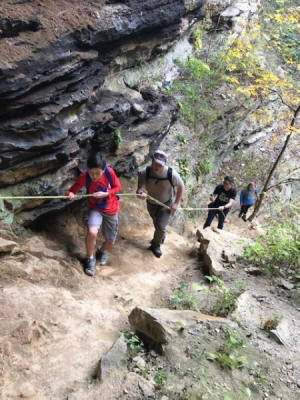 Not for those that need to stay home.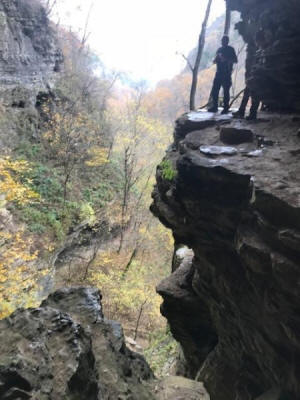 Awesome views.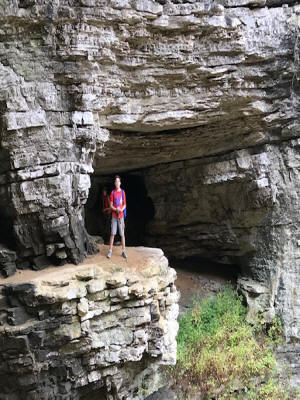 The cave in!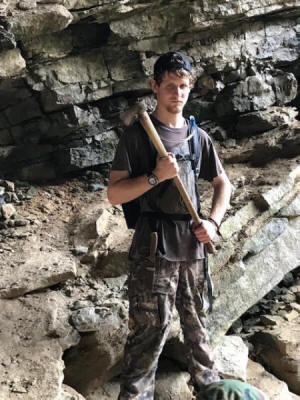 Jarred and his hand carved and wood burnt detailed ax.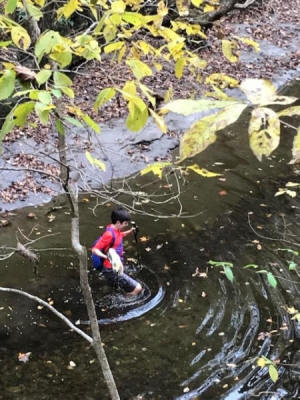 We told him he would fall in...and he did!