Pow Wow 2016 Southern Missouri District Report. Click on a picture for a larger view.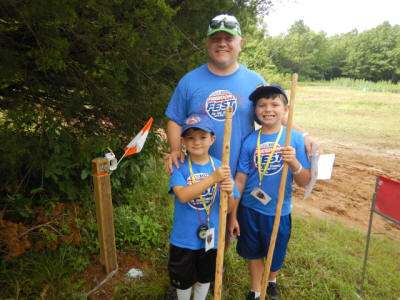 Dad and Son's at Pow Wow doing Orienteering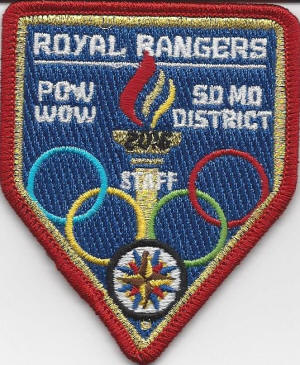 Pow Wow Patch

Special thanks to Mark Jones, Alvin Worthley, Michael Long, Gary Crites, Gerald Hanes, Dan Rockafellow and Steve Copeland for sharing their pictures with us!

June 2nd Thursday - Sunday 5th. Weather report was 0% chance of rain on Thursday and Friday and 40% on Saturday and 0% on Sunday. Wow that is a good forecast with lows of 63 and highs of mid 80s. So we thought!

As always Pow Wow begins months in advance. Preparing for Camp, Props, Costumes, Fixing gear, going over lists. Adding new stuff. This year we added some new 15 events. At our Commanders Conference we discussed these new events and laid out our best plans. I was delighted to see all of these came to being with the help of many folk in our District. Rick Barnhouse and Don Arndt spent countless hours as many of you did. My 2 days up there in this process were also shadowed by over 40 hours extra in Orienteering design and setup. It was worth it.

Pow Wow campground is not free. It takes hard work 2 months out before the summer brings us all back together for challenge, fun, fellowship and a move of the Holy Spirit in all our lives. If you brother or sister in Christ can make plans today to help out in this effort it's a blessing that will count in eternity.

With ALL NEW IDEAS as we like "NEW" there is always more fails than there are wins before we can get a "NEW" (whatever it is...idea, event, process, program) to be a Win Win. It would be really cool if every new thing came with all the promises that are hoped for. In reality it rarely happens on the first tries. It has to be tweaked. You can know we will tweak it. Your input in this is important. Best advice is to jump in and help. Then we get first hand knowledge and EXPERIENCE to make things better. Brand new Action Events The orienteering courses have been tweaked about 8 times now to Win Win!. Just about READY!

If it was not for the planning and follow through of Jerry Millhouser and Don Bixler so many things would not be there or working. These men as long as I have known them have always been full steam ahead working to make Pow Wow the best! Once again we need to be thankful for such men and the team that gets behind them and works ever so hard.

This Pow Wow from my point of view was a odd duck year. My first on the Executive Committee. First time in 20 years I didn't get the week of pow wow off as vacation and didn't know for sure I would get to attend until a week before. (I was pretty sure I was going either way....grin). Our outpost Sr. Commander was going to be gone and our Pow Wow Camp Commander was going to be gone. My new duties were taking me out of camp. So we did the best we could do as unto the Lord and did fine.

Thursday morning got to the Ranger Building at 7:45 am and started cleaning up the back room for the possibilities of wet gear coming back from Pow Wow. 9:00 am most folks were there registering and putting gear in the bus. 3 trailers loaded, smoker, gold cart and outpost gear trailer and 3 other vehicles in route for Pow Wow.

We arrived at noon and everyone ate their lunches they brought with them and we unloaded gear. Our campsite is down by the sewer lagoon. YUP I KNOW it makes no sense for us to be there but we end up camping each year next to all that flushed from pow wow. The aroma can make your eyes water. WE LOVE IT. Oak Grove is the same way. Seem to be drawn to the frogs in the sewer lagoon I imagine. GRIN!

So after a afternoon of ideal weather and hard work camp is pretty much set up.

David Huff a GMA and graduate of 6 JLTC camps part of the saber trained folk had a vision to erect a 8' tall council fire and light it with a flare with two eye screws on a wire from our Rope Swing ladder. IT WAS PERFECT. Leaders did the council fire stunts and skits to show the boys how it goes for their turn on Friday night. It was topped off by one of our boys going forward for prayer to accept Jesus Christ as Lord and Savior. Wow that was worth it all but when God is in it....it gets even better.

Youtube Video of this event.

Friday morning off to setup the Orienteering course. 9 control points. Out into the woods in the rain. Boys 14 to young men 18 only. Out of the whole camp I only had 3 young men that took it on. The ER HARD orienteering course through the wet woods with only a compass and a heading and a little map. Special recognition goes to Nate Hicks and Edward Martinez. They started out one minute apart and after about 50 minutes returned together. A coin toss made Edward the First Winner of the ER HARD Orienteering Course at Pow Wow and he was given a several hundred dollar compound bow that not many could pull back. He could and took home the prize. I asked him how the course was...They loved it. WET MUDDY and Woody.

It rained most of the day off and on and wow was we wet and muddy. Went back around the Orienteering course and retrieved the flags, stamps and ink. I praise God for folk that will loan tools, equipment and golf carts to make our life easier. That golf cart was a blessing in that back 137 acres. It got even more use on Saturday on the next course.

Friday night the outdoor service was moved inside and the pageant moved to Saturday night. The Activity Building was surrounded by all kinds of keep busy activity games and I accused Rick Barnhouse of making crop circles with that game that was always filled with folks having a good time.

Saturday my group was busy with Kayaks, one match wood fires and a DR EZ Orienteering course that had 14 groups of 3 going through it with winners getting a medallion. Jerry's wisdom is right on. One leader and 2 boys was a perfect fit for this Merit Step and Measured event. The Orienteering Merit required 3 Orienteering courses. Several boys on Saturday completed that requirement with their last Orienteering course. With all of us working together it works.

Saturday night was a cool night. Altar service was concluded with fireworks at around 11:15 p.m. I watched the flashes from my cot and soon I was asleep.

Sunday morning breakfast cooking was hard to get up and come help cook. I got up at 5:30 am and was up there by 5:55 am and was kidded about sleeping in...GRIN!

Tons of good memories. Tons of Fellowship. Tons of souls saved through the years. Eternity will see folk that came to the saving knowledge of Jesus Christ through the efforts, prayers that took place at Pow Wow 2016.

Pictures by Dan Rockafellow Link Pictures by Steve Copeland Link.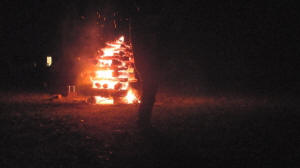 8 foot tall council fire in camp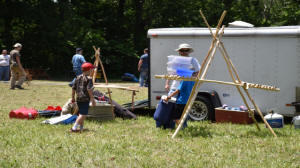 Camp setup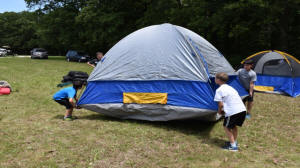 Pitching tents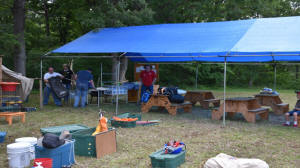 Setting up Common Area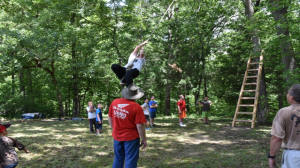 Woo Who Rope Swing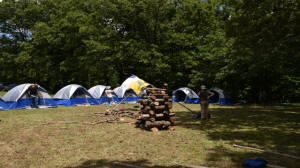 4 hours into this counci fire build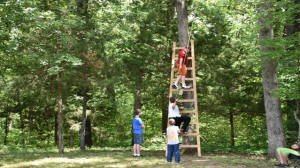 Always a hit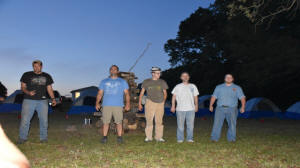 Leaders teaching skit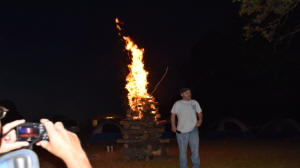 One boy saved at Thursday nights in camp service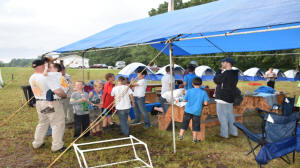 Chow time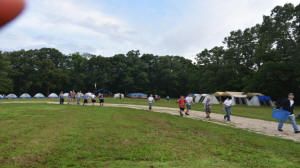 On ward to Services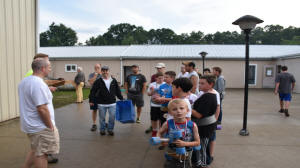 Yum Steer Burgers and Pork Loin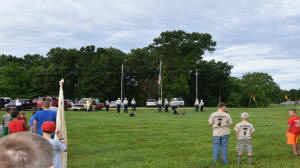 Morning Assembly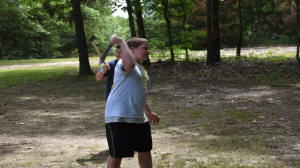 Hawk Throws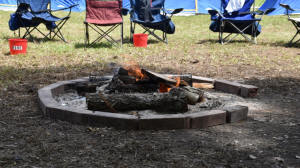 A perfect place to fellowship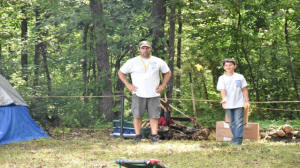 Dad and son time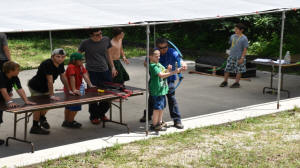 Archery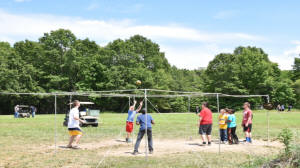 Games all kinds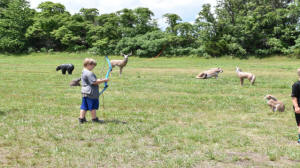 Real looking Archery Targets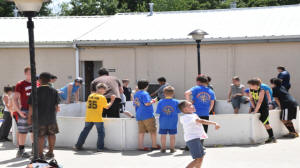 This is always popular what is it?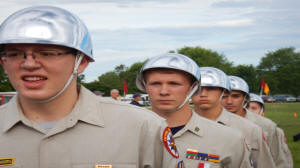 Honor our Nation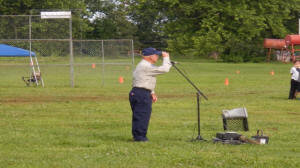 Best District Director!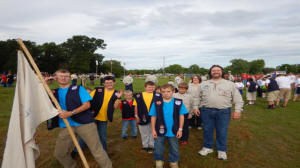 Flag inspections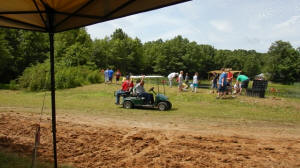 Golf carts make muddy roads easier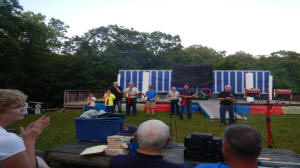 Pagents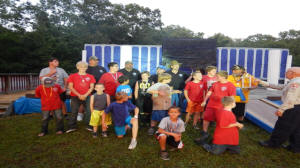 These guys from Boliviaier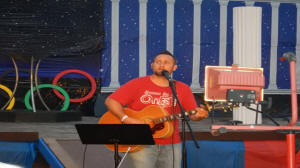 Great praise and worship.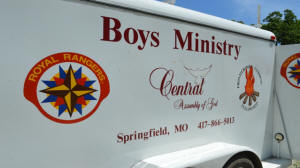 2 ton truck to pull this baby.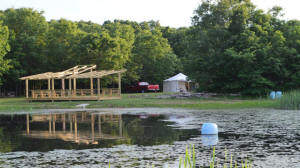 The lake at Pow Wow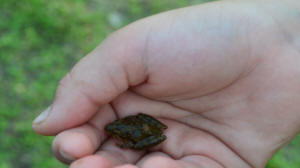 Toad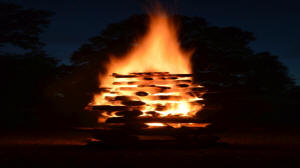 flare on a wire lit this one!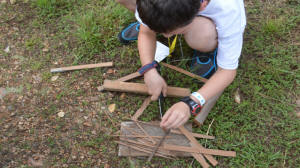 One match fire!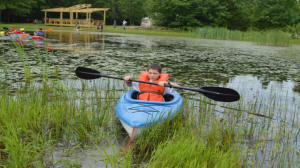 Kayaking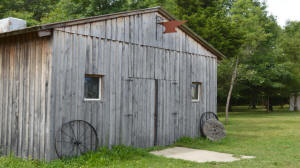 Black Smiths shop!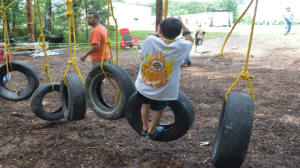 Low Ropes Course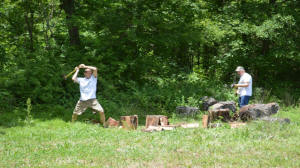 Spliting firewood!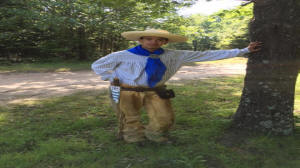 Chapter Scribe and Orienteering Course Compound Bow Winner!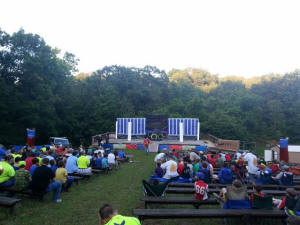 Pageant Prade of Nations view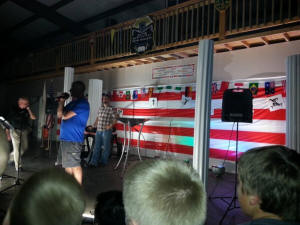 Friday night was inside due to rain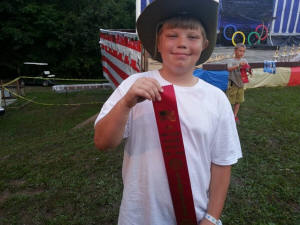 Woo Whoo recognition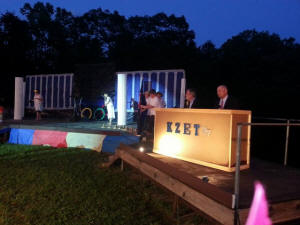 Parade of Nations Announcers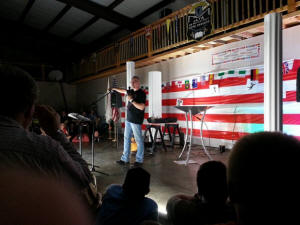 National Commander Karl calling for Holy Spirt Fill us!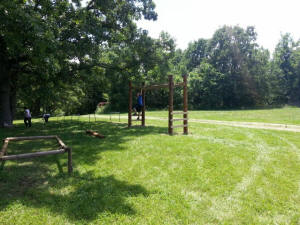 Obstacle Course for Saturdays events.