04-14-2016 April is a great month to get out of the house and enjoy some back woods. Click on a picture for a larger view.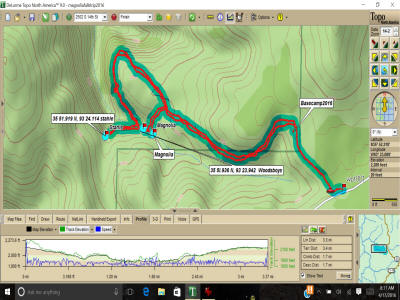 Top Trail and Profile of Backpack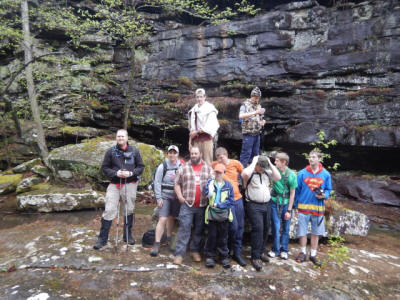 Group shot minus a few.
16 Friends of Rangers and Rangers went on a trip to Magnolia Falls. Just 10 miles south of the Boxley South
Trailhead is the turn off to Magnolia Falls. GPX Track of the trip.
We meet at Mark Jones house in Ozark drove 2 hours to the Trail head and meet Justin and Kasie at Boxley. Justin was our guide to these falls. As always with Royal Rangers it's a good idea to check things out before you bring the Rangers. This trip is on different. We left our vehicles with Backpacks on and hiked in a easy 1/4 mile to Base Camp. It was dark and we found a neat flat place to camp.
The evening was full of cooking and laughter and fun. Rob brought out a great council fire devotion about trusting God for the little things. The over night event was supposed to be rain free. Yet even with a 10% chance of rain it sprinkled from about 11:30 pm to about 7:00 am. Then off and on just a tad. Not really enough during the day to need a rain jacket.
The boys were going to pull off a all night hang out at the fire vigil but the rain changed their minds and they were in their tents by midnight. Praise the Lord!
At about 6:45 I heard a couple of boys kindling the fire. By 8:00 we were in full blown cooking break fast mode. Everyone shares how they slept if they got wet if they had a good time. Garret woke up trying to share his dream and finally we would listen. GRIN!
At 9:00 am we headed out for the waterfalls. Our Rangers are working on a Orienteering Merit and one part of it is making up a course. So we tried it on this trip. We used 2 handheld GPS units and one was belly up. (note to self bring backup gps units). The boys tagged the way points (a GPS coordinate that is recorded in the handheld) and took pictures of each place and video. (They did ok..but really only 2 of the 8 points were photographed or videotaped) The main track data was good and the way points were good.
We enjoyed a neat easy first 1 mile walk then the turn off to the waterfalls. These trails are hit and miss and it's a wild step every step of the way. We enjoyed the top of Magnolia falls and explored and took pictures. Then a return trip back up to the main trail. Then down some more to the Wood Boys Falls then back to the base of Magnolia Falls.
We ate lunch down along this really cool V shaped valley at the base of these bluffs. Justin was nicked named the god father because of his huge rock chair he was sitting in. We then followed the bluff base all around past the top of wood boys and around over to Stale Falls. Each place we explored and checked out caves, cravats, plants, animals, spiders and so much there to see.
At Stale Falls we returned the way we came back along the4 cliff base and Justin and Kasie had time to make it down to the creek where these water falls feed. The rest of the group headed back to base camp.
A short 40 minute walk and we were at base camp packing up stuff and soon headed back to the vehicles.
A short stop in at Harrison, AR McDonalds and we were on the road again. At 4:00 pm we had arrived back to Mark Jones house and by 4:30 pm all were gone heading home.
A delightful trip full of fun and fellowship and challenge. A very fun time for a short 5 mile trip.
Mark Jones