March 25th and 26th, 2016 Center Point Trail Head Temps 39 for a low and 70 for a high. Nice sunny day.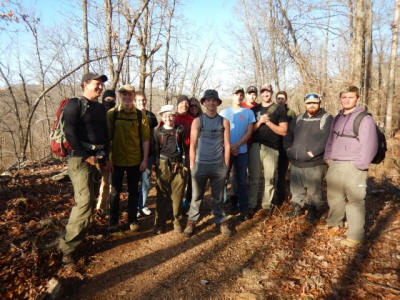 Group Shot
15 folks in 3 vehicles leave Ozark at 6:00 pm drive 1 hour and 20 minutes to the Center Point Trail head between Compton and Ponca Arkansas.
In the group we had a brand new camper, backpacker. 10 folks that had not been to the Goat Trail on Big Bluff.
Rangers and Friends of Royal Rangers enjoyed a perfect 22 hour overnight backpacking event. This type of event is perfect for Royal Rangers. It offers a base camp with in 1/2 mile of the vehicle. Arriving just before it got dark to drag up enough firewood to make it through the night and the morning. A fire brings it all together. Always check for Fire Bans before you build that fire.
We had a bunch of tents and one hammock on this trip. Found the first flat spot with a existing fire ring and enough firewood to make it a perfect fit.
Friday evening (Good Friday) was a full moon. It was a perfect evening. Cooking all kinds, Steaks, chili, soups, spam, lunchables and more. Rob brought on the Council fire at 9:00 pm and challenged us all to be sensitive and listen to God. He talked of various ways that God speaks to us and Joshua PenneKamp and Mark Jones gave testimonies God speaking to them. It was a wonderful council fire. Thanks group!
Boys and young men need to unwind. Just hang out around the campfire all night and talk and be silly to the point of exhaustion. Then crash. A few boys camped out around the fire all night just laying on a sleeping bags.
Saturday around 3 am or so. I hear a yell and hear Jackson say Oliver are you ok. Ya. Then it went silent again for a about a hour.
5:30 am. I hear what sounded like a bull moose come through camp and stomp up to the campfire. Looked it over a bit and then stomped back over to Oliver's tent and said. oliver, oliver, oliver no response. The stomping came back over to the fire and I could hear sticks being poked and some blowing on the fire going on. Then the stomping passed by my tent again and I could hear Jackson again say OLIVER, oliver, OLIVER HELP ME GET THE FIRE GOING.
It wasn't long before the boys had the fire stoked and I could see the flames dancing. I got up the day was at hand and I had tossed and turned all night long. Felt like no sleep but they informed me I snored!
8:00 am most had cooked breakfast. Freshly butchered sausage was a WOW. Bacon and eggs and biscuits and squaw bread donuts with cinnamon and powdered sugar and honey. I love sitting around the fire cooking and hearing the tales.
Rob's wife Marluce was our first time camper, backpacker and Rob brought enough gear to keep her warm no matter what. She had a great time and enjoyed the hike and we really enjoyed her on this trip.
8:35 we left base camp with daypacks on. Down 600 feet in elevation over 2.7 miles down to the Goat Trail turnoff. Everyone stops at trail crossings so we regroup from time to time and we all go down the same trail together.
Our Wisconsin and Arkansas Yonke family were missed this Easter trip. We generally go floating this weekend but Easter came early this year and that water was cold so we went for the Goat Trail. Dave, Mathew, Jonathan, Jacob and Joseph had a good time and its always good to laugh and carry on with them on these trips.
Our Ranger group did a great job and I had a great time. These young men are making memories they will recall years down the road. Jimmy said this trail is not Jimmy approved! Yet Jimmy made it in good shape!
Special thanks to Rob Batchman, Dave Yonke and Mark Jones for the pictures. Thanks for Sharing! Click on a picture for a larger view.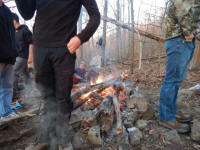 Campfire time is awesome
Biolite Stove cooking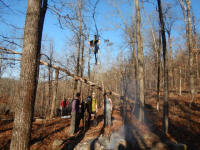 Boys and Trees!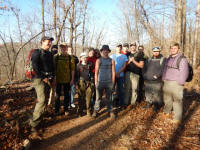 Group!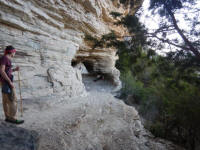 Goat Trail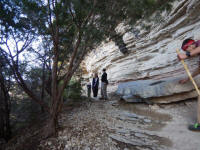 Awesome View
Cool formations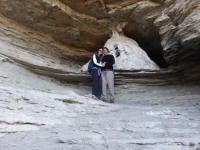 First Time Camping Couple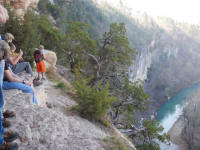 Awesome View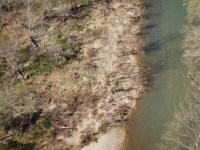 OBRT Crossing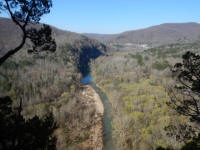 You have to see this.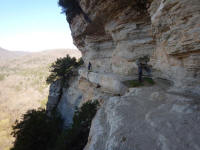 Heights!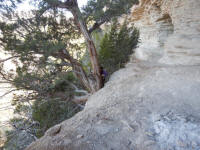 Not that way!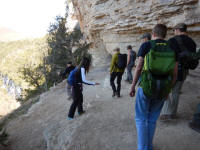 Just back a little more!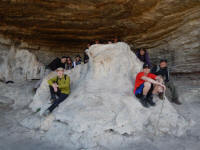 Goat Shots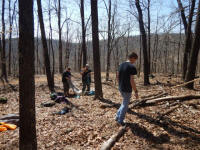 Camp break down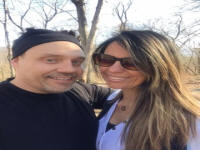 First time Camping Couple Award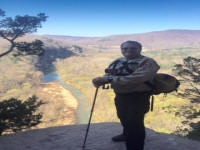 Mark Jones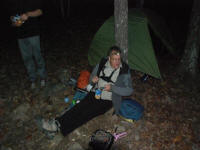 Mark Tree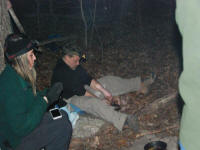 Rob and Marluce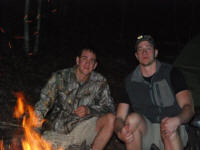 Brothers spending time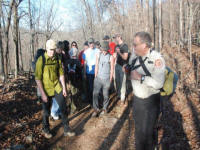 Heading out!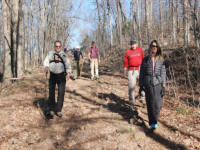 Some steep Grades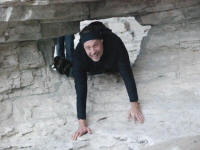 Rock giving birth to a Rob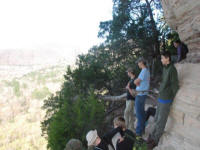 Awesome. Just Awesome.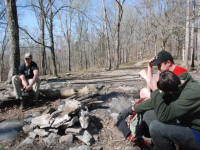 Lunch break