January 29th, 2016 Temps low of 47 high of 67 slight breeze Click on a picture for a larger view.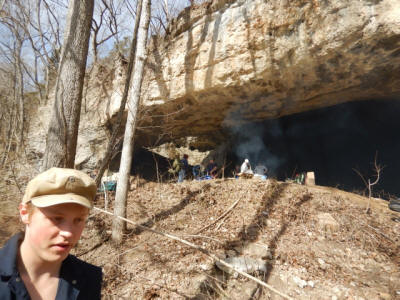 What a perfect day!
Bat Cave video by James Gilpin from Morrisville AOG.
86 in attendance 80 camped over night in the cave of those were 4 ladies and 2 Associate Pastors. Wow what a turn out. Camping over night in a dirty ole cave? Yes and loved it.
Early crew of 9 meet at Hardies and left Springfield at 11:30 am. Arrived to the trail to the cave at 12:30 p.m.. Absolutely beautiful weather for January. It was like a spring day and we quickly set to work cutting logs to clear the trail. Record flooding had been here with in 30 days and the evidence of it made our mouths drop when we saw just how high the water had gotten.
With 2 saws running and 7 to haul and wood back to the cave entrance in a hour we had enough wood cut to get us through the event. We arranged a 12' long fire this year and cut our logs to about 3 feet in length. Boys had fun splitting up the shorter pieces for hotter fire at times.
I setup my ground cloth and dropped my pack and setup my cot, tent and goods. Another trip back to the truck to drop off the chain saw and wedges and bring in the treasure chests, candles 160 of them and prizes. Rappelling gear and lead climbing rope.
Special thanks to James and Violet Evans, Rob Batchman, Jimmy Winch, Ernie Moad, Andrew, Oliver, Curtis and Mark Jones for the hard work in prepping the trail cutting thorns and clearing logs as well as firewood.
James ran the usual rappelling event. We had 20 rappel. I had 3 of my boys rappel some for the first time. He also strung up a slack line for those that want to walk a tight wire of balance.
Rob with the help of Andrew and Violet lashed a trip pod and skewered jerky for smoking on a rack. It was fun and it took about 6 hours of tending the fire after we got a good rock wall around it about 16" high. It was great jerky. Thanks Rob.
Pastor Bruce Pipenhagen who has attended over 5 of these batcave events delivered a great message by candlelight in the back of that cave and also the devotion on Saturday morning. He is a great story teller and had me on the edge of my bat guano as he told tales that made your hair on the back of your neck crawl and then bring grizzly story to a bright end and a sigh of relief. Great Job Pastor Bruce.
Boys hunted cave treasure. Explored the nooks and crannies and the tunnels and had a great time.
One of the young bucks faced the cliff face to face dangling on a rope 57 feet from the ground. The answer was leaning back. After about 5 minutes of cliff face to face we finally had him convinced he was safe and couldn't fall. He had to lean back otherwise he would drag his face down the cliff face. Youtube video of his success!
He soon learned to rely on the rope and lean back and was safely down on the ground. Many of us would be better off to learn to lean on Jesus instead of our own efforts. This is a good devotion acted out right at the bat cave.
Saturday morning while cooking breakfast bacon and eggs. I got to witness a grease fire when a dandy young buck let his fire get too hot and POOF we had flame! He learned how to handle a grease fire. The timing of it made it look like a magic trick and he drew a wow from the crowd. It's all good times.
On the way out on Saturday morning we had about 20 folks go through a orienteering course that took them by a silo, house ruin, 2 caves and a river and across a long 2000 foot field.
I got back to the church van with one side of a dually flat outside tire. We drove about 45 mph to the first air hose. Then limped home at 45 mph. and sound with our faith in Jesus.
Thanks Commanders and leaders for taking your time to invest in these folks. One event like this is the value of about 15 meetings. Thanks for such a blessing. If we could get more of our folks involved in going and doing for Jesus our Ranger programs would sky rocket our numbers.
Mark Jones a sinner saved by God's Grace.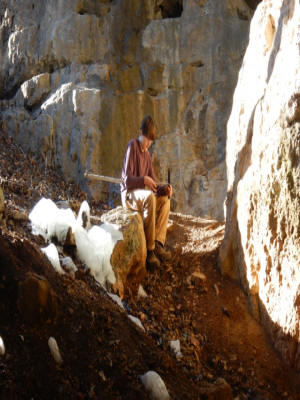 Presetup time!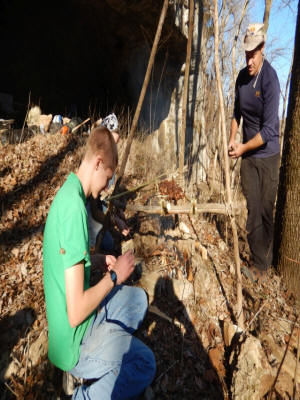 Getting that Jerky ready for smoke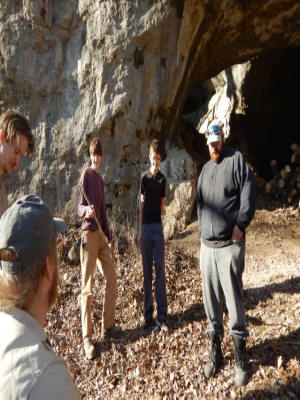 Believers in Christ!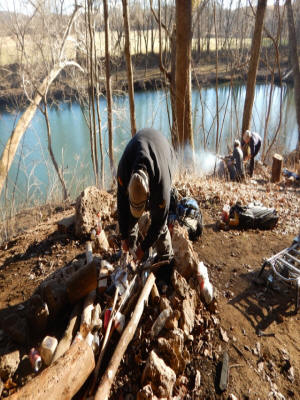 Jimmy lighting the big fire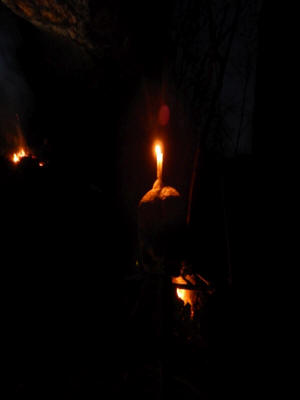 It looks erie...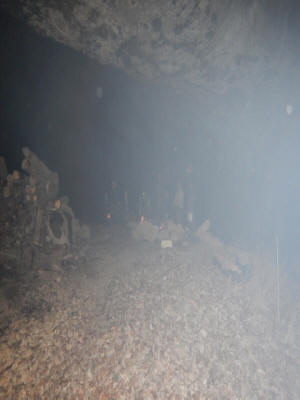 Sometimes smoky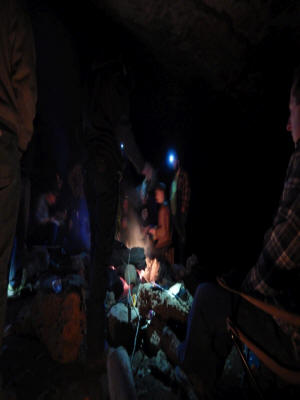 This cave is huge!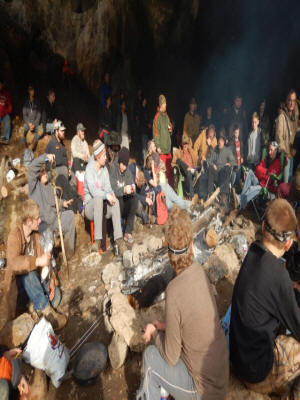 Pastor Bruce sharing his heart!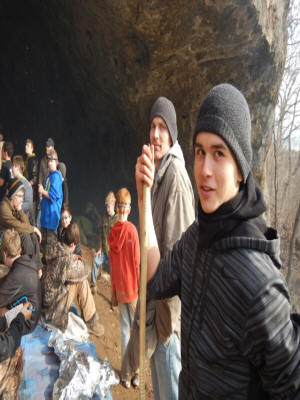 Friends and family just keep coming back for more cave!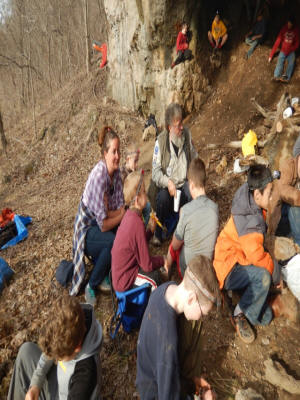 Mom's can have fun in the Batcave!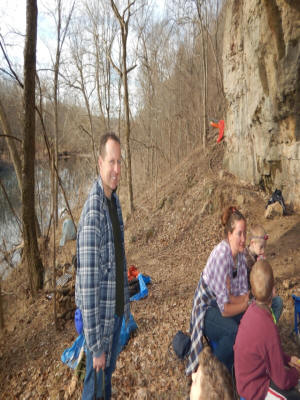 Dad's enjoy the event.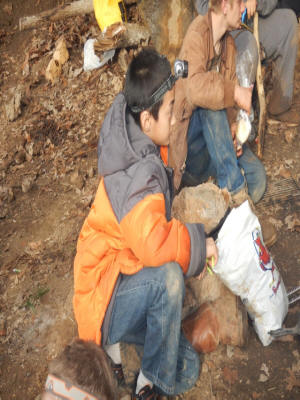 Young men like this inspire the journey!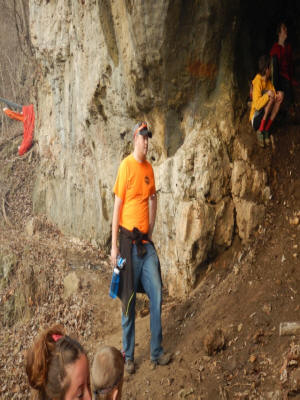 This young man taught me Rangers is worth it!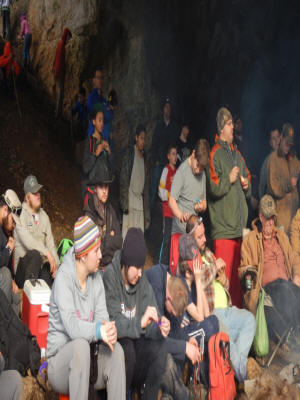 86 in attendance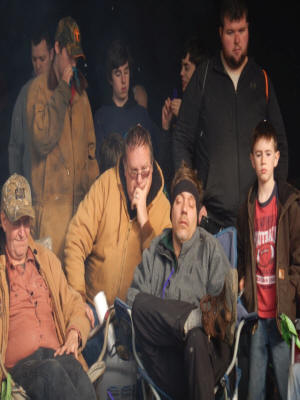 ROB HARD AT WORK DURING DEVOTION!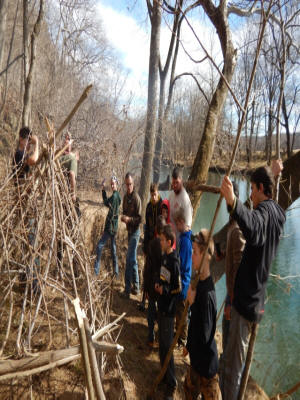 Debris hut in the making.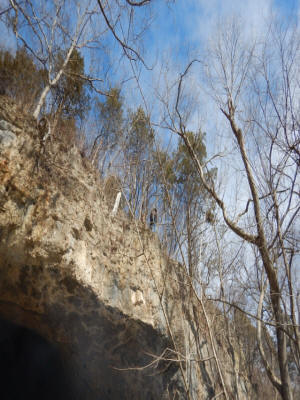 20 Rappelling!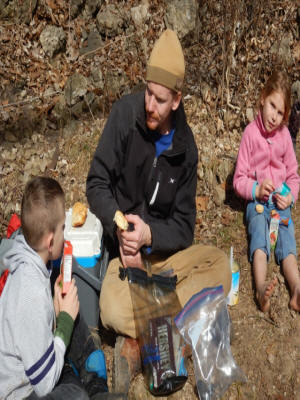 This young man taught me the value of Royal Rangers!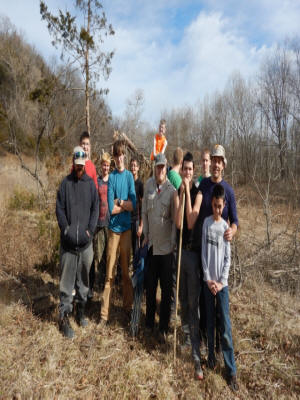 My Group great friends.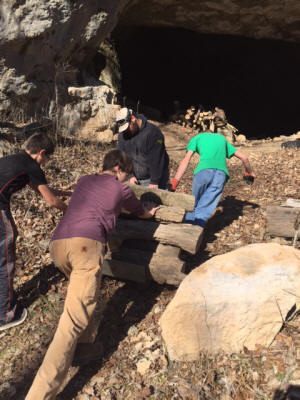 Hauling wood! James is READY!
My camp before the hord came in.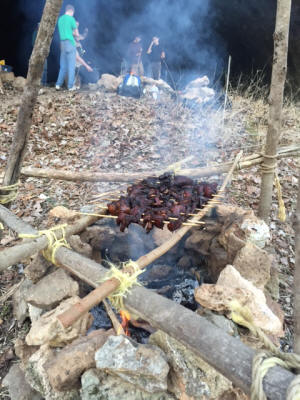 Lashing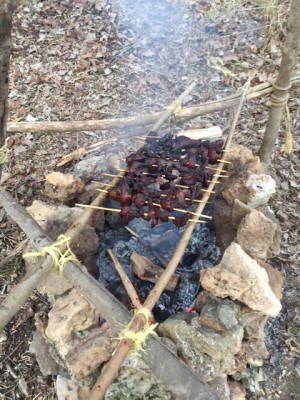 Smoking Jerky
Devotion in back of cave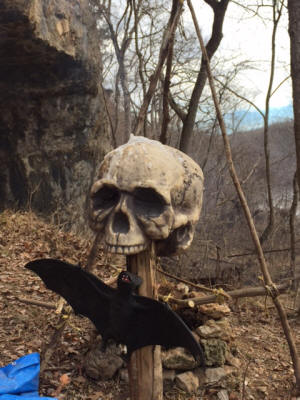 Skully and Batty saying welcome to the bat cave!