Richland Creek Fall of 2016. Leaves are off the trees! High of 55 low of 38. Over cast most of the day.
Click on a picture for a larger view. Thanks to Lee Hildibrant and Mark Jones for sharing the pictures.
The day after Thanksgiving 8 of us head down to Richland Creek for a over night backpack.
1:00 p.m. was our projected time to leave. I was concerned if we left at this time if we would be able to make base camp at Richland creek.
We had a few delays and some by 1:45 we were heading on the fast track towards Witts Springs. Only 7 miles of nice dirt roads. 2 hours and 39 minute drive from my house. 118 miles. We have in the past came in through the Lurton Assembly of God road and it's 13 miles of rough dirt road.
We arrived at Richland Creek campground at 4:00 p.m. and were soon at our first river crossing. Only 2 of the 8 had river crossing shoes. It was about to get dark on us so we opted out to turn around and camp back at the camp ground. Campgrounds have been over picked for firewood. We spent a 45 minutes bringing in wood as after dark foraging for firewood gets 10 times more difficult.
Soon tents were up fire was blazing and it was mountain house meals all around.
Well except Joshua he pulled out a big ole turkey leg from thanksgiving dinner!
Jiffy pop popcorn cooked up mighty nice over the backpack stove and the continual shaking of the kit brought forth a perfect big bag of popcorn.
Around 8 p.m. we were all heading towards the tents. Joshua going light kicked up a pile of leaves. Dragged 2 large rocks from the fire ring and put them on each side of his leaf pile and examined the steam for a few minutes wondering if it would go up in smoke... just steam and then he climbed into his bivy bag and went to sleep.
I rested comfortably on the luxlite cot that was under my tent and but always sleep real light tossing and turning all night listening and wondering if the river is coming up...grin! Knowing full well it's not. It just sounds like it gets louder as the night goes on.
6:30 fire was rekindled. I poked my head out of my tent to see Joshua, Dave and Lee with a blazing fire going. AAA. It's time to get up. Breakfast met us with normal antics. oatmeal, pop tarts and some of Davis cin-honey fresh cooked donuts a real treat.
9:00 am headed down the trail. Dave the night before had made a "Trump-Yonke" wall or some stepping stones so we could cross Falling water creek and scramble a tree. It was fun.
Richland creek is wild and rough. Trail goes in and out and goes from big rocks to mud to up and down. On the way in we were thankful we didn't try and backpack in the night before as it is difficult enough in the light of day.
A hour and a half in we made the split where Twin Falls goes straight ahead crossing Richland Creek. I choose to river cross in my crocs. I learned many years back jumping boulders is fun but you get wet doing it. Changing boots out for crocs and crossing then drying your feet in the only real way to keep everyone dry and warm. Yet the challenge and video of them jumping from one big rock to another will make memories for years to come. Facing fears and challenge is good for us. Those that never do this rarely grow and "live the adventure". Take the hard road sometimes.
Twin Falls is always a Wow Wow Wow for everyone that goes and sees it. Even after seeing it myself some 15 times it's still Awesome to walk up on it. Steve Hunt creates these waterfalls in folks yards and has a special appreciation for nature and these wild places.
We ate a snack or two sat on a long log that was like a spring seat at the base of the falls. Well we just had to scramble up the hill 100 feet and go over the top of Twin Falls and went up the creek to the right away. Scrambling over rocks the size of small cars and dog houses. It is a work out. Trekking poles help keep you from falling.
The group was getting tired. We turned around and went over to Richland Creek Falls and then made our way back to the Trucks. A 4.5 hour day hike on a perfect fall day. On the way out the sun came out.
At Harrison we split up and some went on home while others had ice-cream at McDonalds. 4:30 p.m. we rolled up to my house and by 6pm I was in bed. Worn plum out. Now it's 3:00 am and it's time to go back to bed.
HA! Thanks for a great trip!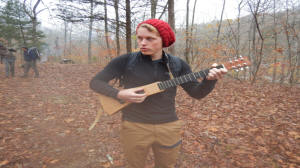 Joshua with his trail guitar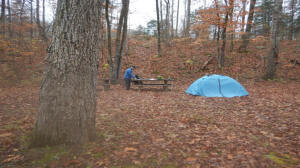 Basecamp at the tral head of Richland creek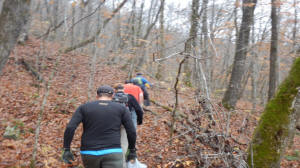 Leaves were off we could see every site.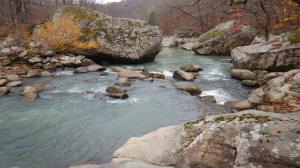 Did we mention Big Rocks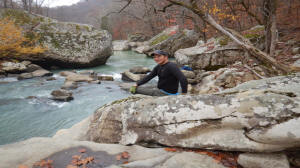 Dave loves this place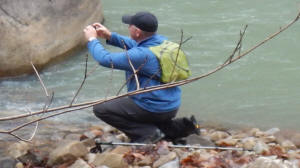 Steve getting water fall pictures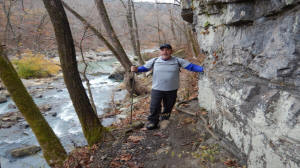 This trail varies so much!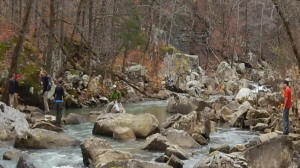 Just jump they said!!!!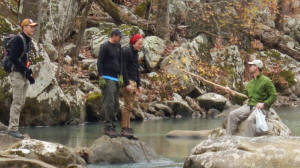 Look guys..it's easy. Just jump!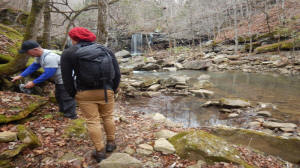 First Glimpse of Twin Falls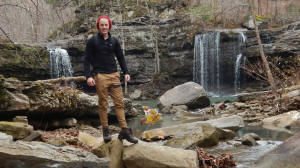 Worth it!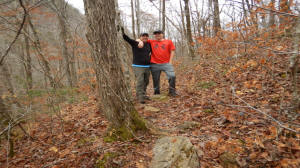 Bushwhacked up that 100 foot hill side waiting!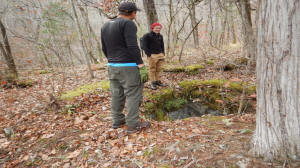 Sink holes!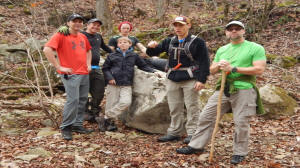 A meeting of the minds!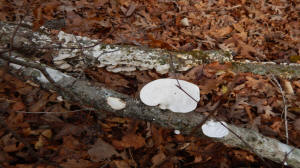 Fugus amongus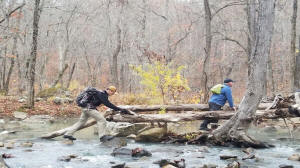 It's easy just do this!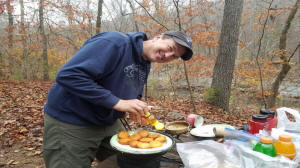 Dave out did himself on these!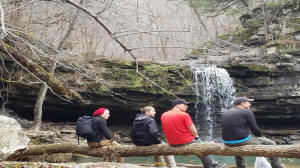 Spring log time!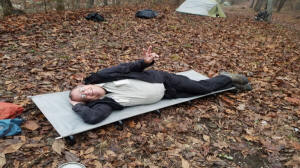 Me on the Luxuarylite cot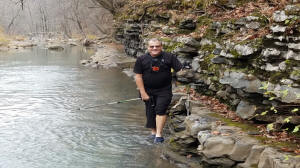 I love river crossing...they rest went over the top.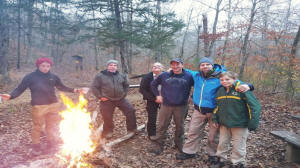 It's fire time!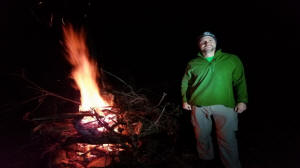 Is this fire legal?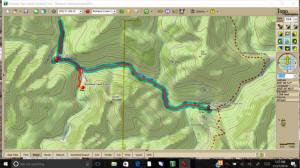 topo of Richland Creek and Twin Falls