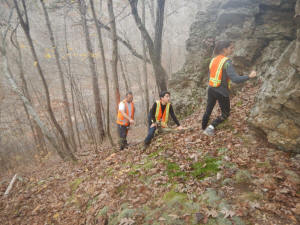 Up Up Up and away!
Click on a picture for a larger view. Thanks to Marshall and Mark Jones for the pictures.
Paddy Creek is a pretty place. I learned to come in from the south as the north entrance is a lot of dirt road to go over. Just take 32 hwy from Lebanon all the way to the Paddy Creek turnoff. Nice drive.
11-14-2016
Trip report. Temps where a high of 76 and a low of 50. 0 percent chance of rain.

We left Ozark to at 8:00 am sharp and made Lebanon in by 9:15 am. Then with Marshall and Sam following us we headed down 32 hwy towards Paddy Creek. GPS gave me 3 options. We took the middle option less miles but more dirt road.
We hit the trail head at 10:20. Taking the Eastern Loop south from the campground. I had never been on this beginning section or the bush whack so new it would be interesting. They made fun of me at the trail head because their map has more trails on it then the one I got off of the web.
We walked up a good hill and crossed over the south entrance road made great time. The group was moving very fast even with backpacks on. Just 6 of us so creek crossing went fast. With in a half mile we left the trail to do a bushwhack due west between to big hills that showed a creek fork. We did several switches from one side of the creek to the other side when we would run out of bank. Briars were here and there.
Lunch caught us at the mid point of the bush whack and we would soon be leaving the water for high ground with views.
Our group had some water but not enough being carried to make it up top and cook with with out a resupply. So we changed our plans and went back east to Paddy creek and then north and found a spot to base camp. Mid afternoon. The area we camped in was over grown with brush. After a bit of brush clearing we had some good flat spots for tents and fire. We sat up tents and hammocks and tarps and dragged up firewood and enjoyed a easy 2 hours of backpacking around. Did some exploring on some Big HUGE rocks overlooking the Paddy Creek.
Sam just before we got back started the fire and just before dark we cooked most of our food. Marshall and Sam had tinfoil meals with steak and green beans. Mark Epps group fried some chicken breasts and foil packed some veggie onions, zucchini, cabbage and a few other taste things. I had a can of Progresso chicken noodle soup and jalapeno cheese and crackers. Funny thing we had a few flashes of lightning and some thunder and a few sprinkles and then it was quiet.
7:30 pm with a full moon I crawled into my tent and enjoyed the end of a stick that poked me all night long in the back as I rolled from one side to the other...will I ever quit talking myself out of bringing my Luxerylite cot. HELLO!
Lots of visitors through out the night as the nocturnal animals made there rounds. That full moon was so BRIGHT you really didn't need a head lamp.
Tuesday morning. 7:00 am. Got up and kindled a fire and put the last of the wood I had gathered the night before on the fire. Soon we were all up enjoying the perfect morning weather and cooking around the camp fire.
9:00 am we hit the trail with our backpacks on and only a half mile of trail we were at the vehicles.
Made it home at 11:45 am and enjoyed a few hours of rest and gear cleaning.
Great EASY backpack. Sometimes it's just getting outside into the woods and cooking around a campfire and camping out is just the ticket for a busy life.
Mark Jones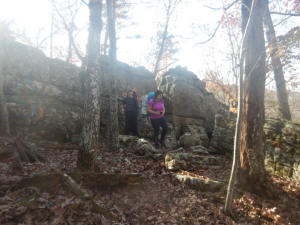 There were lots of big Rocks around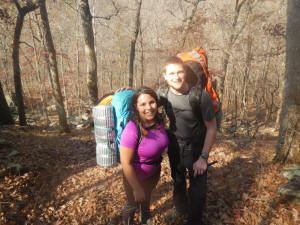 Sam and Marshall hadn't been out backpacking for 7 months.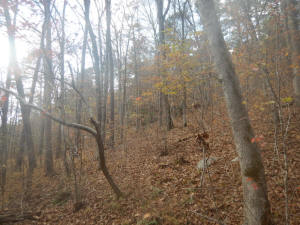 We did about a mile of bushwhacking
Paddy creek is a pretty little creek
Lots of little Frogs here.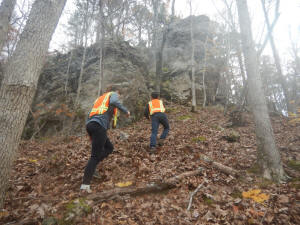 200 feet up scramble from the creek it was fun!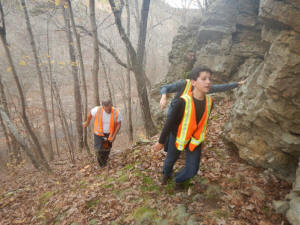 The camera doesn't show how steep it really is.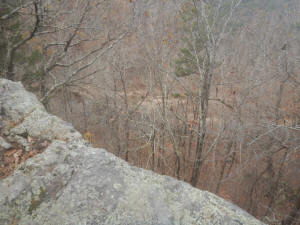 Over look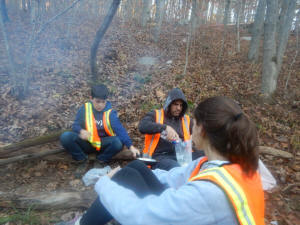 Lots of campfire time.
Basecamp near creek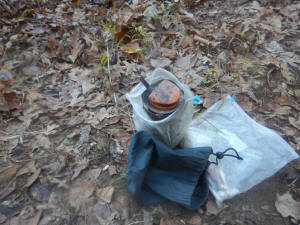 Biolite stove got some good use.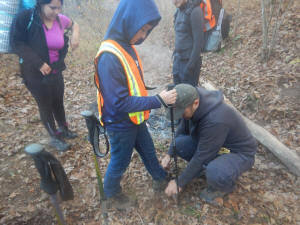 Getting ready to pack out.