The day my buddy let me down. May 8th -10th 2015 Temps low of 63 high of 80.
Sorry the long story but it was a weekend I will always remember! Click on a picture for a larger view.
Video my son put together of the trip 11 minutes. Video my nephew put together of the trip.
This guy won the hero award this weekend.

The National Buffalo River has been a friend of mine for many years. Some
20 plus years ago we started visiting this really cool area just south of Harrison
Arkansas around a gas station and a canoe rental called Ponca.

Over the 50 outings down into that area I have never faced a weekend like this one.
My wife asked my son what he wanted for his 22nd birthday. He said I want dad to take
me and some friends on a 2 night backpack and I want to cover at least 12 miles.
Mothers day is the next day after his birthday. Wow a win win for me. I get to go
backpacking for 2 nights and don't have to pay gas or food. Woo Whoo Rangers!
Weather forecast was watched all the way up to the time we left. Some rain was
forecasted but in my opinion they missed Saturdays forecast by a long shot.
Pack weights: Marshall 29.4, Mark 48.8, Nathan 30.4, Ernie 45.6, Sam 21, Jimmy 398, Rob 42.8

Friday night we were supposed to leave at 5:30 pm. Rob called from out front of my
house at 5:35 and said he had forgotten his food in the fridge at his house. By 6pm we
were heading down the highway. In Branson I stopped for more gas and the station had
someone buying loto tickets with 10 people standing in line. I left headed for another
gas station with a shorter line. At the next gas station every one bailed out of the
two cars and went in and spent a small fortune on treats...I told them they had 2
minutes..if you don't they will go on a 30 minute shopping spree. Hello....!

After a couple of missed turns I made we were at the trail head dropping off the load of
people and sent them down to make base camp just before dark and drag up firewood. We
made a 45 minute shuttle trip and dropped my truck off at Steel Creek on the Buffalo
River where we would backpack out to figuring on 12 miles.
Soon Marshall, Sam and I were hiking down the trail in perfect weather and we came upon
the rest of our group at 1st night base camp. The plan was working perfectly.

By 9:00 pm Rob the night owl went to his tent and we never heard another word out of him.
Soon it started to slowly sprinkle and we all went to our shelters and hunkered down for
the night. Through the night it rained and stormed with thunder going from light to
medium rain. At daylight the rain stopped and at 7am I gave out the call to wake up and
get your gear packed we were packing out at 8:00 am Saturday morning 9 miles ahead of
us.

After a quick breakfast only cooking was some oatmeal we were off down the trail packs
on ready for anything. The group was older. Ernie Moad being the youngest in the group
but he is well experienced and now knows what to do to stay dry if he wants to...if not
he doesn't care he is tougher than nails. My 22 year old nephew Nathan a 4.0 brain
child at Evangel University came along. Now he is blessed with many things and in some
areas like backpacking a NOOB (someone that is new to doing what ever it is your doing)
so him and Jimmy Winch were on the Noob side of this trip. Jimmy has been on some trips
with us but has been watching too much TV and has gotten soft on us...so Jimmy get out
and walk it will do you good. Not complaining here just stating facts.

We made it down from base camp a short mile to the bench trail and found the trail very
over grown and our pace was much slower than it had ever been before. We had a option
to take the plan A trail or take the other trail that would knock the miles by half. We
opted to take the shorter more walked on trail for poison ivy and distance reasons to be
a better match for our group. Down down down we went...2300 now down to 900 feet to
Hemmed in Hallow Falls. Jimmy was having issues going down the trail as this trail is
rough and very slick and was muddy. We made it to the 200 foot falls and marveled at
them as they had water flowing over them and they were pretty. After a short time we
backpacked on down to our first river crossing.

I found my friend the Buffalo River in good shape and up a bit and people floating it in
canoes and kayaks. It was to low to float the day before. This nice Saturday morning I
had a new experience. My nephew dropped one of his hiking boots into the river as he
was crossing it in knee deep water and Rob was the only one in river shoes and he ran
down stream to find it...we were all saying he will never find that boot. A minute
later Nathan dropped the other Boot and it went down river. I am asking him what he
plans on wearing out the next 4 miles? In about 5 minutes Rob returns with both pairs
of boots and tells the story of how he lost the first boot On his way back he sees the
second boot that flows into a swirling pool and up pops the other boot and so he jumps
in to the river over his head swims through river slime about 8" deep and retrieves the
lost for ever boots. WOW was I shocked. I went from wondering what in the round world
was we going to do with no boots for a backpacker 4 miles down into the wild and here
comes the savior Rob with Nathans boots. Wow what a relief. Rob lost one of his
trekking poles to a untimely loaned out death it got bent in half.

On to the jumping cliffs. Had a nice lunch at about 11:30 am and the river was alive
with canoes and kayaks and fun for all. We talked of jumping off the cliffs into the
swimming hole but never did it. Just a hair cool for it. On to the next river
crossing. Now at this time Marshall found a heart shaped rock in the river and it made
the trip home for his Mom on mothers day. Jimmy learned that slick rocks make for a
quick dip into the river and 2 slips he learned how to swim with a backpack on and Ernie
was called on to drag him out of the 2 foot deep water. Some folks asked if Jimmy
needed some sugar because they though he was having a diabetic attack but I told them he
was fine just a little fear factor there. We were ready for anything!

2 easy river crossings and we made base camp in 2 hours. Had tents up and started to
rain. It rained for about 3 hours and then quit about 7:30 pm. During the rain the
biolight stove keep a group of us warm and heated up food and even some late start
floaters came over to enjoy the warmth under the tarp and the biolights wood heat.
Marshall and Ernie had hammocks and they were camped about 300 feet down river from us
and we were camped about 50 feet from the waters edge about 2 feet above water level.

Rob inspired us all to hunt for fire wood and after the night before rain and the
afternoon rain all we had was wet wood. He prepared a fire and I being a spoon type of
person put him to the challenge and videoed the fire crafting. It took quite a while to
flame up and then went out. I was ribbing him the whole time and he finally said it
wasn't happening. So me being Mr. Know it all. I fetched some cedar branches and cut
them down and the training from the old LTC taught me to scrape the bark off the wood
when it was really wet. We also found dry wood in the inner parts of a 5" diameter tree
but it took 5 of us scraping bark and splitting wood to get to dry stuff. We piled up
about a 2' tall pile and light the match. Aaaaah a nice fire was raging... I told
everyone I was the king but none would admit it until after I turned the camera off.
Ha!

We enjoyed the river and around 9 pm we got a few sprinkles and I went off to my tent.
The rain and thunder continued through the night. Steady and heavy. I didn't sleep
very much and about every 2 hours I would open the door of my tent and shine the 870
lumens light to take a look at my buddy the river. First 2 times not much change. At 5
am I though I better check again. THE WATER HAD COME UP 2 FEET AND WAS ONLY 12" FROM
ROBS TENT!!! I knew Nathans tent was a little lower so I shouted at Rob and Nathan to
grab their gear the water was at their tents THEY HAD TO MOVE! My buddy the beautiful
Buffalo River was now a angry torrent of brown muddy water ripping past in a furious
way. 5" of rain had fallen in the past 24 hours.

With in a few minutes we were dressed and in the rain we moved our gear up the river
bank 8 feet higher and about 30 feet away from our first location. No water would make
it up there. As I looked at the river my plan of 3 easy river crossings and 1.5 miles
in less than a hour we would be back to the truck VANISHED. While I waited for first
light I tried 3 times to get a fire going in my biolight with wood I had harvest the
night before. It was all so wet even with 3 wax fire starters and a sure fire no fire
was to be had. I borrowed Nathans stove and heated up some coffee and filled my
thermos.

Rob said that river will continue to come up and if it stopped raining we might be able
to get out in 24 hours or more. We have to leave now. I knew the next river crossing
would look just like the river we were looking out over now but Rob was determined we
needed to backpack out at first daylight. We gathered and prayed. So we did and came up
to that raging river that was now 7 feet higher than it was 12 hours before. To get a
good look we had to walk around a low area and go up on a gravel bar to give it a closer
look. While we were up there the dry ground we had walked over to get there was now
under 30" of water and when we all knew we had just walked over that and it was now
covered with 30" of water it sunk in...WE WERE NOW STRANDED BETWEEN 2 RIVER CROSSINGS.
STUCK! 2 of our group had wet sleeping bags and tents, clothes and boots. Only enough
food for one more lunch.

Rob said I have to be home for Mothers Day. I said us too. Sam's last day of High
School was Monday. My daughter and son in law and grandkids and the rest of the family
was going to be at my house. We had to get home.
My buddy Rob now took a good look at my other buddy the National Buffalo River and said
can we get out another way? I said the BRT is up there somewhere we might be able to
bushwhack up to it..but there are so many cliffs and steep hills. After some looking at
the ViewRanger app on my phone we determined a route looked possible according to the
topo lines where just under one mile with 500 feet of elevation change a bushwack could
be done.

I knew we would have to spilt up into two groups. Marshall, Sam and Ernie and Rob took
my phone with the view ranger app and bushwhacked up the mile to the BRT. At that time
they were to drop their gear and come back down the mountain and help us get everyone
back up that mountain to the trail. Yet plans change and Rob sent them down the trail
to make a phone call while he made his way back down the mountain with my viewranger gps
app.

I and Jimmy and Nathan were busy. We found a dead cedar tree. Pulled out my tree saw
and I showed them how to find dry wood and to cut it up so I worked them hard and we
took turns sawing and cutting the limbs. We had a nice pile of cedar and I was 100%
confidant we would have a raging fire and was about to light it when I heard my BEST
EVER BUDDIES YELL. I told Jimmy and Nathan to get their gear packed up we were packing
out. It wouldn't be easy but we would do it.

The trail out was a Bushwhack and a good handle on map reading and good common sense was
needed. YET we made it to the established trail after a grueling 1.5 hour walk up that
steep Boston mountain. Jimmy was fighting the frustration of extra weight from a wet backpack
and too many TV hours and it was tough on him to get up that hill. It was tough on all
of us as well. Yet we worked at it. One foot in front of the other. We must have
rested 10 times up that 8 tenths of a mile with 500 feet of elevation increase.
Now mind you 7 years ago Rob and I took a backpack with a group that had planned on backpacking
the old river trail and at that time the water was not in flood stage but the ladies in that group said no more river
crossings as they were waste deep at times..so we had to opt out and take the upper
trail. Thank goodness I had that upper trail in my records and was able to turn that
track on so we could KNOW where the trail was and how many miles it would take for us to
get out.
Rob started walking left. I asked where are you going. He said to the
truck...I said the truck is that way. He got a concerned look on his face and said I
might have told Marshall and Sam and Ernie to go the wrong way.!!!!!!!!!!! 6 or so miles
of up and down. This upper trail is no walk in the park. It was slick and hazardous
and muddy and well it was a long 6 hour backpack getting back to my truck. I put my
tracking skills into play and at one stream crossing I determined there was 3 peoples
shoes that had just gone through there. PRAISE GOD! My son was ahead of me. He told
me later they walked about a mile the wrong way (THANKS to my BEST BUDDY ROB) and yet it
didn't seem right to him so he pulled out his version of view ranger and determined they
were going the wrong way. Turned around and back where they hit the trail they made a
big rock arrow pointing us in the right direction...(we never saw it but it was right)

I came over the hill to get a gander at my other buddy my truck. Sure enough it was
GONE! It was raining. I was 15 minutes late already. I sat there next to the pit
toilet bathroom and thought hum..wonder when they will be back. Rob shows up leaving
Jimmy and Nathan up by the road to wait and says where the truck. Well they were
thinking of going and picking up Marshalls car and ... He told them it made no sense for
them to do that. I and Rob had a personal counseling session and he reminded me to keep
my cool to remain patient.....and all I could think was my buddy "the National Buffalo
River" let me down.
I just gritted my teeth and felt like I had taken a beating when my
son pulled up in my truck and picked us all up and it started raining so hard driving
out of there that I just had to laugh and apologize for being a bit miffed when even my
truck was taken away from me.... GRIN! What a trip. What adventure. What a memory.

I praise God for prayer. Yet sometimes I think that people will go off on a tangent and
stir up a whole lot of grief and worry and have people crying thinking their loved ones
are missing or drowned when in truth and fact we were never once in any real danger.
Sure we were challenge time and time again. Yet God looked after us. With out HIM I
wouldn't take your kids across the street. Yet with HIM I know HE loves me and will
come in and help when He needs to. Yet my part is to be wise and use the talents HE has
given.

I climbed at least 15 poles today. Hardest day of work in months. I am ready for a break.
Mark Jones May 11th, 2015 CLICK ON A PICTURE FOR A LARGER VIEW.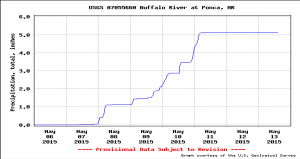 5 inches of rain in 2 nights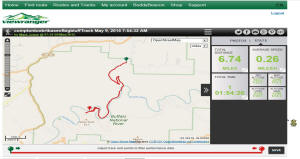 Trail from Compton down to OBRT to BRT at Big Bluff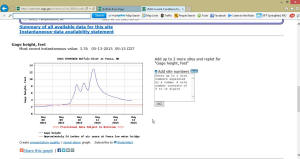 When we walked out River was 7' level not crossable.