Swan Creek Float from AA hwy 2 miles NW of Tanneyville. Water was at 5.5" according to the Bull Creek gage. Rob, Steve and I enjoyed
a pretty fast float. We left Ozark at 8:00 am on July 4th and drove down to Garrison took the cutoff over to just north of Tanneyville then up AA hwy
to the swan river bridge and just before the bridge went to the left and dropped off the kayaks. I waited while Steve and Rob shuttled my truck over to the take
out point at Hulls Ford Road due east of Tanneyville about 3 miles at the low water bridge. Water was flowing about 4" over the bridge.
We hit the water around 10:30 am and floated to 1:15 pm. Floating and fishing along the way. Water was moving pretty fast 3 to 4 mph. Lots of
small rapids to get the kayaks to rocking up and down. Fishing was pretty good. Rob caught the biggest bass and I caught the most fish.
This river has to be floated when there is a good rain. The 5.5 level was pretty easy float. The water dropped 6" on us while on the float.
A fun time and we will hit this place again. We saw all kinds of animals on this float, Raccoon, 2 copperheads', Blue Herring, tons of turtles, ground hog, buzzards, rabbits
and on July 4th coming out we saw almost every river access full of families celebrating the 4th of July! We are blessed in this Country to have such beautiful resources.
Short video of the Rapids coming over the top of my kayak.
Mark Jones 07-05-2015. Click on a picture for a larger view.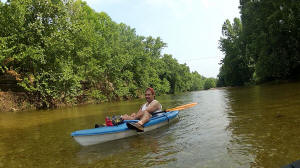 Rob always has fun!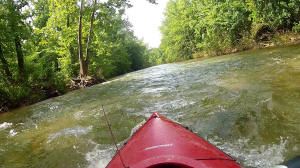 Water was moving pretty fast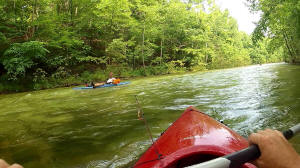 Steve going through the rapids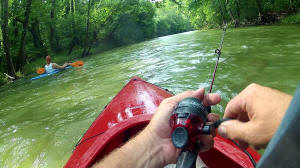 Barbie Fishing poles are best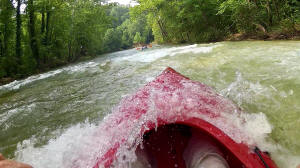 Lots of water came in on this trip.
See what I mean about water should have had my skirt on.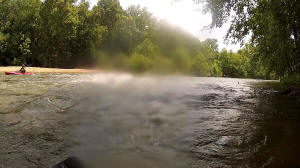 Fun rapids all over the place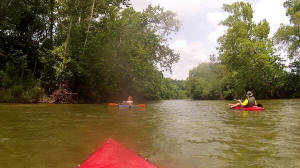 Fishing time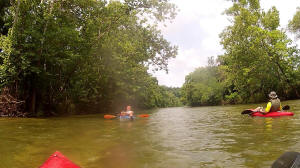 We all enjoyed this float. Rapids and Fishing FUN!