Ten then there were nine! Click on a picture for a larger view.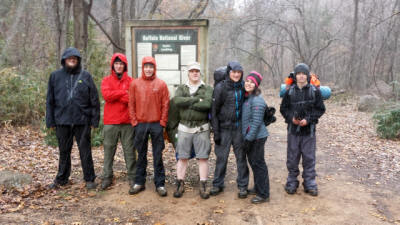 Trail head at Kyles Yes that is snow coming down!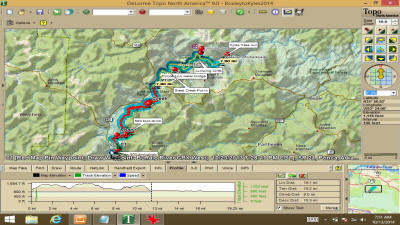 Our 25 mile trip. It was a tough trip.
You know blessings from the Lord are often very complicated. Let me explain.
Boxley trail head about 120 miles south of Springfield not far from Ponca, Arkansas.

GPS GPX File of the trail from Boxley to Steel Creek.. Video of the last river crossing and it was snowing. Video of our First River Crossing in the morning at 29 degrees

November 14th, 15th, 16th. Deer season. Temps 37 to a low of 26 projected. Light wintery mix projected for Saturday pm and Sunday. No Acumination given.

3 vehicles of 10 people met at Mark Jones house in Ozark at about 7:45 pm. Soon we were loaded up and heading to the trail head. Along the way we dropped Rob Batchman's vehicle at Ponca access. We then soon were on the Boxley trailhead. Temps that night dropped down to 26.4 F. It was a backpack and we didn't have far to go but we did have to cross a 3" deep Smith Creek then up up up to about 400 feet and then made base camp.

This is a cool place and with little to no wind it was perfect. Surrounded by cedars and all kinds of wood fire was a premium. We had a large fire and soon we were all laughing and joking and having a great time CAMPING in the Wild of Arkansas. Rob had prepared everyone a skewer of steak, onions, peppers, pineapple and cooked them over the fire. Wow that was a treat! With the late start we ate then went to our shelters and went to sleep.

Early Saturday morning it was all I could do to be quiet until 6:30 am and then soon we were all up as we had to break camp by 8:30. With the low of 26.4 water bottles were semi frozen. We enjoyed the warm fire and packed up and headed out. Wow 8:30 am. Right on time. Everyone was in full orange mode. This section of the trail offers all kinds of private land access along it. So we knew there would be hunters out. Sure enough we ran across 2 in orange and the same thing that keeps them safe in the woods we had one as well. It's a good thing Deer are orange color blind as that orange rings out like a beacon. Wow those gummy bears were wonderful. Thanks for sharing Joshua.

We made it to the first road crossing and found a stream to filter water. While filtering water we met a group of 7 from Little Rock. I was glad to see in their group they had more older than I than younger than I but they were day hiking these 11.2 miles to Ponca. We crossed paths several time as we would break and they would walk past us and then they would break and we would walk past. One in their party slipped on the stream crossing and got wet. Cotton sweat pants are not nearly as good as Nylon in shedding water so she was cold and they had to walk it off to get her warmed up.

Our group did very good keeping dry. I think I preached enough on not getting wet that they listen... well ok I am just being hopeful. GRIN! Perhaps it was just God's Grace.

The ten of us went up 3 five hundred foot inclines and down 3. The last decline was just before Ponca. I rested 3 times going down it. It was that steep and that long. My feet got hot and the tops of my feet are sore today from it. What a haul. It took us 7 hours to do the Boxley to Ponca trail. 11.2 miles.

Well there was 10 and now we were about to get the mixed blessing. Rob had to be back by 7 pm Saturday night. So he shuttled our other two vehicles and 3 of us did that process and we sent the others on for a 2.2 mile backpack between Ponca and Steel Creek. We arrived back from our shuttle about the same time our group made the trail head.

So Rob dropped us off we unloaded our backpacks and the 9 of us headed across the Buffalo River our first cold water crossing knew high just about dark and it was raining and sleeting on us. This is a shocker for those that have never done it. Temps just above freezing and cold rain and sleet falling on you and now mid high Cold freezing water that feels like a 1000 needles pricking your leg. The longer your in it the worse it gets. As we were getting into the river 3 huge Elk came crossing in front of us.

Soon we were all on the other side drying our feet quickly and putting on warm dry socks. What a blessing. After a short hike we found night 2 base camp in a cedar grove not far from the trail. Our group of nine had to setup shelters in the light rain and sleet. We were focused and concentrated. Soon we had a huge fire going and oooooooo what a blessing a hot fire is on a cold wet night. Joshua brought the nights devotion and part of it was 12 printouts of worship songs. Now if you have been there you would have known God gave those gifts to others but we tried with all our hearts. I am sure it warmed God's heart to hear us praising Him down there in the Wild's of the Buffalo National River.

Sunday morning early. I heard a Big animal sniffing the air and walking away from our encampment. 5 tents and 4 hammocks. After 2 days I am sure that Big ole Elk could smell us from a ways away. At about 7:00 I stirred and got a raging fire going and was in the process of heating water from Coffee when the first Backpackers arose from their shelters. Gavin our youngest member at 13 years old had made the 25 miler 2 years before and after a 2 year growth spurt he was easily handling all this trip brought forth. The miles, the cold temps, the rain and sleet and the river crossings. He was READY!

Well the group elected to leave base camp at 9:00 am. After morning Sunday church on the trail we headed out and did 11 River crossings some mid leg deep others over the boot. 3 of the young men made one river crossing with out putting on water shoes. Yet the rest of us had to swap boots and river shoes 22 times one for each side of the river. I like it really. I get to sit on my pack and take a 5 minute break while changing shoes.

We passed by Big Bluff. We saw Jims Bluff. We saw a otter swimming close by. At the last river crossing it was sleeting and snowing and it came down hard enough that the ground got covered in short time. They had more than Springfield had at the time. I would say one inch of snow on the ground.

At the trail head we took a group picture and high tailed it out of there. Snowing hard and I didn't' want to be stuck down at the bottom of that 3 mile steep dirt road. This section only took us about 5 hours as we were driving out by 2pm.

Our group parted at the Jasper turn off. The Ozark Cafe had the attention of 4. The snow had my attention and so we ate and the old stand by in Harrison, Arkansas and we walking in at 4:20 pm at my house.

The mixed blessing of ten then there was nine. While I missed having my backpacking buddy not being there. He saved us a hour of driving over snow covered back Arkansas roads on the way out. So to me it was a blessing for sure.

Special thanks to this team that made this journey. It was tough and yet it was one of those things your glad you did.

Mark Jones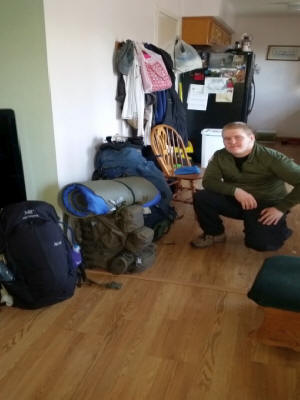 Last minute touches on Packs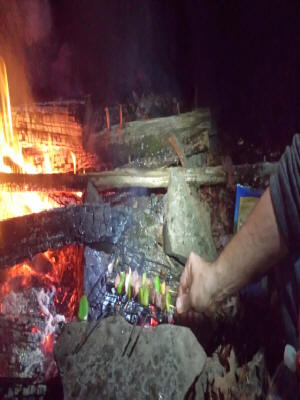 Skewers by Rob
That was a treat!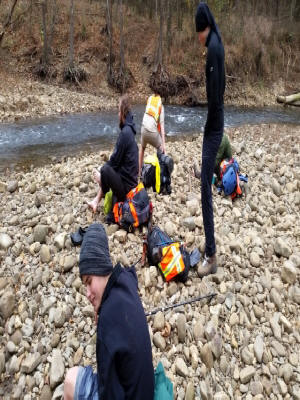 22 times we changed our boots and water shoes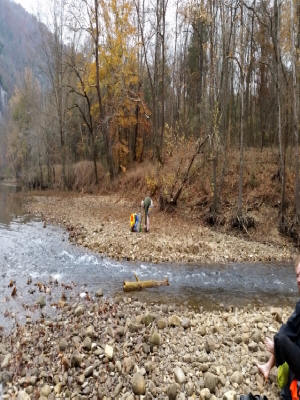 That water was cold!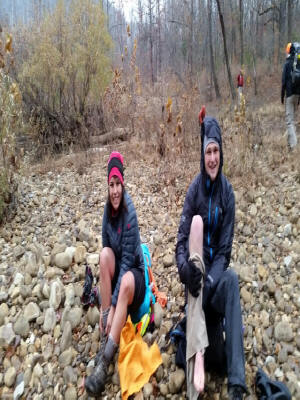 Hurry it's cold out there.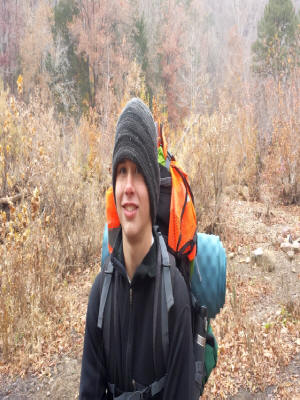 Gavinator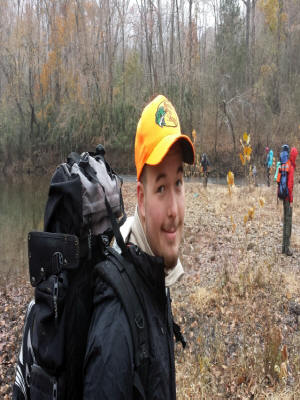 Alex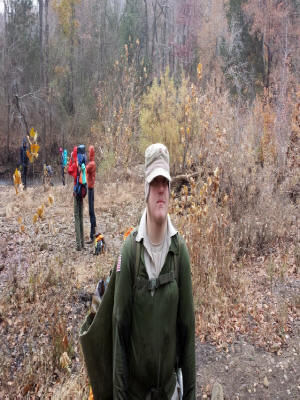 Ernest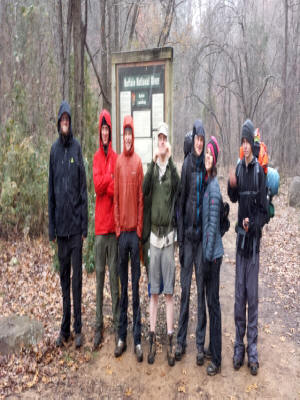 Trail Head Snowing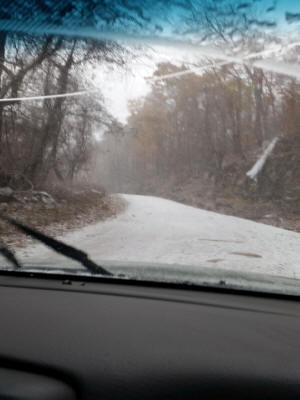 Snow covering the road on the way up out of Kyles!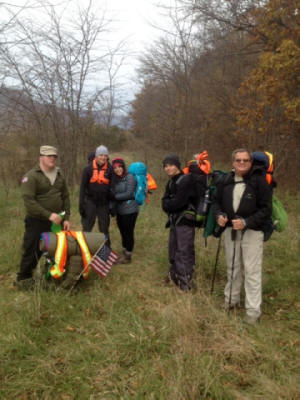 The trail varried so much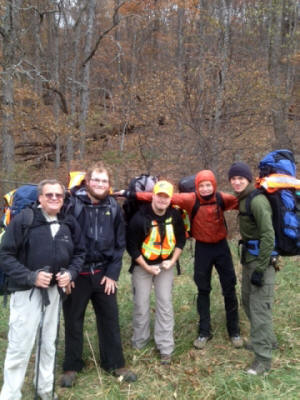 Deer Season we had to stay Orange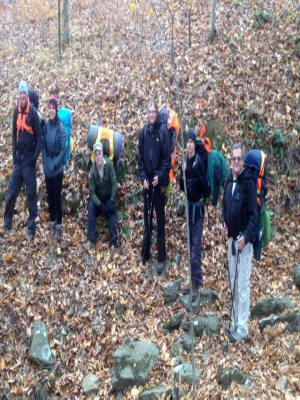 Lots of trails along the sides of gullies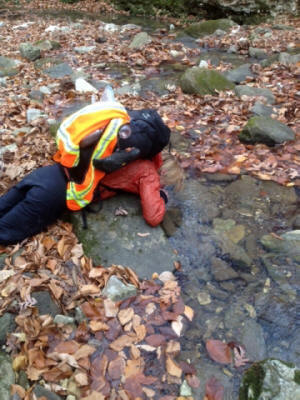 Drinking water through the filter out of the spring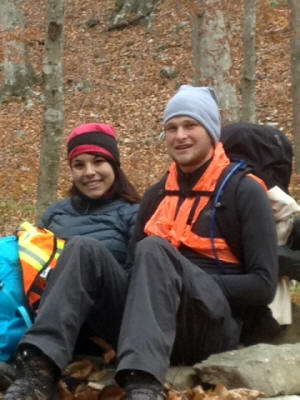 Sam and Marshall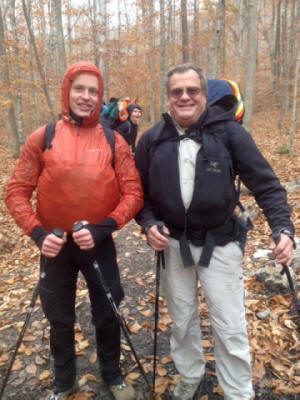 Joshua with a belly full of leaves standing next to someone whom needs no leaves.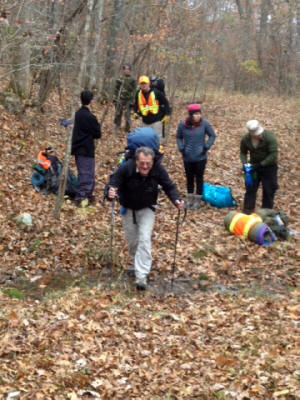 Let's go..we have miles to do.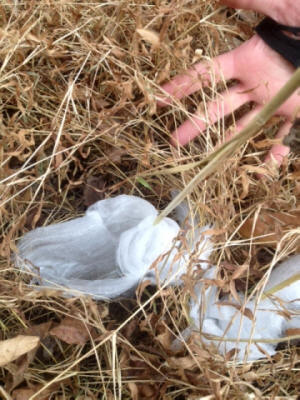 Ice Flower all over the place they are rare!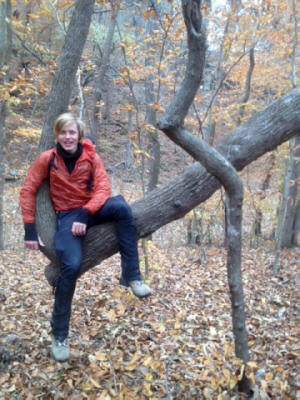 Look tree has a hanging out place on it.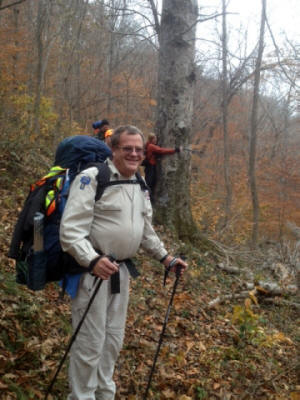 Commander Jones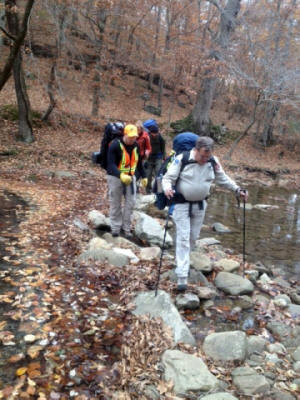 One slip and it's cold freezing bath time.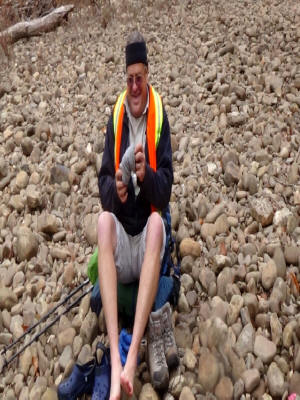 One needs good circulation on this trip.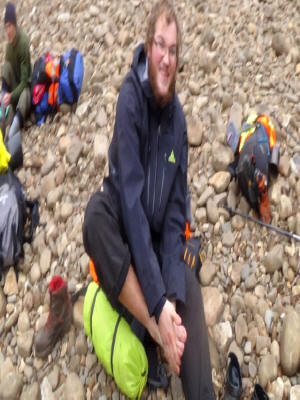 Justin Drying feet