Backpacking Action Camp (BAC) Junior Leaders Training Trails. Special thanks to Charles Bowser for making this happen!
July 11th -13th, 2013 Temps in the low 65 to high 85. Just about perfect weather.
4 ole timers and 11 young bucks head for the Kyle's Landing Trail head and take the ORT (Old River Trail) up river to Hemmed in Hollow Falls.
Click on a picture for a larger view. Report following pictures.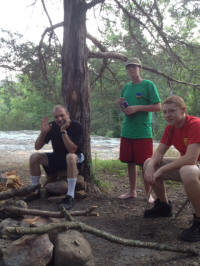 Hanging out around Camp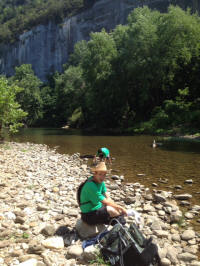 Cool cliffs all around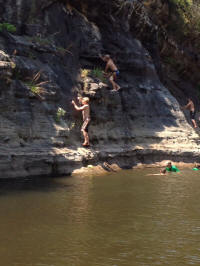 Other Jumping Cliffs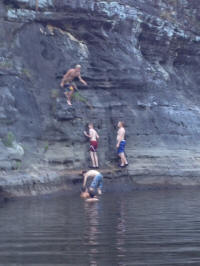 Water was deep enough to jump in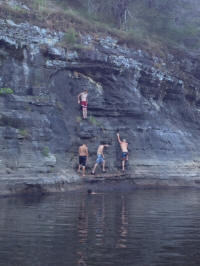 Just around the corner from the old jumping cliffs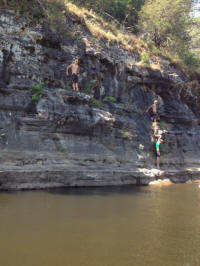 BIG fish in this pool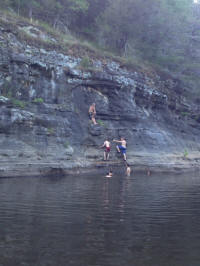 Boys of all ages love swimming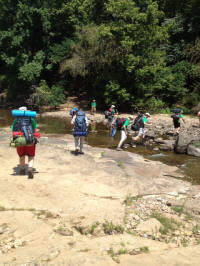 10 creek crossings in total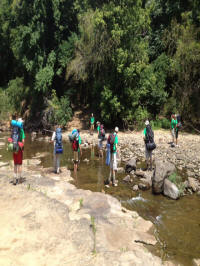 Slippery Rocks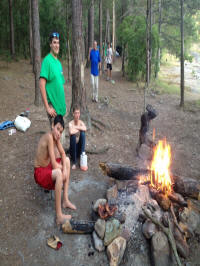 Base Camp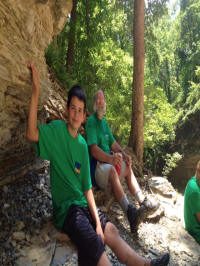 Break Time
Critter Hunter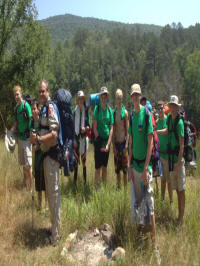 15 packing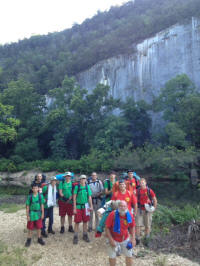 Cool spot with cliffs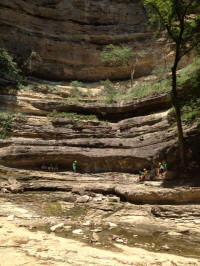 Base of Hemmened in Hollow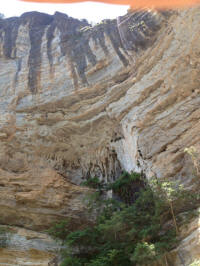 200 foot of up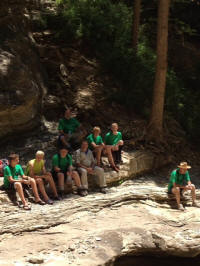 Hanging out watching the falls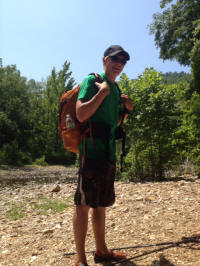 Josh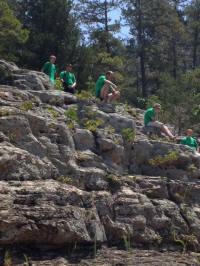 Cool place just no water to jump into..dry this year!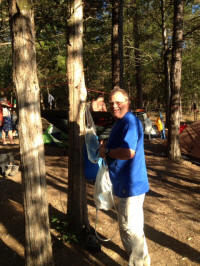 Drink up it's Creek Water that has been filtered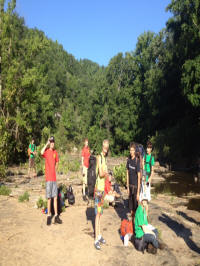 Talk Time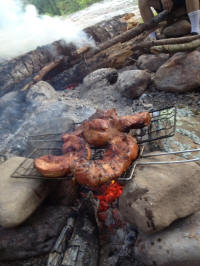 Marinated pork steak with coke and brown sugar YUM!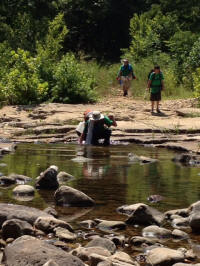 Quick Slip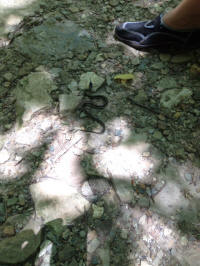 One of 3 snakes we saw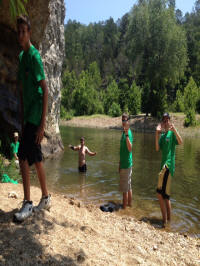 Ice cold water bubbles forth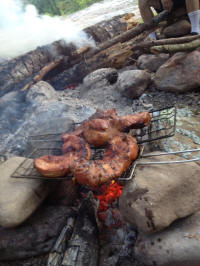 Robs perfect steak que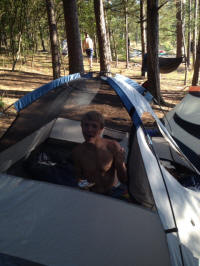 Trace's Place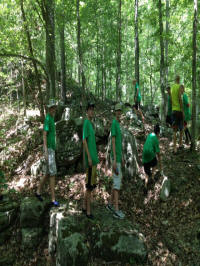 Walking up to Hemmeend in Hollow. It was a bear, then a Ground Hog then a Ferrel Hog..by the time I got to it it was a 27 foot tall grizzly! GRIN

1
Every 2 years we get to have a Backpacking Action Camp. This trip takes us to the Buffalo River Area with 10 River Crossings. Since it's in July it's generally really hot and the water crossings are a blessing. This year we were blessed by Central to have the Church Van and it was full with the Outpost trailer full of gear. It's funny how things work out. We were supposed to use personal vehicles for this trip as the van was already booked. A few days before the trip I inquired about the van. Found out I had a coolant leak on my personal vehicle. God's timing was perfect!
After a review on the backpacking merit requirements and teaching those we took a road trip to two outfitter stores that offer backpacking equipment. Boys saw the good stuff first and then the middle of the road stuff. Socks, meals, boots and other little things were purchased for the trip. On the way back to the Ranger Annex we stopped by for a visit to Johnnie Barnes grave paid our respects and made it back in perfect time for a Pizza meal prepared by the staff.
Thursday night we packed our packs and weighted them and then went for a walk with packs on to see how things felt. A trip around the block. Some basic trail wisdom and we were ready! Lights went out around 11 pm and I had my worst night sleep on a cot with a sleeping bag that had a blown out zipper... My good stuff was in my boxes and I was too lazy to get it out until about 5:30 am and then I was warm! That air conditioner at the Ranger Annex will freeze you! I know I was there!
At 8:00 a.m. we headed out after Jerry and Ray fed us a sausage and pancake meal. Thanks Commanders. That was a blessing! At 8:25 we picked up Rob Batchman and were on the Trail head by10:30 a.m. A fun trip on the trail with the usual cool stuff. Cliffs, Rivers, Snakes, Fish, Crawdads, Slips, trips and falls, gear regrouping. Flip flop failures (warned them).
We made base camp shortly after our noon swim and setup camp. Then day hiked to Hemmened in Hollow. On the way up to the 200 foot tall waterfall I heard it's a bear, it's a ground hog, look it's a feral hog by the time I got it I had it up to a 27 foot tall grizzly bear. After some detective work it was decreed to be a Feral Hog. We passed over 2 snakes and enjoyed the trail up 1 mile to the base of the falls.
After the trip to the falls we swam at the next best jumping cliffs swimming hole. This was the first time I found the Jumping cliffs swimming hole not deep enough to jump into. only about chest deep. So we found another pool just around the corner. It was full of fish and we had fun hanging out there for a couple of hours.
At night we cooked up some deyhdrate4d meals and at dark Rob Batchman pulled out the marinated steak I had told the boys about. It was like vultures hanging out around road kill. Those 4 steaks were good. Cooked over the fire. YUM! YUP Rob you lived up to all I had told the boys about you! THANKS!
At dark about 9:30 pm we all went to our tents and the 5 staff all had hammocks this year. 3 times through the night Rob had a Raccoon that went all through his pack, got his food and snapped his rain tarp after dragging his food bag to the ground. Charles said he heard him up there screaming at something in his camp. Rob said it was a 3' tall raccoon..I figured it was probably a 3 month old raccoon barely able to walk sitting on it's hind legs asking Rob, " I heard you guys had pork steak down here earlier...where's mine?" Rob still holds to the 3' tall raccoon and it scared him... them raccoons can get your blood to boiling. Bob Wenneeker said he would have handled it differently instead of screaming like a girl. GRIN!
Next morning Rob was telling the tale of the 3 time Raccoon visit and how he barely lived through the night. We helped drag his stuff back into camp and I think he will get over this attack... we feed him some of our vitals. We were low on food as one of the boys left his food rations back at the Ranger Annex. Boys are always a surprise!
Another great year and a lot of fun. Hope you can bring your boys with us on the next CAC (Canoeing Action Camp or Backpacking Action Camp) It's worth it!
Mark Jones