Timber Trip 1 and 2 netted us all these logs. Cedar cut from trees from our District Commanders Ranch. November 20th, 2013
These cedars were damaged by past ice storms and some were standing dead and others had the tops ripped out of them.
We took 2 trips out about a month apart in October and November and harvested these logs.
We are currently ripping them down the middle with a chain saw and then resawing them using a 12" Band saw with a 1hp motor and a 1/2" blade.
Last Sunday night we were busy. Some were working on hawks, some were working on knives. Grinding, handle fitting and leather cooper rivets and others
were assisting me hauling logs out front to rip with a chainsaw. I had two 5' long 1x4 with a toenail screw in each end of the boards holding the log vertical while
the boys stepped on the other end of the 1x4 giving it stability while I ripped it with a Chain saw. After ripping we then used a cordless drill to take out the toenail
screws and put them on a roller cart and brought out new logs. We did about 1/3 of these logs in one Sunday night for about a hour. Will continue to rip these up into lumber. Will just square them up 6" or less so they will be resawable on the band saw.
Tool Safety with the boys video. Ripping the Logs with a chainsaw so we can get them under the bandsaw blade guard.
Click on a picture for a larger view.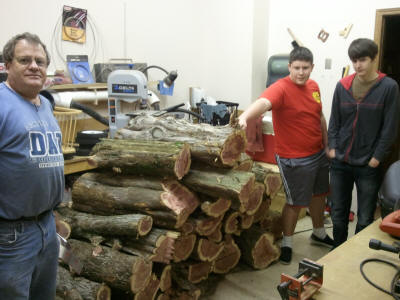 1/3 more logs than last year. Turning this into lumber.
This activity generates a lot of dust and shavings. Installed a Grizzly 2 hp dust collector in the garage and piped it in to the Shop. Nice! Modified the existing dust collection in the shop and added a port into the next room when we get to doing larger or group projects. Dec. 18th, 2013 we spend about 20 minutes each Ranger meeting resawing the wood and I do some during the week to get it up to speed.
We have a nice stack of stickered wood growing in the back room. Added a nice Dewalt planer to the mix with a dust collection hood. Will get it piped into the dust collector this week.