12-20-2013 Temps range from 60 to 34 degrees. We received 2.6" of rain while there. Some areas with in 50 miles had 8" of rain. Click on a picture for a Larger view! We had originally planed to backpack 2 nights over 13.6 miles on the Boxley to Steel Creek Buffalo River Trail. Yet with the heavy rains and predicted flash flooding it made this 4 river crossing event a safety issue for sure.

So we opted to go to Pedestal Rocks and camp down below in the forest and take refuge in the caves below. The drive down Friday night was a 2 hour 11 minute drive. With the fog so thick you could only see about 20 feet in front of the vehicle it took about 3 hours.

We were surprised to see temps at 60 degrees on the backpack down to the caves. We arrived in good shape dragged up some firewood. About the time we started the fire it was a good downpour that lasted the whole 16 hours we were there. The cave became a dripping wet in most parts shelter..with a few spots that didn't drip...we found refuge there. We moved our fire to a dryer high spot in the cave and enjoyed that spot for the rest of the campout.

All through the night it was storming and water perking through the cave. 3 of the young men were hammock camping outside and the wind picked up about 4am and pulled stakes. One after trying to get staked back down was soaked so he brought his gear into the cave and slept in a high and dry spot.
Next morning I had Garrett and Gavin move the fire stuff to the center of the cave where the fire had a chance with no water dripping on it. Our wood was soaked. I mean it was in 3" of water
Pulled out the new survior saw and cut the logs into lenghts of about 12" long. Boys used Machettes to split the wood to find dry wood. We split wood for about 30 minutes then had a nice pile of split wood. Then we got the fire going and had a nice place to cook and eat. The cave floor was wet and muddy so we sat on some logs or our pads.
I experimented with the biolite stove using some hardwood cut to 5" lengths then split with my knife. The hardwood was fine and it made adding sticks not so often but if you let the fire go down to low you needed small tooth pick size sticks to get it going again. I used half of my firestarter trying to get this 2.6" of soaking rain to ignite. I was experimenting. I could have pulled sticks from the fire to get it going as well. I forgot my usb charger cable so my camera went dead. GRRR!
At 11:00 am we took a hike towards Kings Bluff falls about 3.0 miles round trip. About half way there. I discovered I was not layered right and was cold. I was dry but I was cold Got to checking with everyone and 1/3 of the group was soaking wet. So one 1/3 of us turned around and went back to base camp in the cave and stocked the fire. The rest went to Kings Bluff and came back about a hour later. They sure did like that fire as they hunkered down around it for a hour.
Not a popular call but after gathering the facts with wet sleeping bag, wet clothes, wet boots and temps going to be 24 degrees I made a call to pack up and go back to town. We would have been ok hunkered down in the cave with a big fire but felt it was a better choice to just head back.
We hit Mcdonalds and getting out of the car if you was looking at me and Rob you would have thought we were handy capped. That cold damp rain and that car ride had us cramped up tight. GRIN! It was still a great time. 90% wanted to stay and hang tough. Yet we had to be on the same level as the least prepared.
Weather reports are sometimes good and I think sometimes a bad thing. They sometimes discourage folks from going and doing. I think the weather forecasts in this case was our worst enemy as they affected me as well. They didn't pan out to be 24 degrees. 34 was the actual low.
The video tells it all. We still had fun.
This short 2 minute video shows how much this cave percolates.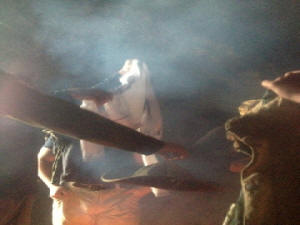 Ahhh naah I am all dry!!!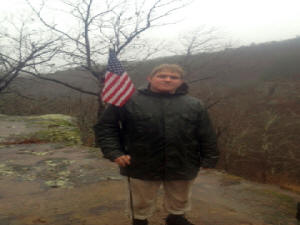 Wet Colors!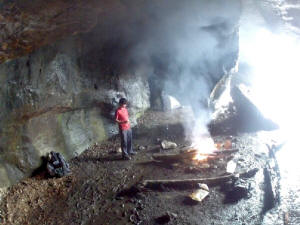 Fire was on the only high dry spot in the cave!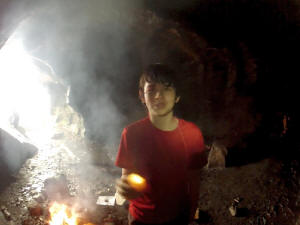 Campfire dance!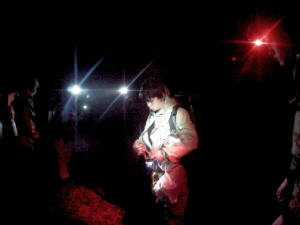 Backpack in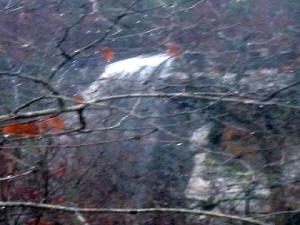 Kings Bluff Waterfall really moving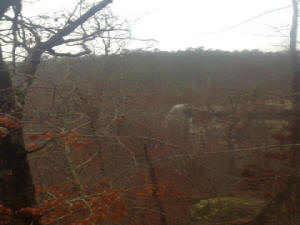 Kings Bluff water Fall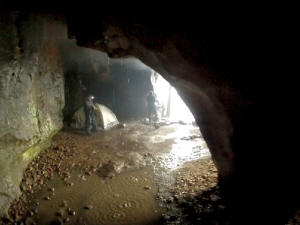 Looking out to Lake Batchman
Nerd fest!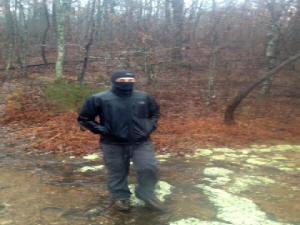 I need a hood!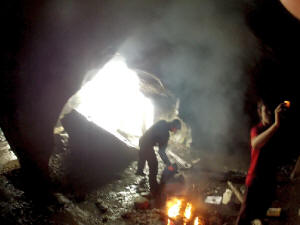 Fire and Smoke, Rain and drink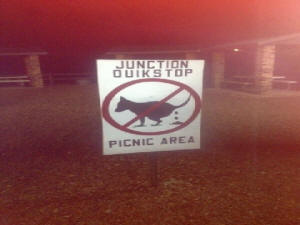 Get the point?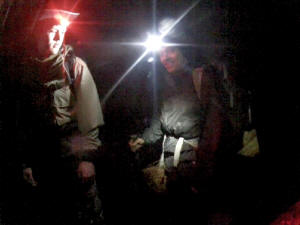 Backpack in Adventure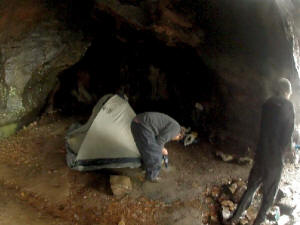 Packing up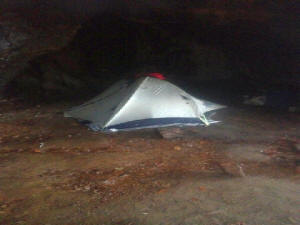 Wet Sleeping bag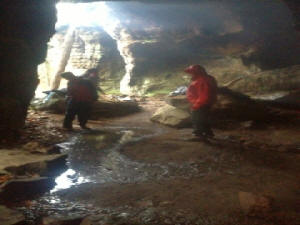 2.6" of rain in 16 hours Wow!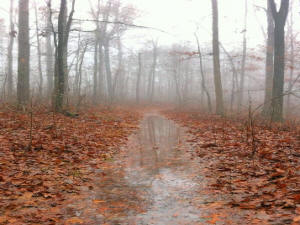 Trail going out
Gear wise. I was good to go a few more days. My gear allows me to setup and take down in the rain. My backpack has a Kangaroo pouch that has a drain in it to put wet gear into The dry stuff stays dry in the inside of the pack. My Luxuary lite cot as always in a wet situation keeps my tent floor up off the ground. My tent sits over the cot and the edges of the tent barely touch the ground. A perfect mix of good life long gear.
On the way out we passed over a bunch of creeks and rivers that were out of their banks in flood stage. I am glad we didn't do the 4 river crossings and used good sense to take refuge in this cave system. Not perfect but liveable.
Mark Jones