Compton Trail head to the Top of Hemmed in Hollow Falls. October, 18th - 19th , 2013 Friday night - Saturday late afternoon.
Temps dipped down into the Low of 40 and a high of 60 during the day. 10 men and 3 gals. Hike the 7 miles of trail. Click on a picture for
a larger view. Special thanks to David Yonke, Rob Batchman, Marshall Jones, Mark Jones and Sam Brush for the pictures! Thanks for sharing!
Friday night we left from Ozark at 6pm drove to the Compton trail head with rain off and on. At the trail head we had a pretty good rain going and we headed off down trail to my surprise a group went on ahead... umm.. we only have 1500 feet of trail before it's nothing but down no flat ground. So after some scolding of why are you down here..we backtracked up the trail to some flatter land. Still enough of a incline I put my backpack on the downhill side so I wouldn't roll to far during the night.
We put up tarps first as it was raining pretty hard. Then tents and stowed gear. Rob had brought a nylon tarp he had offered to go next to the campfire..thanks Rob!
We strung that up and then cut off 4 8" lengths of a tree for some dry wood. Split that up and pretty soon we had a fire in the rain. Rob brought the council fire but first we had 6 steaks cooking around the fire and I had my usual Steak n Shake Chili. Others had different stuff. Food was yummy. Yonke's got the best steak vote this time as David shared pieces with us steak eaters. Randy brought some salsa and chips he had made and we scarfed that up as well.
Saturday morning at 7:30 I finally started going around to tents getting folks up... We had breakfast and morning devotion and put on our daypacks for a fun hike. 1100 feet of drop to the top of Hemmed in Hollow Falls. We were going to bushwhack the creek going down..but we had 2 new backpackers and I felt they were not up for this adventure as poison ivy was also a issue so 5 went down the creek and the other 8 went down the trail. Pretty soon we came to the bench trail (wrong trail it had been 10 years since I had been here and didn't remember any of it) we took the bench trail and came to the cabin and checked it out. Then came to the creek by this time I had realized we were on the wrong trail but it was only a quarter of a mile and we heard Randy and his Creek group so we met back up. After a a 1/2 mile hike in the east direction I convinced the group we had gone 1/2 mile to far and we turned around. Randy's group went down the creek and 8 of us went down the trail.
At the turn off that takes us along the top of the cliffs we found almost no trail at all. It was a barely follow able. Many times we lost it. The ice storm a few years back had turned this into a almost abandoned trail. It was a climb through it but we made it and came up to the top of the point rock just west of the falls. We ate lunch and soon the other group met us there. After lunch we dropped our day packs and hiked over to the top of the falls. It is an amazing view. Soon we returned back to our day packs and took the 25 minute hike up 700 feet to the main trail leading back to camp. A great find we never knew was there. Much easier than the bush whack along the bluff. Yet it was 700 feet of up in 1/2 mile.
Soon we were back at camp and packed up and backpacked out. A great trip and we all had a great time. You missed it if you didn't come!
GPX file of the Trail we took.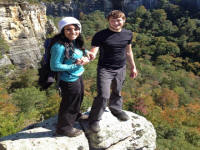 What a view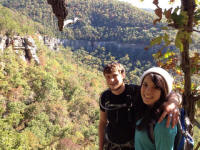 We hiked around that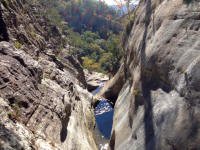 Top of Hemmend in Hollow Falls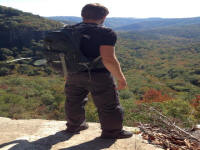 Marshall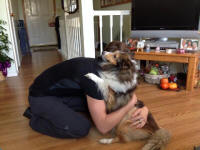 Man's Best Friend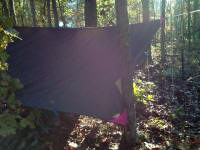 Hammock Camp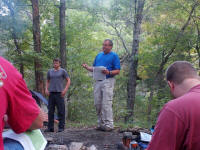 Mark Talking around camp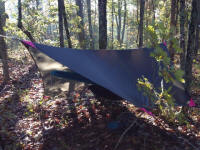 Sam Hammock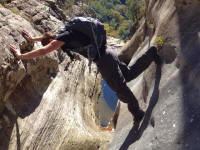 Marshall top of Hemmend in Hollow Falls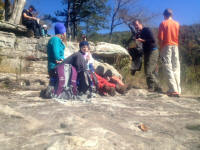 We camped up here 10 years ago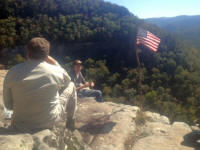 USA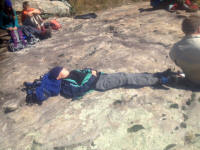 Rock Comfort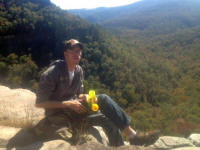 Steven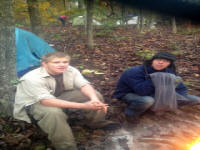 Ernie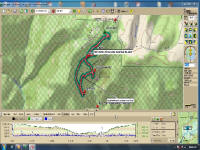 topo of cleaned up trail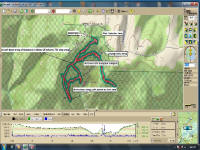 Total Trip we took minus a walk to the top of the falls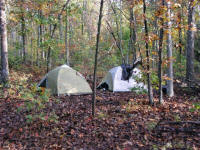 Yonke Camp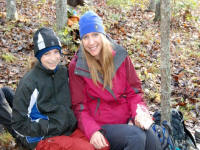 New Backpackers they loved it!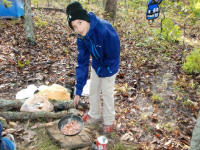 Bacon ater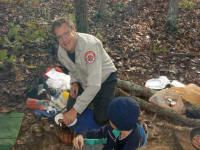 Me cooking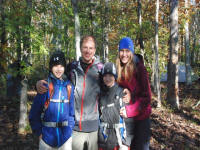 Great memories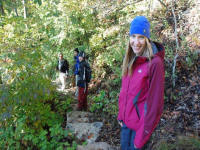 Lots of down and back up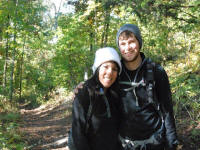 Marsh and Sam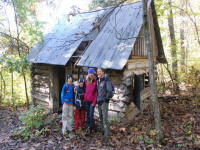 Cabin up top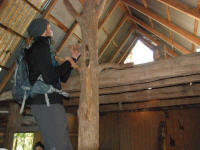 Cabin Loft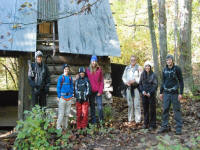 History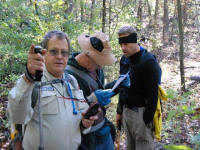 I said we need to go back that way 3/4 of a mile GRIN!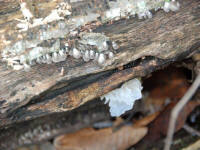 See through fungus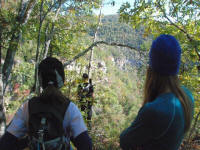 First Glimpse of the bluff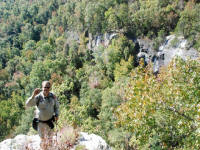 The real thing is so much more!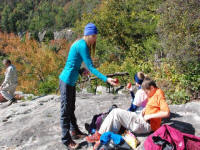 Lunch on the point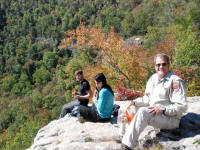 Worth every step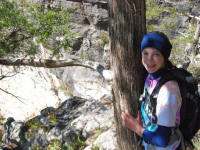 250 foot drop right over there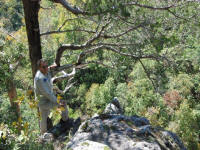 Mark right above the Hemmend in Hollow Falls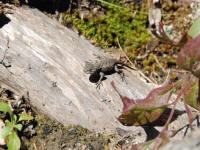 Big ole Lizzard
Trailhead Compton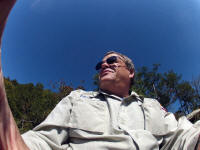 I love this stuff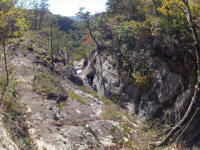 Wild America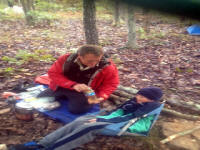 This is cooking oil it's not a pee bottle!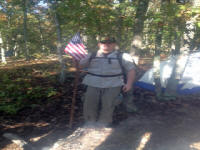 American Proud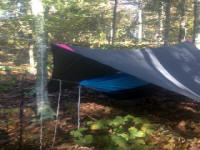 Hammock Underquilt Camping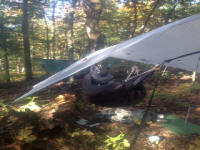 Marshall Cuban Fiber Tarp and Down Underquilt