Wow! What a trip!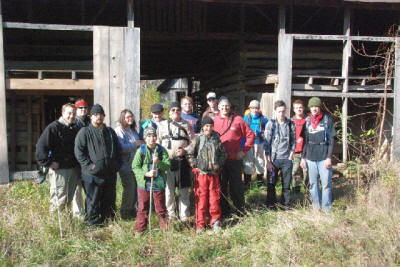 Erbie Goat Trail October 26th - 27th, 2012
Sunny with temps in the 52F - 32F range.
4.2 miles Trail round trip.
16 people in attendance. 22 said they were attending.

Click on a picture for a larger view. Special thanks to all of you that contributed your pictures your time and resources to make this trip happen. THANKS!

The trip started back last month with a survey trip with 2 leaders checking out the trail and camping places and trail difficulty. Always a good idea with Rangers. We would be hiking in at night and it's just a good idea if at all possible to know the trail.

The group met at my house in Ozark and at 6:10 we had all weighed our packs. Rob had the heaviest pack weighing in at 57 lbs. My pack was heavy as well due to hauling more water than I normally do. Water was 165' straight down and a 1/4 mile hike to it.

Driving along I got a cell call. My alternator light is on and my vehicle won't go much farther. I have a alternator and tools. Ok. We can pull over in about 2 miles and change it at the rest stop. So about 45 minutes later the alternator was changed and we were on the road again.

On 7 Hwy we took the Erbie Campground road and after about 12 miles we were at the trail head. Horse Camp. Parked our 4 vehicles and unloaded 16 packs and two or our young men were elected to lead the group. I handed each of them a map and soon they had their bearings and orientation. I told the group we would follow these two and go where they went. They were FANTASTIC guides. Every time I asked where are we they knew. They made good decisions and we had great guides.

After about a half of a mile going through 3 pastures and some mixed in woods we came upon 3 trail crossings and off trail setup base camp. You know woods at first look a little WILD! Yet by the time you leave the spot the next day..it feels like home. We adapt and learn to cope with things and soon become adjusted to them.
With the first good cold snap of the year cool weather feels cold at first. Yet as soon as you pull of a piece of ground to sit on around the campfire soon the flickering flames and the smoke has you just about right.

Friday nights council fire service was King of the Hill. I was able to talk about Jesus and His disciples. How in this world man wants to be on top of the hill. Man wants position. Man wants self above others. Yet in Jesus Kingdom He taught us to not do this. He taught us to be a servant. Service was short and to the point. We ate Steak, Ravioli, Oat Meal, Ramen Noodles, Chili, hot dogs... you name it we ate it. Pop corn. YUM. We had a great time around that fire. 16 souls enjoying the flickering flames, the smoke and the kind hearted folks around that fire.

10:45 pm one of the boys wanted to try the hammock. So him being my brothers grandson and being the youngest in the group we sat it up a few feet from my tent. He was set with 2 sleeping bags one stuffed inside the other and a pad hanging between 2 trees.

It got pretty quiet after about 11:30 pm with the coyote's off and on and a BIG ole hoot owl landing about 10 feet above my tent and making it's call it was a pretty quiet night. Lows forecasted at 32. No wind with a star lite night.

8:00 am. Sunrise came a little later for us and when that sun crested the hills..wow what a site to behold. I heard the hammock camper say just before he climbed out of his hammock. Finally daylight.

We all gathered around the campfire. Cooking, resting, reflecting. It took almost to 9:30 to get them all to roll out and we had morning devotion on being a servant. Some short preaching from God's Word and then around the fire we went as each of us shared when we think of a servant this person comes into our mind and why. It was a good time of thought and thankfulness and we were all challenged to say thanks and be thankful for what we have.

Soon 10:00 rolled around and our 2 guides headed down the trail with the pack following. We met up with spectacular scenic sites 165' above the Buffalo River. Then down some steep rocky almost like God had made stairs for us. This was a horse trail... I wouldn't ride a horse down this one... it was tough enough walking down it. Past some rock formations stopping at trail crossings. We always stop at the trail crossings. It gets us all back together and we all go down the same trail together...keeps my acid indigestion in check that way. GRIN!

Soon we were busy exploring the JW Farmers homestead. It was first built in the 1880's and was lived in until the 1930's. The house was restored somewhat in the 50's but vandals to the property made the decision to let it go back to nature. A cool place with several outbuildings, BIG barn with hewn beams, dovetail joints, rock solid building that has lasted over a hundred years. Yup we had to take some pictures of folks sitting in the 2 hole out house. A sight to behold for sure. Group picture taken at the barn and the were kidding me with one picture to send it to my wife telling her I found a new place to move in....these guys...are always up to something.

We soon followed our guides down the OBRT (Old Buffalo River Trail) to a river crossing. I had told the group. WE will need to be prepared to cross buck naked with our dry clothes over our head... I got a group silence out of them and said just kidding... most likely knee deep. GRIN!

WE tried a couple of early river crossings stepping stones and some did and got wet feet. I followed our 2 guides and let them choose. The soon elected to continue to follow the OBRT and we crossed the river below the knee. After crossing, drying feet and putting on boots again we followed our 2 guides up the trail to a 3 way split took that up to the Cemetery and looked at the old grave markers..some into the 1776 issue others in the past 70 years. The boys noticed a lot of children graves. The average lifespan at this place in that time was 40 years. You were old if you lived past 40. The group was reminded unless we rapture out it's appointed once for man to die. We will all die. Best be READY! To know Jesus is the only way to make it. Be Ready!

We hiked along the river following the old trail and enjoyed the bluffs right next to the river. Guides found us a spot to enjoy lunch. 2 of the young men headed off to explore a cave opening that we will have to go check out at a later return trip here. We enjoyed fire building and bone finding and rock skipping and crawdad catching. Just a good wholesome time.

After lunch we cross the river and bushwhacked up a rock stair stepped 3' steps face and got to the top. Not to hard but a fun challenge. Soon back on top of Goat trail for some awesome sights and many pictures were taken.

I got a kick out of some of the younger men. With out a guide and map you will never know just where you are. The guys asked me how far is base camp... 300' that way. They spotted a tent and we were back to base camp.

After about 30 minutes we broke camp. Cleaned up fire pit and hiked out. Return trip we found a man with a mule that was looking for his lost mule. His friend was lost and he was distraught. One Commander prayed with him and encouraged him. Loaded up and back on the 12 miles of gravel road crossing creeks and rivers and the foliage was beautiful. Stopped at McDonalds in Harrison for Happy Hour shakes and coffees' and food.

A great time. God is in the Blessing business both in this life and the life to come.

Mark Jones





Just a sample of the fun and accomplishment we experienced on this backpack and day hike to the Buffalo River.