Richland Creek Arkansas, December 10th -11th, 2011 Temperatures 22 low high 44.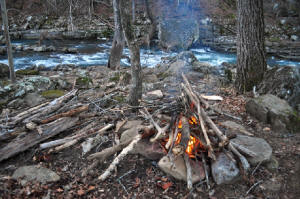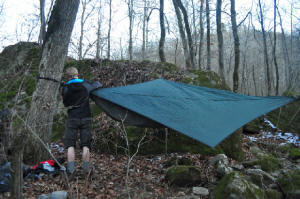 The backpack started with a hey the HikingtheOzarks.com group is going
backpacking to Richland Creek on December 10th, 2011...I want to make that
trip. I said I do as well. So we scheduled it out and took vacation to make
it possible.

The week leading up to the backpack was lows in the 14F degree. It was a cold
week and well below averages. Weather plays a major role in folks attitudes.
A nice few days of weather before a event and you will have a higher turn out.
A few days of wet raining cold weather and BAM most hunker down and stay inside.

The week leading up to the trip was filled with many thoughts. Council fire service,
Sunday Church on the trail and a lot of thought as to what gear I wanted to bring on
this backpack.

With Royal Rangers you have boys and men often that don't have the right gear. They
may show up with a suitcase and a cast-iron skillet for a backpack. So many years back
we learned with Royal Rangers to backpack in a short 1/2 mile to a mile and setup
base camp and then day hike from there.

This backpack was 3.2 miles of very rough bushwhack. Every step was hard and in some
places you go up 200 feet and down 200 feet a hard cardio work out. With 2 big creek
crossings, water up to where your legs attach to your body. It's not beginner
backpacking. So I said going in this is not entry level backpacking. With the cold
spell and the roughness of the backpack only the diehard backpackers were going.

With Christmas programs in full swing in December. It's not a good time to plan any
kind of event because everyone is busy already. So I knew it would be a small group.

In the RR group we had 3 men and one young man in 2 pickups and in the
Hikingtheozarks.com group they had 15 total. 2 of those missed the group and met us
at base camp later on in the day.

Richland Creek is the hardest trail I have been on. It's a challenge the whole way.
It's beautiful. It's interesting. It's awesome. It's hard. Yet it appeals to the wild
side in many of us. 12 miles of dirt roads lead you to this place after a 2.5 hour
drive from Springfield.

We were part of a caravan of 6 vehicles following Dan Nash founder of
HikingtheOzarks.com and a State Trooper that has been on some of the highest mountains
in the world. He had been on this section of the Richland Creek over a dozen times
and rates it as some of the ruggedness trail in the Ozarks. Rob and I had been to this
place now 4 times. The first 2 times we "almost" made the falls but came up short due
to heavy rains with landslides and deer flies...eating us alive.

We hit the trail at 10:55 am and after 1 hour and 25 minutes we were at our 2nd creek
crossing. HikingtheOzarks.com club are very fast movers and go partly for the cardio
workout so we moved fast. After the 2nd creek crossing we went up to Richland Falls
and took in the view and took pictures and thanked Dan for the guided trip to this
place and the 9 with him took off for some exploration and some tough up hill
bushwhacking. The RR team we enjoyed the view took some pictures and then hiked up to
Twin Falls and met one of the guys that was just day hiking with them returning back
to the trail head. He followed us to the base of Twin Falls and we enjoyed that
spectacular area for a while. Rob, Justin and Joshua headed up stream to Hamilton
Falls about a mile up creek. I and the day hiker Tim headed back to the creek
crossing and made it across and he then day hiked back to the trail head. I didn't
want to see anyone do a creek crossing in 36 degree weather by themselves. The final
trail crossing was close to the vehicles so if he fell in there..he would be ok.. but
this one was 3.2 miles and a crossing from the vehicle so I went with him to that
point.

I sat up my tent and gear went after firewood and it was sparse picking until I found
a debris wash that had firewood almost like it was stacked up ready for me but it was
a few hundred feet from camp so I got a good workout while my RR buds were returning
from Hamilton Falls. Just 30 minutes before dark they showed back up about the same
time the other hikingtheozarks.com folks showed up. Mike and a friend. They shared
our campfire with us and Mike shared our Council fire Service with us.

Joshua wanted to crash...I said Josh, it's only 7:15 pm...he laughed and got some more
grub out and cooked it up and we had a early council fire at about 8:45 pm. The
Richland Creek water was just 15 feet from camp and it was a set of rapids and that
ambient noise was there the whole time. It was a joy to sleep next to.

I awoke about 6:00 am hearing someone breaking sticks trying to get a fire going.
Soon I could hear 3 men talking about how cold it got last night... 22 degrees and
how they froze..and couldn't get warm and they had everything on they had brought with
them... all the while I was snug as a bug in a rug. 32 years as a line man 20 years
of backpacking has taught me what it takes to stay warm in 22 degrees.

At 7:00 am... I finally climbed out of my tent put on my down snowmobile suit and sat
down on the ground with a big grin looking at my brethren that had learned what didn't
keep you warm at 22 degrees.

We cooked up grub talked had a great time of fellowship. Had Sunday morning Church
around the campfire and 3 of them hiked up another hill looking for another way
without having to cross the creek again. They found it. Rob was right and I was
wrong...there was a trail up on top...he had been on it and I had never been on it.
IT was steep.

We packed up our gear and had a relaxing pack out 1 hour 45 minutes and then a creek
crossing and then lunch at a picnic table. Justin said.. I haven't sat in a chair all
weekend one of those tables looks might nice... I don't think he sat down..he was off
exploring.
Link to a river crossing video on youtube about 9 minutes.

Link to exploretheozarks.wordpress.com by Justin Fisher.
Click on a picture to get a larger view.

Pictures by Justin Fisher, Mark Jones, Rob Batchman.