Thunder Canyon Falls Backpack and Day Hike November 19th-20th, 2010 Erbie Trailhead Cecil Creek Trail
Ten men and boys made the hike and backpack. The weather was perfect and a full moon. 2 vehicles filled to capacity. At 5:45 pm we left my house headed south on 65 past Harrison Arkansas. Then south on 7 hwy.
We left 7 hwy just south of Dogpatch and drove the 6.5 miles of winding dirt roads crossing water over the road slab crossings to the trail head at Erbie. I stopped twice to tell the Rangers in the truck behind us does anyone have a clue where we are at? Kidding of course..no signs I don't know for sure I have never been here. The GPS PN 60 was keeping us on track. We arrived at the trail head around 7:30 pm and backpacked in along the way we walked over the top of a beaver dam about 40 foot across and about 1/2 mile in found a nice flat wooded area and setup basecamp in the dark. After everyone had their tents setup we all collected fire wood and had a hearty fire and cooked steaks and various other feasts even made french fries on my backpack stove to eat with my marinated steak. YUM. At 10 pm we had a council fire "Is it worth it" and then at 11 I headed off to snooze in my Electron1 tent one person tent. At 7:15 I awoke to the cracking of fire and the breaking of sticks. Breakfast was on and we had eggs, bacon and squaw bread donuts with powdered sugar...yum. Headed out about 9:30 am towards the Thundering Canyon Falls and in about a mile the GPS pointed left and we left the trail to bushwack towards the little canyon and back to the falls about a half mile off trail. Purdy neat. A limestone "Lazy River" that wound in and and out. Along the way Rob found a 10' spiral thin worm see the picture of the hands. The falls were barely flowing but the sound was still a trickling but it was still a awesome sight. The boys had to be called back from climbing the bluffs. On the way out we hiked higher up and found better footing than the slick angled limestone. We hiked back to the trail then had a option of going to find a cave about a mile down the trail or going back to base camp and then try and find the bench trail that over looks the buffalo river. We opted back to base camp ate lunch then backpacked out. Along that trail was all kinds of caves but they were posted not to enter due to the white noise bat virus the bats were dying from. These guys move fast and they kept me trailing behind. They were ready for anything.
We took the Erbie road to Compton our plan was to only go .8 tenths of a mile up this road as it's 4 wheel drive only.. My truck is not 4wheel drive yet we made it up well past the mile and missed the trail head to the bench trail. So on and on we went creeping over and around these huge rocks in the road. It was a great trip and a neat overnight easy backpack and hike. We arrived back at my house at about 4:30 pm. Here is pictures of the event.

Mark Jones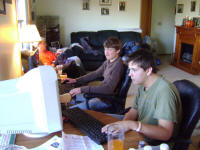 Computers can put the pounds on.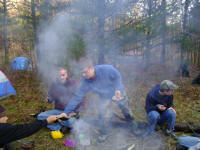 Time around the campfire is Quality Time.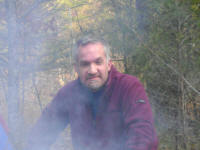 Dads make the event fun!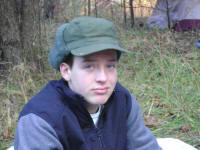 First Backpack. He will be back I am sure.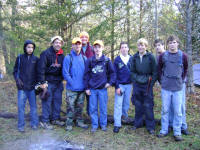 A great group!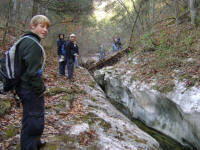 a half mile of this lazy river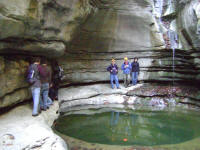 This hole is 20 feet deep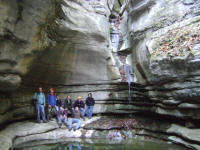 Amagine a lot of water... Wow!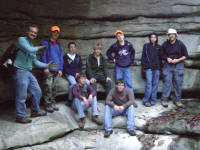 Mark nags the group for a group shot.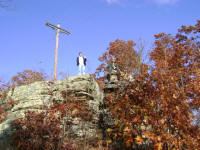 Boys love to climb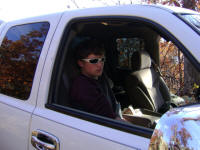 Marshall hanging cool
Just came up a 45degree climb over rocks NOT POSSIBLE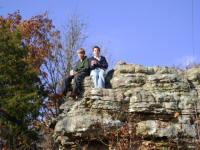 Great time for friends to share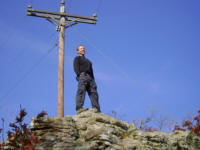 This reminded me of the Cross of Christ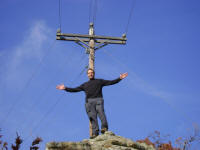 Draw Closer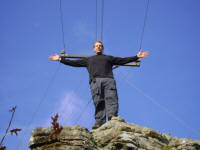 Get plugged in to the Power of the Holy Spirit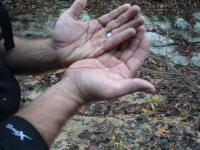 Horse Hair Worm Parasite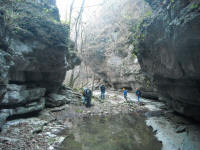 The look out from the Falls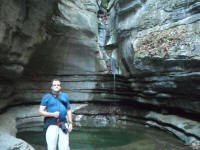 My PN 60 GPS got us here. Cool and good stuff.
Click on a picture to get a larger view.
The 3 pictures above with the guy standing next to the power pole reminds me of our life begins when we surrender our lives to Christ. When we die to ourselves and put our faith in Jesus and what He has done for us at the Cross then the Power of the Holy Spirit flows through our lives and then life really begins with power!