December 4th -6th, 2009 Eye of the Needle Backpack 10 souls for Jesus, backpacking in 19 degree lows. Click on a picture to get a larger view.
The backpack started as usual with a phone call. Hey I took a vacation day and I have that Saturday - Sunday off work. Do you want to schedule a backpacking trip? My buddy Rob checked his schedule and said YES! As with any group you have your foundational folk and once that is established the invitations go out for more. Pretty soon. We had up to possible 15 going. 2 weeks out. As the pack drew nigh as usual life throws in some variables. Things come up and plans change. The 3 days before the event was filled with phone calls and advice on what to expect and prepare for. No rain. Highs in the low 40 degree. Lows in the upper teens. 19 degree was a firm cold number... burrrrr!
As with any backpack one must be ready for anything. That includes a lot. Food, water, gear, endurance and in 19 degree you MUST be ready. One Commander camped out the night before in his tent out in his backyard to be sure he was going to be prepared. Good idea. I have done the same before.
Friday night folk showed up. 10 brave souls ready for 2 nights 3 days. After a couple of car pool decisions and a meet at my house and in Branson we were off for a grand adventure. After a short 2 hour drive we were at the trail head packs on and the boys were starting to realize 22 degree cool air... burrr..
We backpacked in about 1/2 mile and made base camp in a new place. It was full of fire wood. We didn't have to walk more than 50 feet for all the fire wood we needed for the next 3 days and we had BIG fire. Tents were set up on this flat ground and briars were cleared out and gear was stowed. Wood was dragged up and it was not long before the 10 faces were smiling and joking and getting stuff out to cook and eat around this warm fire. We had a little bit of everything. Bacon, steaks, chili, hamburger helper, biscuits and more.
At 9:30 pm we had a council fire. Commander Mike from Brighten shared his heart and testified on the power of prayer as he shared what had happened in his life in the past few weeks and souls being saved and rededicated to the Lord. I hit the tent at about 11:30 pm and put on my sleeping clothes. Wool socks, polypropylene long johns, polypropylene long john shirt and a stocking camp. I could still hear the boys laughing and carrying on as I dozed off.
The next tent over I could hear the father and son trading sleeping bags and arranging stuff for the most possible heat. I had by experience learned to pack all my non hard gear and clothing under my sleeping pad to insulate me from the ground.
Soon the sun came up over the top of the hill and the fire was being rekindled. Soon the camp of 5 tents was active and breakfast was on it's way. Hot chocolate, hot tea, coffee, bacon and eggs, biscuits, oranges, apples and trail food was being consumed around that fire. We did have to make a mile trek back to the truck to get one boys food. Then we were set. We dragged up a BIG pile of firewood for the night.
At 9:30 he headed out for the eye of the needle. Day packs full of water and lunch and layers of clothing we might need. The trail was tricky. This trail is almost all a step up or down or over something it's not a flat easy going trail. We had two sons that were 8 -9 years old so we moved as they moved. Yet it was still 4 miles in and it took 2.50 hours to make it to the eye of the needle. We made several stream crossings as the trail was the stream with small trails going along sides of it. In one place the trail goes up high over the Indian Creek Stream for about a 1/4 of a mile. Along with that we would often climb over trees some 4' around. Bouldering around big rocks and muddy and icy trails. It was a challenge. Yet it was possible and it did build character and endurance. Most of all. It revealed God's creative hand and we marveled every step of the way.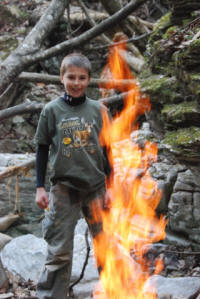 At the preface of the eye of the needle a water fall comes out of the rock just to the right of that we faced a vertical climb. about 200 feet of loose dirt and rock hanging on to a tree as a handrail most of the way to the top - the entrance to the eye of the needle. It's awesome place. Once Dad along the way told me he had told his son that Commander Jones had said that it would be best for Nate to stay at home this trip. He told me how his son had cried and it tore at our hearts as both his father and I knew it was too much for a young boy to handle and enjoy. I told him after the day hike was over to tell his son Nate we will bring him up here when he is a couple of years older.
The older boys explored every rock and cranny and cave and some went over the top and came in behind the eye of the needle. It's just a awesome place. While that was going on we built a nice fire and ate lunch and visited around the fire some would come back to warm up and then go exploring we had a couple of hours to enjoy at this remote spot.
The trip back is always easier. It's more down hill. The boys are more confident. They know what they will face on the way back and their character has been built. Along the way you help others as you climb over and through and watch for hazards along the trail.
We returned back to base camp about 4:00 pm. It was 8 miles of hard trail for a day hike. We were hungry. I think most of us had our food cooked and eaten before it got dark that night and then we broke out the snacks and treats and ate that in the dark. Council fire was unique. Commander Damon shared a testimony of praying for those that persecute you. How praying for them to be blessed and come to a saving knowledge of Jesus Christ or be blessed was God's way. It hit home. Commander Rob shared how this same thing was affecting him and that he was going to pile on the prayer. I too was stirred in my heart to pray two folk that were causing me grief. We each shared a few things that we were thankful for around these council fires.
I hit the sack at 8:30pm. It was possibly 8 degrees warmer than the night before and through the night we could hear the snort of deer and a rustle here and there.
Breakfast was bacon and eggs. Oatmeal, hot chocolate, hot tea, coffee and trail food. I tried a new thing. I used the bacon grease and made squaw bread. Took a biscuit and fried it into a donut with honey for a morning treat. It was good.
We had morning service and several commanders shared again round the fire.
The boys and men all had a great time and were talking when can we do this again. Bat Cave in one month!
The drive home was filled with laughter and carrying on and tales being talked about and I saw two of the older boys grow in character and it warmed my heart that they grew, mentally, physically, spiritually and socially this backpack. Thank you Jesus!
Mark Jones
p.s. the boy in the tree is my own son. He has a climbing gift. The rest of the boys are not allowed to climb like this unless their dad is there.