Peerseason Paint Ball Outing. 11-14-2008 So. Missouri. Springfield Sections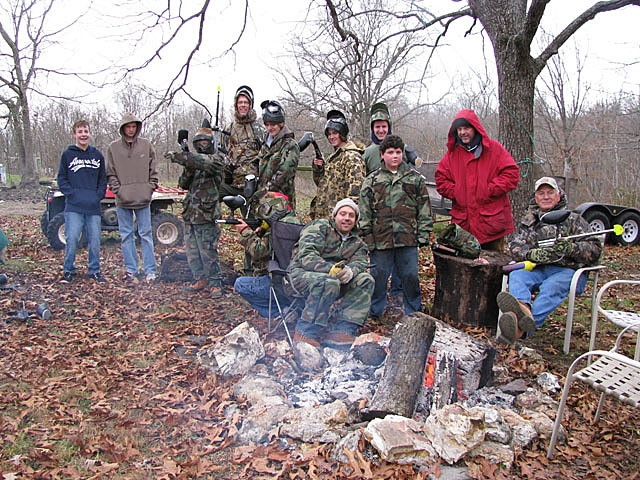 Wow what a fun time. It was snowing. GRIN! 7:45 a.m. Saturday morning. 1st thing out of the truck. It's 34 degrees outside and the wind blowing. We 2 men and one boy dragged up wood for a big fire to keep us warm when we are not shooting paint at each other.
The wood was from the woods and it had been raining all day the day before so it was pretty wet. It took a bunch of lighter fluid and most of the trash out Commander Batchmans House to get this fire going... but at last we had a fire raging..
8:30 Three more vehicles show up. One of the churches brought 2 leaders 1 dad and 4 boys. Threw on some big logs on the fire. All paintballs were to be stored in the truck that was running with the heater on Full blast and NO PAINTBALLS WOULD BE ALLOWED THAT WERE NOT WARM. Guns were being setup and we were all gathered around the fire.
8:45 am. 3 more show up. Our group is now at 14. 10 that are there to paint.. From 8:45 to 11:15 the boys played various games. Capture the Flag. Elimination won out as the favorite. ONE OF THE BOYS BROUGHT HIS OLD DOG CHEWED UP DOME TENT FOR A BUNKER. He cut some holes in it to be able to stick his gun barrel out of it and it was a GREAT Bunker. SAVE those old tents for pow wow. They make great bunkers.
We had a great time and many paint ball battles. 3 of the men stayed talking around the campfire and occasionally fixing paint ball guns that jammed up or needed repairs. I did the blowing of the whistle on the games. I would say 5 games out in the horse pasture mainly open with a few trees, old trailers, brush piles around and the tent bunker.. a few big logs to get behind.
One game was down in the woods it lasted quite a while as it took the boys a while to find each other. It was a steep ravine heavily wooded and the boys had some fun staying hidden until the very last where they sniped off a peer or two.
Back at the fire. Commander Batchman showed one of the Dad's how to get a bow drill fire going and he was excited about it and we sent him home with stuff to make his own bow drill fire. We had a great time. The cold windy weather with occasional rain, sleet and snow was just icing on the cake.
I post this report not to brag but to inspire you to take your boys outside the walls of the buildings. The skills and lessons learned in the field so much more make what we teach as Royal Ranger Leaders REAL!
Mark Jones Click on a Picture to get a larger view.