Pictures are at the bottom of the report. Click on a picture to get a bigger view.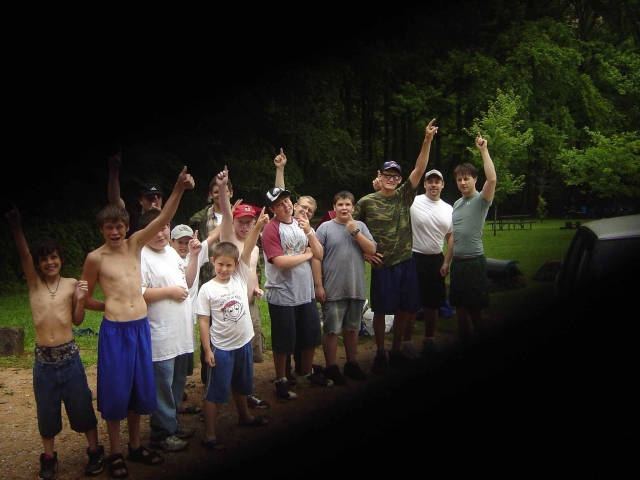 What a trip! Glory to God! 4 men and 11 boys take the Old River Trail 8 miles from Jasper Arkansas. The adventure started when 3 outposts joined together to backpack in this 5 river crossing hike.
Friday night we meet at Oak grove AOG in Springfield, Mo and headed south on 65 to Harrison Ark. Then 7 hwy to Jasper and then up up up till your ears popped then on a gravel road 3 miles down down and down to the river.. it was just a little before dark.
It is a "bring your own cook your own or go hungry outing" What you bring you set up tents and shelters were setup and a big fire and lots of steaks were cooked over the fire and we enjoyed a layed back pull up campout. A Park Ranger stopped by and advised us to keep the food out of the tents black bear had been spotted near by. All night long you could hear the Wipperwill-Wipperwill-Wippperwill-Wipperwill and the low conversation from the boys.... a raccoon or something stopped by and stole a food bag full of the 2 days of food... "bring your own cook your own or go hungry"
Saturday morning 6:00 am they were ready to go... so we cooked breakfast, bacon and eggs, biscuits...and then packed up and left what wasn't needed. The boys that didn't bring a tarp or tent were encouraged to take 2 extra tarps... until commander Jones said...your taking them so you can take turns carrying them. Water containers were filled and off we went.
The trail is relatively flat. It follows the river valley and we hiked a 1/4 mile to the first river crossing. Boots and shoes off water shoes/flip flops on and It's the deepest water crossing one where the water is up to the mid leg on a man and it moves pretty good. A walking stick made an impression on the boys and soon every boy had one. Cross the river dry our feet put our hiking boots back on and were on the trail again.
Then up and around another quarter mile then a homestead was explored. Pictures taken. Then down a half mile to the next river crossing. Boots off water shoes on... swimming beautiful cliffs... ooo aaaah! Then dry feet put on the boots and hike the next half mile to the base camp.
Goto base camp at 10:00 and setup tents and shelters and stowed gear under tarps...donned swimming trunks and day packs and lunch and water bottles and water filter and took off for the days adventure. River crossing...slick hard solid gray rock... fun water was the strongest here... another 1/4 mile and another river crossing with a cold spring bubbling water up into the river and a swimming was in progress. Feet dried off up the hill to a old homestead with a barn and about 5 buildings. All old and here we were in Rattlesnake blackberry patch. We cautiously grabbed the ripe black berries from the path and called out for here' snakey' here snakey'..."Biggest Rattle snake I have seen in Arkansas was there a few years back" we didn't see him but we ate a few berries and then down the trail along a lot of tall pines to the jumping cliffs.
Well as you would imagine... a hour was spent at the jumping cliffs. After the 12 feet deep pool was checked Boys faced their fears and took the 16 foot high plunge into the river. A great time was had. We had to move on...but commander we like it here... we must move on...... but we will be back in a couple hours.
We ate our lunch and dried our feet and hiked to Hemmed in Hallow. Ran into several hiking groups mainly 2 people packing together. A chance to show Royal Rangers in action and a brief who we are. Well... at the river we changed to our dry boots for the mile hike up to the highest water fall in the 4 states... "Policy" everyone stops at all the trail heads and waits till the rest of the group so NO ONE GETS LOST! Works great...except... 4 of our Adventure Rangers head up the trail led by my dear son he has been there before..but they left out one important fact....they didn't' tell me were they went. We hollered for them when we were ready to go..one of the boys thought he saw them go up the dead end trail to the falls. We hiked up the 400 feet rise 1 mile hike and stopped at 3/4 of a mile to pray for these 4 boys that were going to be dead meat when I found them....
As we were in ear shot of the 240 feet falls we could hear their shouts... a anxious 20 minutes. Once I chewed them out...I was told we thought we were following you there was 2 hikers they followed in... so... that 50 word essay penalty was dropped back to do you know how concerned the rest of us were for you? We enjoyed the water that was falling over the falls it sprinkled like a cool shower and cooled us off..it kept moving around about a 4 foot circle of water over a 60 foot area as the wind would move it. It was so refreshing.
Back to the jumping cliffs. We swam and then the rest of the boys that wanted to jumped time and time again from the cliffs...they had to climb the near vertical rock to get back to the top. A hour or so we headed back to camp and got back around 5:00 pm. Extra wood was dragged up and we settled in for a evening of swimming and sitting around the fire.
The boys were shown how to make a keyhole fire and they made their own keyhole slot to cook on from the main fire. They were also encouraged several times to setup their tarps and given instructions...well you know how adventure rangers are... then the rain started soon they were dragging tarps over the huge fallen tree that had a 4' clearance above the ground that made perfect ridge for a tarp. It rained off and on through the night.
5:30 am. I hear one of the boys throwing up. I had been watching him and would make him drink water as he wasn't drinking enough water... told him to rinse his mouth out and lay back down as it was pouring rain. 6:15 the rain stopped and the boys worked on the coals and had a fire going.... a great work they considered. I got out of my tent and we piled on the wood and the boy threw up again. He rinsed and we prayed for him. The rest of the morning he was nursed with water and a few trail bars and a Advil and prayer he recovered nicely. It poured rain for the next hour while we packed our wet stuff in our packs and headed out early as we were on the Old River Trail. River could rise and rise fast....Our plans for Sunday School on the trail was a wash in the rain so a short prayer and off we headed soaking wet with wet packs.
The trail back through the Vietnam conditions was covered in wet cain-bamboo and the trail was 6" deep in muddy water. No shoe swapping was taking place as we were on our way home and wet feet didn't matter any more. River crossings were refreshing and of course a swim or two was in order as the rain was over. A short trip of 1.5 miles and we are back to our vehicles. A ice chest of rootbeer was opened and we had a victory toast. A vote was taken from the commanders to stay a while yet or head home. We had a flat tire on one of the cars. Charged it with fix a flat but it was still low. Changed it with the spare and it was low.... made it the 3 miles up up up the rocky muddy road to the highway and then back to a small town with one convince store gas station where we bought air in a can and changed the tire back to the original tire and inflated it more...no air pumps to be found in the town. We got to Harrison Arkansas and busted wide open the Golden Arches Lounge and had double cheese burgers and fries and drink. The boys were chatting they were for sure coming on this trip next year.
We were a hour early so we stopped by my house dropped off 2 boys and I changed into dry clothes and called the rest of the boys folks to come pick them up at church. The boys were given as a gift a LED headlamp and when moms came to pick them up I asked one mom how would you like to sleep in this... a soaking wet sleeping bag...she said I had my Sunday school class pray for you guys as we had 2 tornados and flooding and I was worried about you guys....
I told her we just had light rain over night and it poured on us on the way back to the cars. If it wasn't for my Faith in God it wouldn't been near as much fun!
We had a great time of fellowship and God was good to us and we enjoyed His beautiful creation and variations of our wonderful earth.
A follow up call to the sick boy Sunday night and we was still feeling great. God is good and I think he witnessed first hand the power of prayer in his life.
Mark Jones